By now you've probably seen the AskReddit thread that tries to answer the question: if the United States were a bar, what would each state be doing and/or drinking? What you probably haven't seen, though, is the Thrillist story that tries to answer the question: if San Francisco were a bar, what would each neighborhood be doing and/or drinking? So, uh, here's that story.
Apologies in advance, Outer Sunset.
- Marina... is drinking a vodka soda, which Cow Hollow makes fun of, though it used to drink vodka soda too, like a year ago.
- Alamo Square... brought two dogs, for some reason.
- Crocker Amazon... is all gross and sweaty and wearing cleats in the bar and just ordered a water and a light beer.
- Dogpatch... is drinking Bulleit rye and eating jerky it brought from home while desperately trying to get people to come back to Dogpatch after the bar. Only West Portal thinks about going.
- Diamond Heights... is ironically very small and unadorned with diamonds.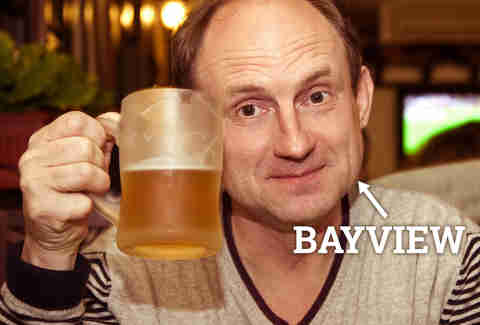 - Bayview... is just sitting there calmly drinking its steam beer, though you kind of feel like it might do something crazy.
- Outer Sunset... is sitting alone, clear on the other side of the bar, aggressively motioning to Western Addition while yelling "OVER HERE DUDE! COME SIT OVER HERE!" Western Addition does not go sit over there.
- Hunter's Point... is checking IDs. Do not fuck with Hunter's Point.
- Hayes Valley... just sits nervously right in the middle of the bar, mostly because it's worried everyone surrounding it is dangerous.
- No one has actually met Twin Peaks.
- Fisherman's Wharf... keeps ordering Irish coffees while leaning over and whispering into Union Square's ear "They were invented here."
- SOMA... is sitting in the upstairs mezzanine, Instagramming the shit out of everything.
- Sea Cliff... just bought a bar with a much nicer view closer to the water.
- Nob Hill... sips a red wine and keeps finding itself having to explain that it isn't here with The Tenderloin.
- Cole Valley... keeps telling Haight to stop trying to sell its kid weed.
- Haight... doesn't know what Cole Valley is talking about. (But if you want some of the sticky, Haight might know a guy around the back.)
- The Tenderloin... is asking to use the bathroom even though it hasn't bought anything.
- FiDi... just ordered everyone shots of high-end tequila. Again. Sigh.
- Russian Hill... just ordered everyone shots of just-tequila. Again. Sigh.
- JESUS CHRIST NOE VALLEY BROUGHT ITS BABY TO THE BAR AGAIN???
- North Beach... is sitting outside the bar sipping an espresso and whistling at all the college girls who walk past.
- The Mission... is at a cooler bar that you've never heard of on the other side of town.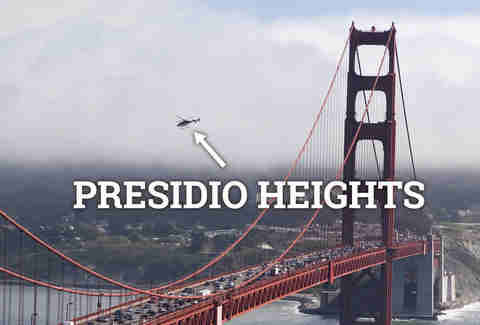 - Presidio Heights... sips a gin & tonic and keeps making jokes about how it's going to leave in a helicopter. Wait -- IT'S ACTUALLY LEAVING IN A HELICOPTER.
- Yerba Buena... has been at the bar forever, though no one is sure why.
- Potrero Hill... just sent you a calendar reminder for tomorrow's brunch.
- Candlestick Point... orders an $8 light domestic beer and some $14 garlic fries, and looks like someone just beat the shit out of it.
- WHO THE  HELL INVITED SAINT FRANCIS WOOD AND WHY IS IT DRESSED SO NICELY?
- Pacific Heights drinks an expensive cab sauv content in the knowledge that it just paid Lower Pac Heights $50 to sit outside and watch its Saab.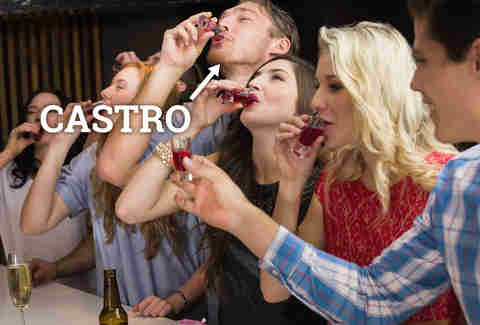 - Castro... orders shots shots shotsshotsshotsshots. EVERYBODY.
- Sunnyside... is here? Oh God, did it bring Glen Park again?
- Outer Richmond... gets a well rum and Coke. Inner Richmond gets a rum and Coke too, but pays a little extra for something nicer.
- Presidio... is drinking something nice, but it's way in the back and hard to find, and wants a "splash of Doug Fir Eau de Vie in it."
- Bernal... is still on Muni, but will be here in like 5.
- Laurel Heights... quickly downs three wines and yells at Lake District to grab the check while it gets an Uber, because the babysitter needs to go home.
Sign up here for our daily San Francisco email and be the first to get all the food/drink/fun SF has to offer.
Kevin Alexander is Thrillist's Executive Editor, and would totally watch Pac Heights' car for $50. Follow him to Crocker Amazon @Kalexander03.
Grant Marek is Thrillist's Senior Cities Director, and he's SO stoked for brunch with Potrero Hill tomorrow. Offer him a ride in Presidio Heights' helicopter on Twitter at @grant_marek.