How does one Daisy Barringer decide what makes an SF beer bar "the best"? Well, first she considers the selection of beers available. Then she factors in the overall vibe of the place... you know, stuff like the space, the bartenders, and the feeling in the air. Next, she decides not to include brewpubs that only sell their brand of beer. Why? Because she's making up the rules, and she enjoys riling people up. Lastly, she goes to all of the bars, drinks all of the beer, eats lots of the food, and then decides to include the bars that left her feeling the happiest and most sated. In other words: SCIENCE, people. Science.
Tenderloin
Although there is now another Mikkeller Bar in San Diego, the SF location was the first stateside outpost of the Copenhagen original, and in this case, first is not the worst. Far from it, actually. This massive bar in the TL offers 40 drafts and two cask-conditioned ales, served at three different temperatures, depending on the style of beer. Yeah, they take this stuff seriously... so seriously, in fact, that all of the beers on tap are managed by a system dubbed the Flux Capacitor, which controls the exact mix of nitrogen and carbon dioxide used for each tap (no lightning required). There's also a "secret" downstairs cellar dedicated exclusively to sours. Oh, and it gets better 'cause Mikkeller Bar isn't just about the beer. No, there's also an awesome food menu that involves lots and lots of delicious meat. My favorites are the sausage sampler with a side of fries, and the roasted peanuts to start. Which, yes, I'll share. Reluctantly.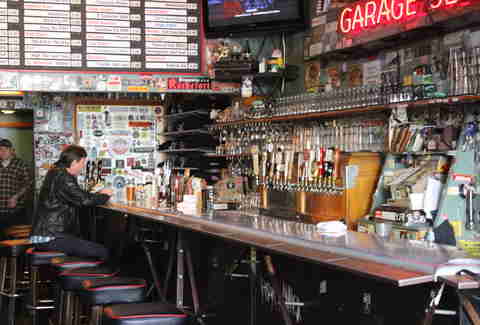 The Mission
The owners of The Monk's Kettle heard the song "99 bottles of beer on the wall" and were like, "Uh, JUST 99? Lame." And then they decided to have 150 bottles on their menu, plus 28 drafts, and one cask engine. Like Mikkeller, Monk's Kettle has coolers set at 45, 50, and 55 degrees to ensure your brew is served at the right temperature, and the entire keg system is cleaned every two weeks so the beer always tastes its best. Not sure what to order? The staff is knowledgeable and friendly and totally willing to help you figure it out. We'd also be remiss if we didn't point out that the seasonally driven pub fare is quite tasty. Just be prepared to wait, since reservations aren't accepted, and everyone else in SF also loves great beer and food.
SoMa
City Beer Store is kinda like a wine tasting room, but for people who love beer. You can go in just to shop and pick up beer to go, settle in for a while and order one of the beers from the 15 rotating taps, or buy one of the 500+ bottles to enjoy there. All of the craft brewers want their beer to be sold there, so this is definitely the spot to find out what the cool kids are brewing and drinking. Warning: the more you drink, the more you'll want to shop. And considering some of the bottles go for 60 bucks or more, that can get pretty pricey pretty fast. But hey, you deserve it.
The Presidio
Whether you're looking for a beer that pairs well with seasonal small plates, or just want to grab a seat at the bar and get your beer drinking sesh on, Sessions at the Presidio is your spot. There are 24 rotating taps and over 75 bottles, which means that it won't be hard to find something to please your palate. Feeling adventurous? Check out the flight: 5oz pours of three beers that all fit the theme of the day.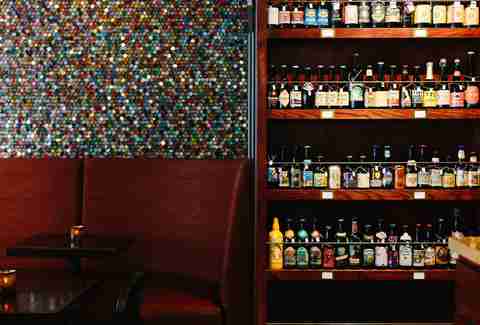 Civic Center
This craft-beer bar and bottle shop is tucked inside a luxury apartment building at Market and 10th, but that's truly the only thing not to like about it. There are 20 beers on draft (almost all of which are from California), but don't worry, it's not like you'll have had them all before; these guys focus on limited edition, seasonal, or specialty brews. Plus, there are over 200 bottles you can buy and take home, so you're pretty much guaranteed to find a bunch of stuff you've never tried. Grab a booth if you're staying a while (you are) and just try not to take a selfie in front of the wall covered in thousands of colorful bottle caps.
Lower Nob Hill
Since our MO is celebrating everything great about San Francisco, this amazing city that we live in, it's no surprise Hopwater Distribution made this list, as that's its MO also -- at least when it comes to beer. Yup, each of the 31 beers on tap at this airy, rustic bar, is from California. Why 31 taps? 'Cause California was the 31st state. (So clever). The food at Hopwater is also good and really reasonably priced. Between the brews and the grub, this is one of those spots that's super easy to come back to again and again. And again.
Inner Richmond
Anyone who lives in the Inner Richmond and drinks beer was super stoked when this bar and restaurant opened up, as it really filled a dearth -- and they probably all immediately joined the Mug Club, since it means they get a buck off every beer and a free beer on Tuesdays. But even if you don't live nearby, it's worth an Uber or Lyft ride, thanks to the 24 Northern California beers on tap, the poutine, and the fact that there are three big TVs where you can always watch the Warriors, Giants, and Niners.