10 Secret Bars in SF You Probably Don't Know About
Joe Starkey
Joe Starkey
Admit it: you love to be in on a secret. Especially when that secret serves cocktails. That's why we set about creating this: a list of SF's 10 best secret bars -- secrets because they're either hidden underneath something, behind somewhere, or legitimately on the DL. So, how do you get into all of them? The good news: you can walk into some of them and make reservations at others. As for the rest of them -- all we can do is give you the information we have and wish you luck.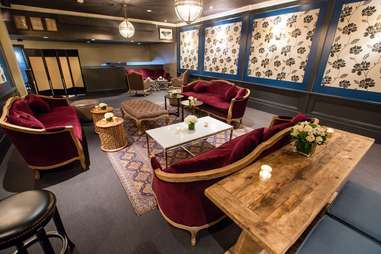 <em>North Beach</em><br />
You already love <a href="http://parktavernsf.com/&quot; target="_blank">Park Tavern</a>. Will you love it even more when you learn (or re-remember) that there's a swanky lounge hidden upstairs? Yes. Yes, you will. Eden Lounge feels a bit like you're hanging out in a <em>Downton Abbey</em> drawing room (in a good way, of course), but can also be turned into a dining room for private events. Fashion meets function; we like. Not only will you feel special when you're sipping cocktails in the soundproofed room, but you'll also be sipping special cocktails. That's right, the bartender will make you seasonal, definitely-can't-be-found-downstairs drinks you can totally boast about on Instagram. If you can figure out how to get in that is...
<em>SOMA</em><br />
All of the secret bars on this list are cool, but Gotham Club might be the coolest, if only because it's located behind the scoreboard at AT&amp;T Park. And has insane views of the Bay. And outdoor seating with uninterrupted views of the field. And a full bar. With baseball-shaped ice cubes. And a game room (that's hidden behind a secret door). With TVs, a billiard table, and old-school video games. OH DID WE ALMOST FORGET TO MENTION THE PRIVATE BOWLING ALLEY? Yeah. This place is sweet. Wanna get in? You've just got to be a season ticket holder who's willing to pay a $2,500 membership fee, plus $1,250 in annual dues. Or at least know someone who is. (If you're the former, hit me up, yo.)
<em>Financial District</em><br />
Tucked away in a little alley between two main streets in the Financial District is a cozy bar that serves wine by the glass, flights, comparisons, and bottle. Yeah, this place is romantic or whatever, but don't let that stop you from coming here because BOCCE. Also, 800+ bottles of wine and yummy small plates. AND BOCCE. (Important to know: if you want to book the bocce court for an hour, there's a $100 food and drink minimum. But it's you: you can eat and drink that much, no prob.)
<em>The Mission</em><br />
Some people might argue that the Hideout at Dalva isn't really secret. But that's because those people already know about it. Think about everyone who hasn't experienced the joy that is slipping away from the crowd at Dalva into the intimate (yes, that's code for small) bar where craft cocktails and happiness await. Just don't plan on ordering anything with vodka. Which, uh, you weren't going to anyway.
<em>Tenderloin</em><br />
By now, <a href="https://www.thrillist.com/venues/bourbon-and-branch&quot; target="_blank">Bourbon &amp; Branch</a> is pretty much a household name for anyone who lives in SF and loves to drink. And while it's pretty easy to get a seat in some of the rooms within the speakeasy-inspired spot, it's definitely NOT easy to do so at The Ipswitch, a super-secret basement room that you access through a trap door in the floor. Fun fact? It's named after the actual speakeasy that operated in the same space during the Prohibition. Sad fact? You've gotta <a href="http://www.bourbonandbranch.com/event_form/&quot; target="_blank">book a large event</a> at Bourbon &amp; Branch and then cross your fingers that they put you and your friends in The Ipswitch. Some gambles are worth taking. This is one of them.
<em>Union Square</em><br />
<a href="https://www.thrillist.com/drink/san-francisco/union-square/romper-room-…; target="_blank">Upstairs from Romper Room</a> is a lounge where you and your drinking buddies can go wild ('cause, you know: leopard print). Definitely take advantage of the secret menu that's only available in this second-floor, pink-lit space that holds 40 people. Leopard Lounge is a great place to go if you don't want to be spotted (SORRY), but also purr-fect to rent out for a private party. And we're done. No seriously. We are. Not lion.
<em>SOMA</em><br />
Behind a bookcase in one of our favorite SF bars, <a href="https://www.thrillist.com/venues/the-cavalier&quot; target="_blank">The Cavalier</a>, is a top-secret bar named after the woman who had an affair with Mick Jagger. (Marianne, in case for some insane reason that wasn't obvious.) This bar is everything you want in a bar: intimate and cozy with a private bar and bartender, and a bathroom that you don't have to share with anyone except the other cool kids who are also drinking in the secret bar. How to get in? That one's a little tricky. It'll either happen. Or it won't. Sometimes life's a bitch that way.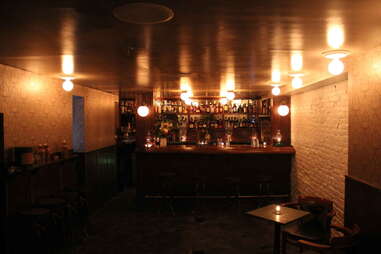 <em>North Beach</em><br />
Next time someone judges you for constantly wanting to go out to amazing bars, first: dump that person as a friend. But before you do so, look him/her in the eye and say, "I'm not going to the bar just to drink. I'm going to the bar to consume RESTORATIVE LIBATIONS." And then throw your restorative libation in his/her face. Actually don't do that 'cause drinks are expensive. Back to what's important, though: the cozy, dimly lit bar <a href="https://www.thrillist.com/drink/san-francisco/north-beach/devils-acre-b…; target="_blank">downstairs from Devil's Acre</a> in North Beach. Though it's a separate bar, Remedie also has drinks that double as, well, remedies. So <a href="http://www.thedevilsacre.com&quot; target="_blank">make a reservation</a> and then toast to friends who get you (and the reason you're there in the first place: good health, duh).
<em>Union Square</em><br />
If you're really into&nbsp;lambics and sour beers, then you're going to be REALLY into the <a href="https://www.thrillist.com/drink/san-francisco/the-tenderloin/mikkeller-…; target="_blank">secret bar located in Mikkeller Bar</a>&nbsp;that's open&nbsp;Thursday-Saturday from 6pm-2am. Walk down a staircase and hang a left if you want to find the Tivoli Sour Room, a hidden cellar space designed to look like the two Mikkeller Bars in Copenhagen. Grab a stool in front of one of the portholes that looks into all of the kegs and taps that lead upstairs. It seats about 20 and has a selection of 80 speciality bottles and FINE, if you don't want a sour beer, you can bring one down from upstairs.
<em>Tenderloin</em><br />
Wilson &amp; Wilson is a speakeasy within another speakeasy (<a href="https://www.thrillist.com/venues/bourbon-and-branch&quot; target="_blank">Bourbon &amp; Branch</a>), which may sound a little too complicated, but who cares because it's set in a (fictional) detective agency. That should be enough for you right there. But in case it's not, Wilson &amp; Wilson is aesthetically fascinating (velvet-flocked wallpaper, antique glassware, and a drink list that's hidden in a case file), but even more important: the bartenders are making drinks you just can't find in any ol' secret bar. Order the tasting menu for the full experience. Just don't forget to make a reservation. It's the only way you're getting inside.<br />
<br />
<em><a class="vortex-open" data-campaign="2846" href="https://signup.thrillist.com/&quot; target="_blank">Sign up here</a> for our daily San Francisco email and be the first to get all the food/drink/fun SF has to offer.</em><br />
<br />
<em>Daisy Barringer is Thrillist's SF Editor and if you are a member of The Gotham Club, please hit her up on Twitter <a href="https://twitter.com/daisy&quot; target="_blank">@daisy</a> and become her new best friend.</em>