If there's one day of the week that almost demands you have a little booze with lunch, it's... every day. But, since alcohol costs (ugh) money, and you can't always rely on Jody in Sales to expense everything, here're six places you can do some mid-work-day drinking, that won't cost you an expensive arm and an expensive leg.
What: $2 Martinis
Where: Lark Creek Steak
Buy an entrée (so... steak) at this steakhouse (see?), and they'll serve you two $2 martinis, made with either gin or vodka.
What: Cheeseburger, Fries, and Beer for $12
Where: Fast Food Francais
If you find yourself across the Bay in Sausalito and "accidentally" miss the ferry back to San Francisco during lunch, pop in to Trip-F for their $12 burger, beer, and frites.
What: $2 Cocktails
Where: TRACE
Shake that Moscone Center convention-stupor on Fridays at the W Hotel's shmancy, bi-level California cuisine-ery, where they'll pour you up to two (so... two) restorative $2 martinis, or Lemongrass Drops (vodka, elderflower liqueur, lemongrass syrup, lemon, pineapple, and mint) with your lunch.
What: $2 Taco & Tecate Tuesdays
Where: Mars Bar
This SOMA bar does Taco Tuesdays about as well as you can do them: with $2 carnitas tacos and $2 beers. Even better, the special runs pretty much all day, and even better than even better, they've got a sun-stroked back patio.
What: Free Lunch Fridays
Where: Comstock Saloon
In old San Francisco, it was common practice for bars to lure folks in to drink with the promise of free food. Comstock Saloon revives that custom with a buy-two-drinks-get-a-weekly-special-plate, proving there is such thing as a free lunch (... if you pay for two drinks).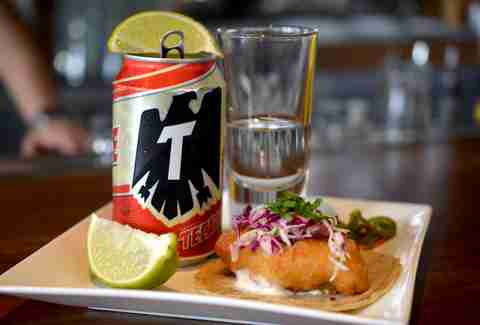 What: $10 Taco, Tequila Shot, and A Beer Prix-Fixe
Where: Tacolicious Locations
This is a threesome you never knew you wanted to be involved in (San Francisco is like that). Depending on your stamina or appetite, this alone might not be enough for a full meal, but you can always double up, because, um, yeah.
Lou Bustamante is a Bay Area based cocktail and spirits writer who's spent time working at a distillery, and once came back from Jalisco, Mexico with 20 tons of whole cooked blue agave piñas. He doesn't remember doing that. Follow him (from a distance) on Twitter.