Is this the greatest new SOMA spot?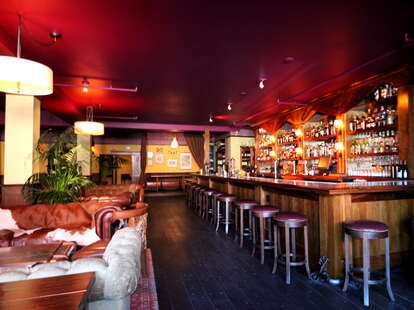 Because the steampunk SOMA bars you've been visiting didn't have nearly enough of a "Southern French mansion" feel to them, it's time to hit up Bergerac, a new spot that's loosely designed around the spot where The Rolling Stones wrote Exile On Main St.
The seating areas range from these comfy couches with steel cargo tables, to a large dining table with its own chandelier, to a totally understated fur-covered, tiger-striped chaise lounge.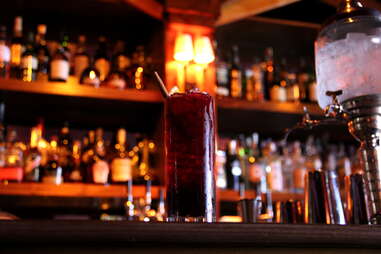 The cocktail menu was created by bar director/current co-star of Bar Rescue Russell Davis (with a heavy input from the staff), and has five different categories: Approachable, Complex, High Octane, Low Octane, and Social. This is the Red Medicine, which won't restore eight of your hearts, but might give you enough of one to go talk to that princess in the corner.
And -- of course -- here is the giant block of ice from which they will be carving smaller blocks of ice for your drinks. Of. Course.
Off the Low Octane (boo) menu, this is the Annie Forget Your Gun with Branca Menta, phosphate, and house-made chocolate syrup (yay!).
And off the more playful High Octane list, you can grab a bunch of different (delicious) shot pairings, like this Butterscotch Telecaster or the awesomely named Fireball Inside Her (Fireball and cider... get it??).
The food is just as fun as the drinks, with noshes like these boneless chicken wings with Vietnamese caramel sauce and garlic chips.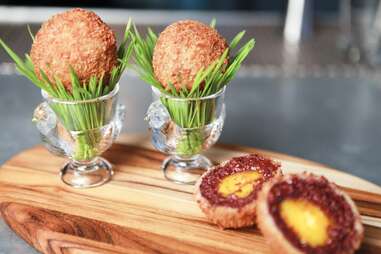 Or this freezer-cured egg wrapped in black pudding with a crispy tempura made with Anchor Summer Beer, all of which makes no sense, but somehow sounds delicious.