Keanu Reeves and Patrick Swayze would totally hang out at this SOMA bar
The best thing to come from a couple of surfers since Point Break (seriously, HOW GOOD was that movie?), Driftwood is a SOMA bar that looks like it'd be more at home next to a beach, with a laid-back interior complete with blonde wood, framed ocean landscapes, and a seal statue on the bar.
Much like Tom Hanks and Wilson's Summer home, this place is decorated all over with actual driftwood, including even inside the metal housing of this super-awesome lit-up sign.
Their light fixtures keep with the driftwood theme too: they're made of hand-cast glass blocks that've been imprinted with what Douglas firs ALWAYS leave in the bathtub (tree rings).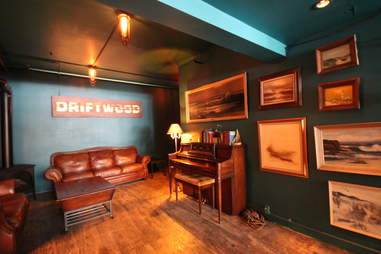 Along with an awesome rotating craft beer list, they have a lounge-y, piano-equipped area where you can drink an awesome rotating craft beer list.
Their specialty cocktail menu involves some pretty seaworthy names, like the unforgettable Remember the Maine and this Bosun's Knot with rye, green Chartreuse, bitters, and muddled coffee beans.
Don't let the purple fool you; this Black Scotsman actually mixes blended Scotch with blackberry, sure to make it your favorite kilt-y pleasure.