There's a secret club behind the scoreboard at AT&T Park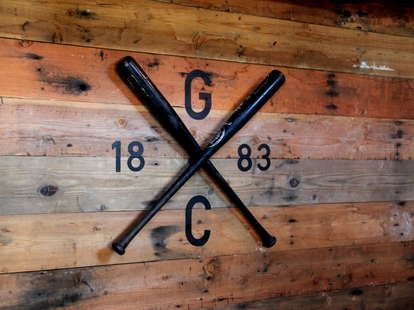 SF has had an influx of totallyawesomesecretthings as of late, but The Gotham Club might just be the awesomest, secretest one.
It's a members-only, speakeasy-style club behind the scoreboard at AT&T Park that has nothing to do with Batman (sorry), but everything to do with two secret entrances (not sorry!), a cocktail bar, A BOWLING ALLEY, mitt-sized Bavarian pretzels, and maybe the best view of the Bay in the entire park.
The main entrance is on the Portwalk (they'll tell you where, once you become a member). Once you head through it, you'll walk up the stairs to the Clubhouse. The first thing you'll notice? This crazy view of the Bay.
The second thing you'll notice (okay, okay, first thing) is the full bar, which features actual cocktails that'll only cost you a couple bucks more than a light stadium beer.
You'll also notice this emblem everywhere -- it's an homage to the New York Gothams (aka the SF Giants before they moved here). Good news for all you Thrillist-reading former ball players, too: anyone who played on the Giants or Gothams is an automatic club member.
On nicer days (ha!), you'll want to head to the outdoor seating area behind even more scoreboards, where you'll get almost uninterrupted views of the park.
Even the ice cubes here are baseball-themed. They're made with a special press and used in the #24 (their take on an Old Fashioned), which'll run you a cool $15.
If you're looking for something a little more pocket-friendly, there's the $12 Hamm's and a Dickel-combo-ing "Bullpen Booze Cage", named after the moniker given to part of the San Francisco Recreation Park on Valencia between 14th St and 15th St, where the New York Giants once played an exhibition game against the San Francisco Seals in 1907. Back then, $0.75 would score you entry to the game, a ham and cheese sandwich, and either a shot of whiskey or two cans of beer.
Leather stools with baseball stitching? Seems right.
They also offer bar bites like Bavarian pretzels with homemade Dijon mustard, or the Gotham Dog with spicy brown mustard on an onion roll.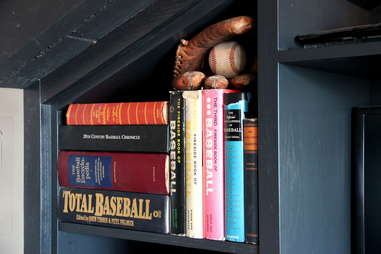 You'll find baseball memorabilia everywhere, including some really cool stuff from the past century that's in a locked glass cabinet (so you don't get mustard stains on everything).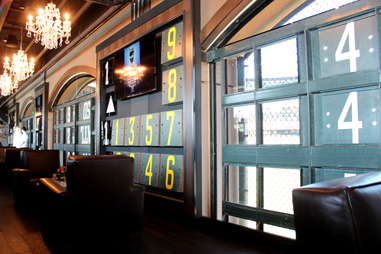 Best of all, though? If you ask really nicely, you'll get to be responsible for switching out the old-school numbers in the out-of-town scoreboard during the game (doing it wrong will probably get your privileges revoked though, so no pressure...).
There are two more club areas as well, including this Bullpen from which members get to watch batting practice/snag deep fly balls at field-level. Then, on the other side of the stadium, there's...
... the Game Room, hidden behind a door labeled 'Electrical Closet' [Editor's Note: please do not start looking behind every door labeled 'Electrical Closet']. One of the walls is covered with what they claim are portraits of famous Giants from history, though Andre, The seems to be curiously missing.
The Game Room is equipped with a bunch of awesome stuff, including a big-screen TV for watching the game while you're playing on their custom billiards table (let's all be happy they didn't make it orange).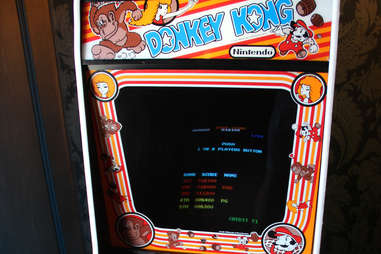 They've got old-school arcade games like Golden Tee, Tetris, Donkey Kong, and Ms. Pac-Man.
HOLY CRAP THEY HAVE A BOWLING ALLEY.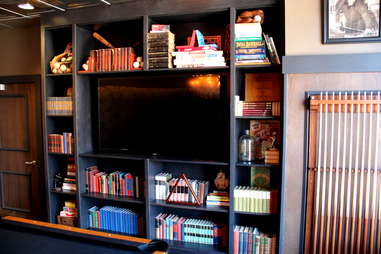 Membership is currently open to season ticket holders, with a $2,500 starting fee and $1,250 in annual dues. Seems like a small price to pay for a PRIVATE FRIGGIN BOWLING ALLEY, right?
Joe Starkey is Thrillist's San Francisco Editor and definitely wouldn't turn down an invite from a club member to come join. Send all invitations to him on Twitter.