Four facts we know for sure: 1) you love Park Tavern, 2) you love Marlowe, 3) you will love S&R Lounge in Hotel Zetta, and 4) rubber bands last longer when refrigerated. So what's so great about S&R Lounge? Well, food and drinks're all courtesy of the Park Tavern/Marlowe girls and're eatable/drinkable in the attached "Playroom", which's stocked with allll the awesome board games from your childhood (Battleship!!!!), a pool table, giant Jenga, Wii U, and a wall-sized soccer ball Plinko. Helping us show off all this awesome: SF's fantasticest restaurateur, Anna Weinberg, and her husband James Nicholas, who spent an afternoon with us eating, drinking, and going hilariously head-to-head in S&R's game room

Round 1: Pool

Recommended Video
You Can Now Get Artisanal Twinkies Delivered to Your Door in NYC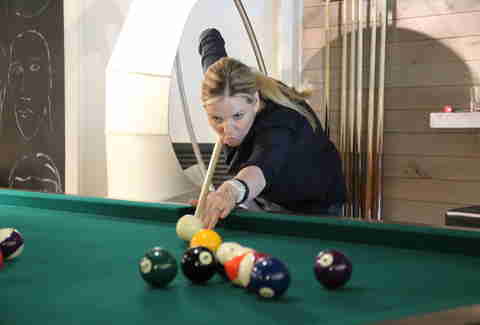 If this were an enthusiastic pose-off, James would be the winner. This was not an enthusiastic pose-off. Game 1 takeaway: Anna is "not competitive... so long as I win".
Winner: Anna


Drink Break 1:
This drink break is brought to you by the smooth blend of reposado, brandy, Cocchi, and chocolate bitters -- a combination dubbed the 404, after the common error message your brain will share with your computer after too many of these.


Round 2: Giant Jenga (Jiant Jenga?)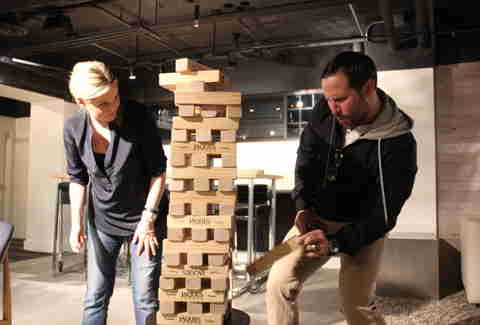 James is off to a great start, having actually played Jenga before. Anna uses the tried-and-true two-handed technique until she's informed that that's, in fact, "cheating".
Winner: James


Drink Break 2:
Meet The Valley, a combo of mezcal, pineapple, lime, and chile that's totally named after the Silicon one and not, like, that, like, other one.


Round 3: Shuffleboard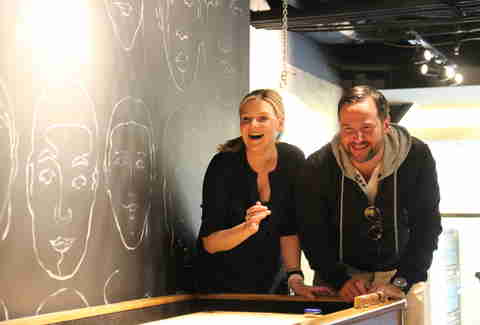 While incredibly enthusiastic about the "knocking each other's pucks off the table" part, neither James nor Anna managed to put any points on the board.
Tie


Drink Break 3:
Off of the rather unique "Bottles + Cans" portion of the bar menu that actually consists of cocktails made with beer, this is the Jesse Street (the alley adjacent to the hotel). While it doesn't contain hobos, it does have a delicious mix of rum, Velvet Falernum, ginger, and lager.


Final Round: Soccer Ball Plinko
Despite Anna having never seen The Price is Right [Editor's Note: Wha?!?] and calling Soccer Ball Plinko "sports for lazy people", she managed to grab an all important win here to clinch the title of S&R Lounge Champion that we made up just now.
Winner: Anna


Food Break:
As previously mentioned, all the food is designed by Chef Jennifer Puccio of PT and Marlowe fame. It offers an updated spin on 1970s American party food, with the assortment here consisting of rice "Cracker Jacks", French onion dip with potato chips, a super-melty grilled cheese with truffle/mustard, and the incredible reverse martini (cocktail olives in a shot of dirty vodka).
Winner: Everyone
Previous Venue
Next Venue
Venue Description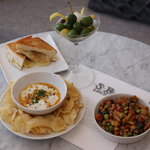 1. S&R Lounge
55 5th St, San Francisco, CA 94103
With a kickass cocktail list and food designed by Park Tavern/Marlowe chef Jennifer Puccio, S&R's a SOMA loungy bar in Hotel Zetta with an entire "Playroom" dedicated to childhood games made adult-size, like an enormous Plinko board that uses soccer balls (!).