A SOMA bar that rivals Bloodhound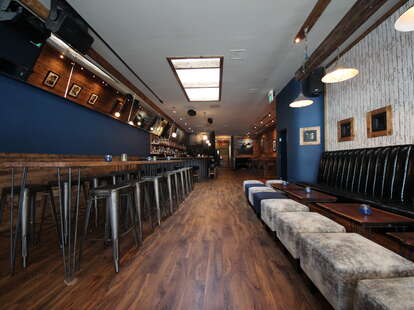 From the dude behind nearby John Colins, Southside Spirit House is a 2000sqft SOMA bar with donut holes, on-fire cocktails, and a sort of Texas saloon-ish interior with reclaimed wood and giant mirrors on the ceiling so you can check out how good you look after all that hard work you put in at the gym that one time you went... two months ago
This nice, alcove-y leather booth is a great intimate space for you and your closest friends 20 of your closest friends
WHERE ARE MY DRAGON... heads made out of water pistols?!
BYO-Walkman
The drink menu wants to be "refined and approachable", so make sure that while approaching this Viex Kenner (rye, brandy, Carpano Antica, Fernet Branca), you keep your pinkie up
Eats are all of the bar-bite variety, like these deviled eggs with jalapeno, Cotija cheese, and bacon..
... which you should wash down with this Torero En Llamas that fronts Corralejo Blanco, Carpano Antica, agave, and a float of Chartreuse Green that's set ON FIRE. Back to the food: Front Porch chips with farmhouse dip, which tastes a lot better than it sounds
Plus, they've got late-night chocolate waffles and donut holes, and three different amazing sliders to choose from: seared beef, beer-braised corned beef, or pork belly, also what you definitely, probably, maybe got rid of with that one gym visit.