This bar has free bacon, keg-sized bottled beer & hobgoblin mugs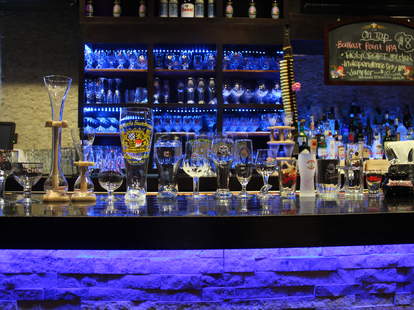 And one more time for the people in back: THIS BAR HAS FREE BACON, KEG-SIZED BOTTLED BEER, AND HOBGOBLIN MUGS. Much like the illusory animal it's named after, The Pink Elephant just kind of appeared out of nowhere, replacing Alibi with a game-changing SOMA beer bar worth reshuffling your weekend around for. Here's why:
Joe Starkey
It has a LOT of beer
This is what it uses to stock its two-page beer list (which originally started as an EIGHT page beer list). It's planning to hopefully find a happy-beer-medium somewhere between the two, but in the meantime, will continue bringing in great (and sometimes super-rare) brews.
Joe Starkey
Like we said, keg-sized bottled beers
And yes, that's a 165-beer-holding keg.
Joe Starkey
It doesn't just serve beers
Rosemary and jalapeño spicy cocktail? Check. Seventeen different flavors of mimosas at its bottomless mimosa brunch on Saturdays and Sundays? Check... check check check check check check check check check check check check check check check check.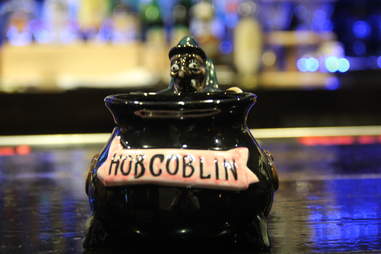 Joe Starkey
There are 19 (and counting) different beer glasses behind the bar...
... including das boot (and mini-das boot!). But wait'll you see the mugs -- this one comes with its own hobgoblin guard.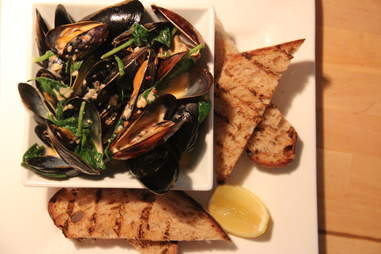 Joe Starkey
It has five different kinds of mussels
Garlic & cherry tomatoes, blue cheese & bacon, Meyer lemon & beer broth, fennel cream sauce, and chipotle cream sauce... which, surprisingly enough, isn't guacamole.
Joe Starkey
The rest of the food is pretty damn good, too
Including this lamb burger with avocado, caramelized onions, and sautéed mushrooms, fish & chips, and truffle popcorn.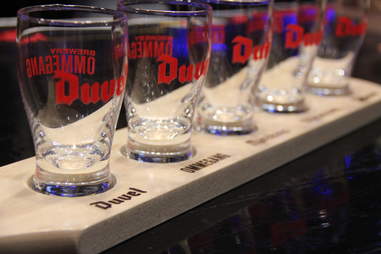 Joe Starkey
It has brewery presentations every Wednesday
Which sometimes result in free beer, and other times result in awesome specials like this Duvel tasting paddle.
Joe Starkey
Its happy hour comes with free bacon
Buy a drink Mon-Fri between 5-7pm, and you'll get free Sassy Bacon, which is made with maple syrup and red peppers. Free bacon as long as you buy beer. Freal.
Joe Starkey is Thrillist's San Francisco Editor and he appreciates a good bacon adjective. Follow him on Twitter.