5 tequila joints for your agave-sipping pleasure
There is an old saying: tequila is made from the tears of happiness the gods cried when they first created tequila. Okay, that doesn't make any sense, but this does: five great spots to get your agave on and on and on, on and on and on.
Comal
Tequila Bona Fides: Phish's former manager's place has 60+ tequilas, which you'll enjoy so much, you won't make your first one your Final Flight. That was a deep-cut Phish joke. Yay Phish!
Quick Bite: A tlayuda -- basically an open-faced burrito worth the certain mispronunciation.
Copita
Tequila Bona Fides: 87 tequilas, ensuring your copita ("glass") will always be full.
Quick Bite: The chorizo and potato filled fried "Mexico City-Style Quesadillas" (see above).
Mosto
Tequila Bona Fides: 300 of 'em. That is all.
Quick Bite: The al pastor tacos, served bar-side from a giant rotisserie.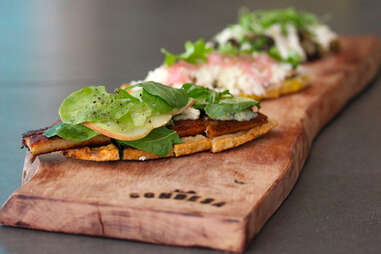 La Condesa
Tequila Bona Fides: This Austin import sports 200 tequilas and 30 mezcals, because 200 tequilas was not enough.
Quick Bite: The spicy chipotle/guava-glazed pork ribs (see above, let eyes grow larger than stomach).
Prizefighter
Tequila Bona Fides: More than 30 fine tequilas, plus possibly the best-named margarita in the world, the "Is That A Margarita?".
Quick Bite: Is that a margarita?