Your Guide to the Best Winter Beers in SF
O come, all ye faithful Bay Area beer drinkers. 'Tis the most wonderful time of the year in the brewniverse. Fruitcake, in-laws, conspicuously ironic sweaters, 24 hours of a A Christmas Story on TBS, and bold, beautiful winter beers. As the artificial snow falls outside on the Embarcadero and high temperatures in Oakland plummet to the mid-50s, pull up a chair by the fireplace -- or fire pit on the beach -- and grab one of the dozen winter beers listed here, just in time for the 12 Days of Christmas and all made by Bay Area brewing talent.
Weisse Edict
Strong white ale, 8%
Oakland
Brewing a home run away from the Coliseum, Ale Industries is throwing you a winter curveball. Wheat beers are usually considered low-ABV, easy-drinkers (see: Berliner Weisse, Hefeweizen) that are more in tune with summer sun than winter darkness, but Weisse Edict is not your usual white ale. It clocks in at 8% ABV and thanks to being aged in whiskey barrels for nine months, it carries notes of cloves, cinnamon, and Christmas trees. If that's not uplifting your holiday spirit, Ale Industries also released a way-out-there strong dark red ale called "This Is the Shit That Killed Elvis" and a sour blonde ale with Cascadian raspberries named "Pink Drank."

Truthful Statement
Sour stout, 9%
San Jose
I'm going to jump ahead a little bit past the holidays to the endless run of "Year in Review" lists that happen between Christmas and New Year's. If you follow the national "craft beer" culture, you'll probably agree that 2015 was, without question, "The Year of the Sour," closely followed by "The Year Big Breweries Became Scared of the Little Guys and Bought Small Brewers." The Bay Area already adores various sours by Almanac, so it's no big surprise that the just-released Truthful Statement will be a hit. Sour stouts are the newest sour phenomenon and this particular beer gets the Woodford Reserve bourbon barrel-aging treatment, accented with orange peel and cherries. It's subtle, with fruitcake and slick toffee notes combined -- a perfect post-dinner sipper.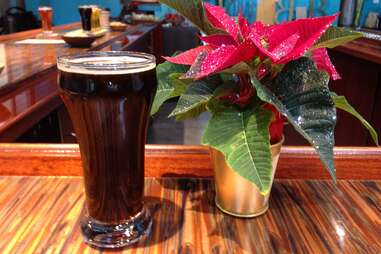 Serendipitous Stout
Vanilla chocolate stout, 7.7%
San Francisco
One of the newest tap rooms in San Francisco is also one of the more confusing: Pacific Brewing Laboratory and Black Hammer Brewing share the space and the tap list, but you probably won't remember who brews what after a few half pints. Immediately after a few sips, I thought of molasses and hot buttered rum, with layers of dark cacao and caramelized sugar. It's right in that happy middle zone between dry Irish stouts and imperial stouts. It's rocking a mid-level ABV, is warming, a little tame, and very alluring.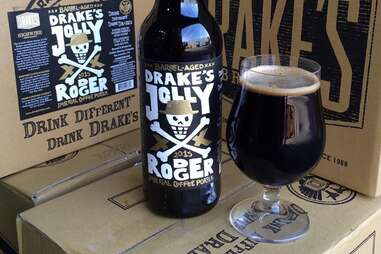 Jolly Rodger 2015
Imperial coffee porter, 8.1%
San Leandro
There are coffee beers, then there's the 2015 edition of Jolly Rodger, the annual pirate-themed release from the East Bay legend, Drake's. Colombian beans roasted by Oakland's own Highwire are put to good use... and wow, is this one intense coffee beer. Dare I say it tastes more of coffee than an actual cup of coffee? I dare. This is a big beer that starts aggressive then finishes in a relaxed state, instead of a heavy alcohol burn. My advice: give Jolly Rodger as a gift for aging, but do yourself a favor and check it out now.
Good Conduct
Bourbon barrel-aged imperial brown, 12%
Berkeley
OK, so some of these "winter beers" are hoppy or light, which is perfectly fine. Sometimes, though, you just want the big stuff, the good stuff, or Good Conduct stuff. Good Conduct is a tremendously balanced, unique genre that kind of combines the best worlds of a brown and barleywine, and doesn't skimp on the Vermont maple syrup element like many other maple beers (looking at you Bruery Autumn Maple).

Manzanita
Smoked altbier, 6.5%
San Francisco
Fort Point's Manzanita is mostly a year-round offering, but cries out "winter warmer," while effortlessly balancing the best elements of charred manzanita branches with a beechwood-smoked malt base. The first time I sampled this a year ago was one of those "whoa hot diggity" moments. Since this is San Francisco, I'll speak in cocktail terms. We're talking about a balanced mezcal cocktail-level smokiness, not a Laphroaig old fashioned. I should mention this is a collaboration with Freigeist, one of Germany's game-changing small breweries.

Pyro De La Noche
Dark rye chili beer, 5.8%
El Granada
A dark American rye chili beer? Say whaaaaat? Though Hop Dogma absolutely dominates the IPA genre, one of its most popular beers is the Pyro's Prost, an American rye chili beer with habaneros and jalapeños. For the colder months -- well, every month is cold in Half Moon Bay but you get the idea -- Hop Dogma added the roasted earthy character of chipotle peppers and swapped to Crystal rye for more smoke and a dark body. Don't worry, it's warm, but not "I need to jump into the ocean to stop the burn" hot.

Winter Sweater
Imperial porter, 9%
San Francisco
With 40lbs of graham crackers (yes f-o-r-t-y pounds of graham crackers used in the recipe!), and a little Madagascar vanilla bean to finish, this is definitely s'mores-inspired, but has way, way more to it than just a beer channeling our family camping trip days. Frankly, it's not unlike a big ol' mug of hot chocolate with a little spicy sass. By the way, this is Local's first Christmas… major praise that it's got a heavy hitter seasonal beer like this out already.
Winter Warmer
Dark Spiced Beer, 7.8%
San Francisco
Whether at Magnolia's Haight pub or Dogpatch's Smokestack, there is no debating what you're getting this time of year, whether it's a white or blue Christmas. The real debate is will you have the Winter Warmer on draught or on cask? Like the Cole Porter and so many of Magnolia's brews, "balance" is the buzzword. For the Winter Warmer, bitter and malty notes turn into a flowing, slightly sweet (like medjool dates), vanilla crème brûlée-tinged personality. Magnolia doesn't go for the enormous alcohol-heavy beers and, while this is by no means a stiff, heavy beer, it's about as much of a knockout as you'll find from this brewery.
Fireside Chat
Winter spiced ale, 7.9%
San Francisco
There is a certain holiday beer in San Francisco that historically ties together Christmas and the Bay Area. It will always be the signature beer when the Chipmunks start playing on the radio. The Fireside Chat from SoMa's venerable 21st Amendment is that beer. Imagine a classic English- style session pub ale given a notch of alcohol strength and an underlying hum of cloves. It's not too hearty or rich, but it's very delicious… and strong.
Carcosa
Belgian quad, 9.5%
San Francisco
Belgium's St. Bernardus Christmas Ale is the most well-known beer worldwide for this dark, spiced winter beer genre. So, when we think Christmas ales, we think Belgian quad ales. Triple Voodoo, a Dogpatch brewery that covers the full beer spectrum (but is working on a PhD in Belgian styles) goes the St. Bernardus quad route this season, just without the gingerbread spices. Carcosa is a stylish, on-point Belgian strong ale that has the malty-toasty twang expected of a quad, but then finishes on a gentle, sweet caramel note -- instead of a boozy shove like its peers.
Christmas Ale 2015
Winter warmer, 5.5%
San Francisco
Ha! Almost gotcha', thinking I wouldn't include the beer that basically made Christmas for San Franciscans. Switching from dendrology to debauchery, this 2015 version is far superior to last year's, with a striking bronze color with a pronounced allspice, orange zest, and ginger profile. The recipe is always a complete secret, but this year struck me as brighter and more spice-focused than before. Outside of Dungeness crab season (whoops, not this year) and the Union Square Christmas tree, nothing is more symbolic of Christmas in San Francisco than Anchor's Christmas Ale. This 41st version is one of the best renditions in recent memories. Cheers to that, now let's go wassailing.
Sign up here for our daily San Francisco email and be the first to get all the food/drink/fun SF has to offer.
Trevor Felch is a restaurants writer for SF Weekly and contributing editor to Vino 24/7. He is still surprised that some savvy brewer hasn't made a Gingerbread House Ale that combines all the elements from gumdrops to candy canes to almond extract, in one smooth brew. Good luck, thank him later for the idea! Follow him @TrevorFelch.