These are the 8 best dive bars in SF
As you're probably well aware of by now, December 21st is German historian Leopold von Ranke's birthday! the longest night of the year -- 15 straight hours of nothing but darkness. We like to call it the Best Night of Your Life, because that's exactly what it's gonna be if you spend it at the city's best Thrillist-approved happy hour spots, cocktail bars, party dinner places, and more. Check out our picks for SF's best dive bars below, and make sure to fully map out a perfect evening with our itinerary builder.
Pop's Bar
The Mission
Did we include this place mostly because they host a 4th of July tricycle race in the alley next door? Yes, yes we did.
Hi-Tide Lounge
Tenderloin
Armed with a portrait of a woman slipping nip, this bar in the 'Loin allows you to 1) bring in pizza from outside (that you can heat up in their microwave??), and 2) write on a dollar bill and pin it to the wall. Couldn't. Be. Better.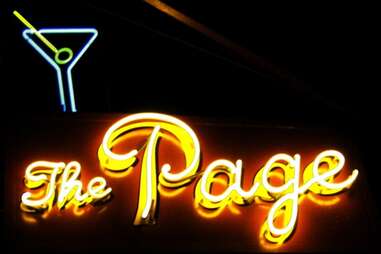 The Page
Lower Haight
This Divis dive is basically no-frills, cheap drinks, big leather seats, and a pool table that you may or may not have to wait for, depending on how many people are hustling it.
Buddha Lounge
Chinatown
The guy behind the bar (hi Mark!) will play you in a dice game for beers (lose and you buy him/you a beer, win and he buys you/him a beer), but you have to play before 8p because he "has to drive home after work". Also, the beer is super, super cheap, it's cash only, and you can get -- we kid you not -- Three Penis Chinese Whiskey here. Yep. Also, THIS IS ONE OF THE 33 BEST DIVE BARS IN AMERICA!!
Doc's Clock
The Mission
It's massive, has super-cheap pitchers, weirdly small tables, a broken shuffleboard table (!!!), and a sit-down Ms. Pac-Man that really can't be beat... unless you brought a bag of quarters.
Bow Bow Cocktail Lounge
Chinatown
Another Chinatown must-visit. The woman who runs it goes by "Mama", they serve peanuts you can crack open and eat at the bar (shells on the floor encouraged!), they have karaoke super-late in the back, and it'll either be sung by patrons in English or by "Mama" in Chinese. Also: we may or may not have been offered illegal fireworks on more than one occasion when there.
Mr. Bing's
Chinatown
Yes, the one seen on that Anthony Bourdain show. No, it hasn't been ruined by it, there're still the same strong/cheap drinks, the bar still basically dominates the whole space, and the patrons still may or may not take their shirts off. Please don't, Dad.
21 Club
Tenderloin
This place has everything you could want from a TL dive, with a ton of sports memorabilia on the walls, beers in a cooler (not fridge), and a jukebox manned by none other than the friendly bartender... who may or may not be named Frank?