The best damn places to drink in Sausalito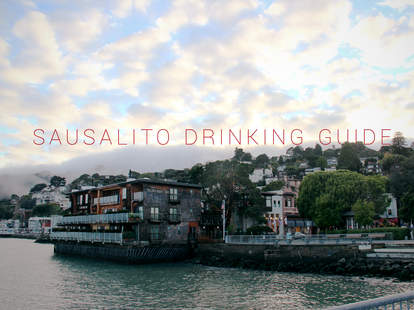 Two things you know for sure about Sausalito: 1) prior to the building of the Golden Gate Bridge, it served as a terminus for rail, car, and ferry traffic, then developed rapidly as a shipbuilding center in World War II before the city's industrial character gave way in post-war years to a reputation as a wealthy and artistic enclave, and 2) there are places there where you can drink. These are the nine best damn ones.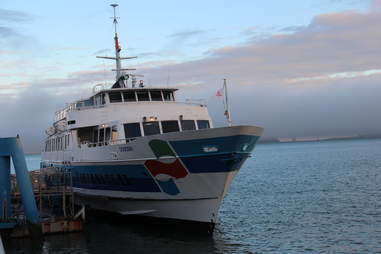 Grant Marek
1. The Freaking Ferry
Screw Golden Gate Bridge; take this glorious, Clipper Card-friendly water vessel, which leaves from the Ferry Building like once an hour, and has bars on TWO DIFFERENT LEVELS.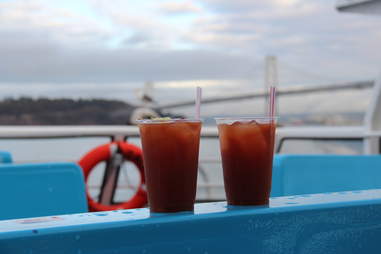 Grant Marek
The bars're cash-only, and they've got snacks (Odwalla Dark Chocolate Chip Walnut Bars!!!!), spirits (plastic cups full of Jameson!!!!), and a 20yr-old 12in TV in the corner that'll get the 49ers game. Sometimes. Best move: get the Bloody Mary. It's strong, and feels appropriately boat-y.
Grant Marek
2. Barrel House (click here for address and deets)
Like a one-minute walk from the ferry, Barrel House is a new-this-Summer tavern that's quite literally shaped like a barrel. Really... the ceiling is curved and everything.
Grant Marek
They've got barrel-aging Manhattans behind the bar and a ridiculous spirits program, but the move here is to make your own cocktail via their house-soda program, where you can use awesome adds like bacon, cucumber, and Willie Mays Hayes serrano pepper.
Grant Marek
Our Recommendation: Pink Lady apple & cinnamon soda with vodka. You...r girlfriend will love it.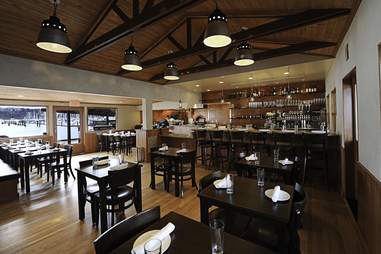 Lindsay Upson
3. Bar Bocce (click here for address and deets)
This guy -- from the folks behind Bix, Betelnut, and Zero Zero -- is nestled along the waterfront and sports about a dozen cask wines on tap, plus homemade winesicles.
A Quan Ha
Honestly, it doesn't even matter what you get here (we usually opt for a beer cocktail) -- just make sure you skip the two six-seat bars inside and bring your booze outside to their badass back patio and 55x10ft bocce ball court, which's fully lit (so try not to take what it says too personally).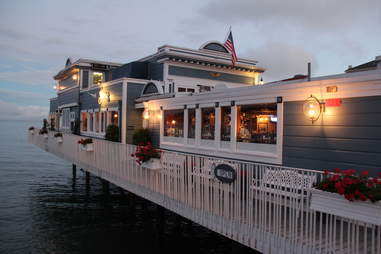 Grant Marek
4. Scoma's (click here for address and deets)
Throw your pinkie's WAY up at this schmancy, dock-situated restaurant's back bar. It's kind of separate from the entire restaurant, with its own Bay-facing windows behind the 'tender, who'll be wearing some sort of tie/vest/cummerbund/ascot combination.
Grant Marek
If the bartender wants to convince you to get a mimosa with Chambord added to it, let him. And since the entire dock is private property, dock-drinking is totally cool/... required?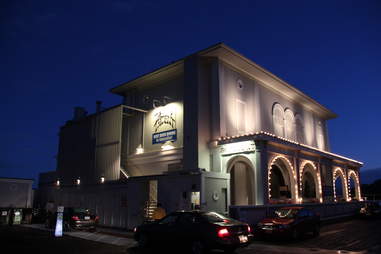 Grant Marek
5. The Trident (click here for address and deets)
Built in 1898 to house the San Francisco Yacht Club, this place became sort of a cult-ish social club in the '70s and, according to the bartender, "used to have orgies or something". I believe the word you're looking for is: co-sign.
Grant Marek
The reason to come (!) here, though, is for their Buena Vista's "World Famous" Irish coffee. The same dudes who own Buena Vista bought this place, and brought with them their whiskey pick-me-up, which is supposedly the first Irish coffee ever made (by Irish Chef Joe Sheridan in 1943), and uses a perfect combination of Tullamore Dew, heavy whipping cream, and magic clovers.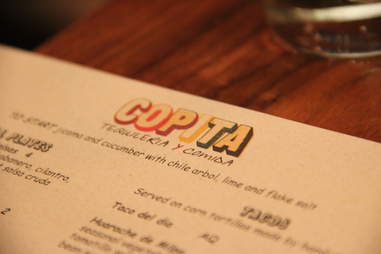 Grant Marek
6. Copita (click here for address and deets)
In case you needed a reason other than FRIED QUESADILLAS to hit this place up (seriously? you do?), how about three mezcals and 87 sipping tequilas (alone or in flights), served w/ a nine-ingredient sangria?
Grant Marek
This is the guy to order; it's quite possibly the best Blanco on the planet and, obviously, comes from a Mexican city whose name translates to "Purest of the Corner". It won Best in Show at the 2010 World Beverage Competition (the world's largest beverage competition held in Genevé, Switzerland), where the judges were quoted as saying, "A whole new class of tequila has been realized... also, has anyone seen my Army knives and fancy watches?"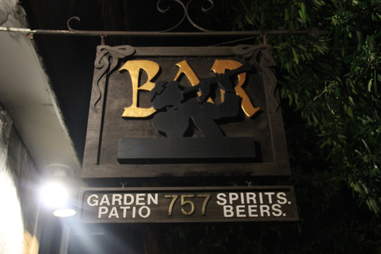 Grant Marek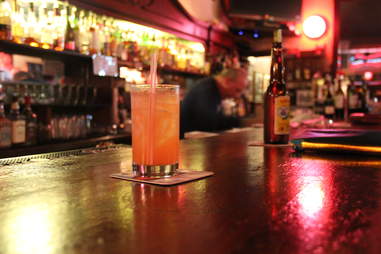 Grant Marek
But also: old-school bartenders (who live on boats nearby and like to "eyeball"-pour things), live music, the kind of sick back patio you can't get in SF, free popcorn with your beer, and this stiffer-than-stiff house punch.
Grant Marek
8. Smitty's (click here for address and deets)
If there were a dive bar heaven, it'd be located here. Where to start? They've got all the bar games you could ever want (electronic Spades!), Nascar car-shaped overhead lights, martini emblems on the bar stools, four different types of nuts behind the bar, a drink board (where you can buy a drink for someone and they'll drink free next time they're at the bar), and a chilling machine with Fireball, Hangar One, and Jaeger on tap.
Grant Marek
They also have good beer-and-a-shot options. Which you should order.
Grant Marek
9. F3 (click here for address and deets)
Tucked back from the main drag, F3 (Fast Food Français!...?) recently set-up shop in the old Plate... Shop digs, which means the interior is still super cool.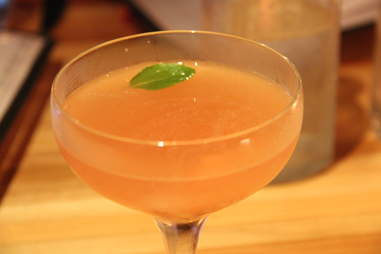 Grant Marek
Bottles of wine are grouped within $10 increments (from the $30s to the $70s), and while a lot of them are good, this house cocktail is the truth: The Quincy (bourbon, blood orange liqueur, lemon sour, and mint).