The Best Irish Bars in San Francisco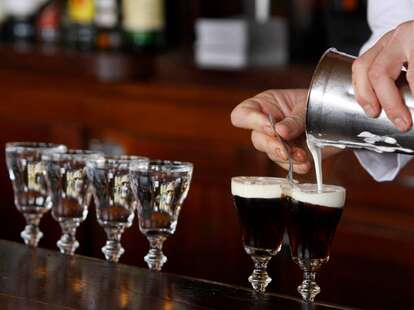 Whether you want to spend St. Patrick's Day chugging green beer out of a leprechaun-shaped bucket, or you'd rather celebrate by sipping a quiet pint in the back of a cozy, dark-wood-paneled bar, there's an Irish bar in San Francisco with your name on it. We've rounded up the best Irish pubs of all varieties, from authentic, Dublin-inspired watering holes to crowded, cheap-drinking institutions -- even a mysteriously lucky spot steeped in local lore. Here's to San Francisco's best Emerald Isle pubs. Sláinte!
North Beach
Upstairs, you can stomp around the old hardwood floors to the Dropkick Murphys; downstairs you'll almost definitely end up making out with a sweaty stranger to top 40 hits and '90s hip-hop. Kells is pretty much a before-30 San Francisco bucket list item.
FiDi
This sports bar is a popular happy hour destination year-round for its $5 draft selections and plentiful TVs, but if you come here at 9am on St. Patrick's Day, you can sip a pint of Guinness, enjoy traditional Irish ground beef potato pie, and watch the paraders as they make their way through the city -- without ever leaving your bar stool. Just like Saint Patrick intended.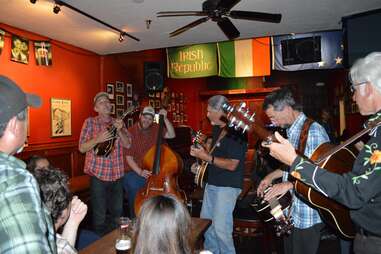 Inner Richmond
This homey bar goes far beyond serving a perfectly poured pint of Guinness (although they do that as well). The Plough and Stars hosts live Celtic music most nights of the week, and has remained a home-away-from-home for local Irish residents since it opened in 1975. So yeah, it's kind of earned its status as SF Weekly's "Best Irish Pub."
North Beach
An Irish bar that plays host to one of the best '90s cover bands on Friday nights -- hell yes. It's super college in here, but that's what makes it fun. Plus you can always catch the soccer match (or "football," if you insist).
FiDi
You might actually feel like you're in Dublin when you walk down the semi-concealed cobblestone alleyway that leads to Irish Bank. The space out front is filled with tables full of happy hour-goers enjoying pints and pub grub, and the interior has an equal amount of transportive European charm, thanks to dark wood and cozy corners. Show up on both March 12th and March 17th to take part in the bar's epic St. Paddy's Day block party.
North Beach
If you prefer curry with your Guinness instead of corned beef, head to this brilliant mash-up, where you can load up on delicious, cheap Indian eats in the restaurant, then head over to the Irish side of the joint for a pint and a game of pool or darts.
Inner Richmond
Perhaps the diviest dive bar in the whole city. If you want to be surrounded by actual Irish people on St. Patrick's Day, this no-frills watering hole -- owned by a nice Irish woman with an adorable lilting accent -- is where it's at.
Inner Sunset
The Little Shamrock has lived up to its lucky name in many ways: this joint has withstood two catastrophic earthquakes since it opened in 1893, making it the city's second-oldest bar. Just as impressively, a chance encounter between the bar's owner and a patron saved the popular watering hole from closing in 1974. Today, the bar remains a cozy place filled with couches, board games, and tchotchkes -- including a shelf of books from mystery writer John Lescroart, who features the bar in every one of his books.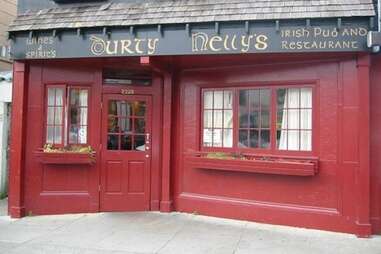 Outer Sunset
Owned by natives of the Emerald Isle, this down-home, humble spot is generally filled with heavily accented regulars chowing down on either a traditional Irish breakfast or fish 'n' chips.
Inner Richmond
Featuring darts, pool, trivia, and a cozy fireplace, this bi-level bar is the game room/lodge that you'll probably never actually own, but at least you can visit. Feast on delicious, cheap pub grub -- the sampler platter includes everything from buffalo wings to zucchini sticks for less than $10 -- and try of the city's best shepherd's pies.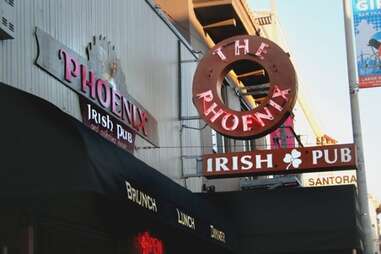 Mission
If you want a traditional Irish bar experience, but want to steer clear of FiDi or North Beach's St. Paddy's Day mayhem, this spacious spot, located right in the midst of the Mission's taquerias and hipster bars, is your lucky four leaf clover. Serving Harp, Smithwick's, corned beef, cabbage, and soda bread, The Phoenix has everything you need for a proper Irish celebration.
Fisherman's Wharf
While it's in tourist-trap central, you can't truly call yourself a San Franciscan until you've had an Irish coffee at America's birthplace of Irish coffees while watching (and hearing) a cable car lumber by.
Sign up here for our daily San Francisco email and be the first to get all the food/drink/fun SF has to offer.
Amy Copperman is a SF-based writer. She's about a quarter Irish 364 days of the year and then full Leprechaun on March 17th. Find her on Twitter -- or more likely, at any of these bars. @coppergirl