The number of breweries in the country could nearly double in the next decade, and the market still wouldn't be oversupplied. And in 2015, our Bay Area brewmasters did their best to tap into the microbrew trend, resulting in a number of successful startups and many exciting new beers. These are just a few success stories worth a shout out. In alphabetical order...
Recommended Video
This Pizza Dip Lets You Throw a New Kind of Pizza Party
Oakland
Alright, easy on me... I'm coming out of the gate with more of a relocation than an opening, but Ale Industries is worth a mention for their commitment to the California style and use of unique, local ingredients. Last year was a huge year for them with a new production facility in Oakland and a new tasting room in the Fruitvale District (called the Jingletown Jazz Room). Looks like a good "reset" for Ale Industries and you'd be wise to give their East Bay IPA a taste when you get a chance.
SoSF
Technically the second relocation mention already -- but it's nice to showcase this SoSF nano brewery -- where the beer makers work the bar, AB took over the small basement space in 2015, and they are off to a good start. If it's available, give the Moe's Gose a try (sour beer/gose fans especially).
SoMa
Cellarmaker jumped right out of the gate with some very bold IPAs, making them one of Northern California's hottest breweries for hoppy beer lovers. The Cellarmaker Permanent Daylight is the move here.
San Leandro
The small brewery and tasting room reminds me a little of Berkeley's Rare Barrel or the Drake's Dealership space in Oakland (warehouse setting, sour and barrel-aged beers). You'll love the casual layout, distressed wood paneling and all. Sours and fruit beers dominate, and they've got Batch 26 / Cherry Red on tap now.
Oakland
Like many beer freaks I gave up home brewing when I realized I was spending $20.00 a six pack and hoarding hundreds of bottles in the garage. That said, make-your-own-brew shops don't always get the credit they deserve. Diving Dog is not only a beer DIY in the emerging Oakland beer scene, they are perfecting their own brews and their California Common recipe is garnering a ton of well-deserved attention.
Berkeley
Known for their bold, citrusy West Coast IPAs this 20 barrel brewhouse and tasting room was one of the hottest and fastest growing California breweries in 2015. Try their Sea Farmer: a sea salt, grapefruit IPA (popular style thanks to mega craft breweries like Ballast Point), and be sure to keep an eye on them as they begin to venture out of California in the near future.
Presidio
A production only brewery in the Presidio (due to licensing restrictions on taprooms on federal land), their beer has been making a big impression on local beer lovers -- and word has it they will be opening a taproom in San Francisco soon. They have a couple nice collaboration beers out there, but the Villager (IPA) is their signature.
San Francisco
They've been around for a couple of years, but 2015 was BIG for them. We're talking medals... two at this year's Great American Beer Festival. Although they have no permanent home, be on the lookout for their tall silver cans near you -- their medal winner was the rye, Pt. Bonita.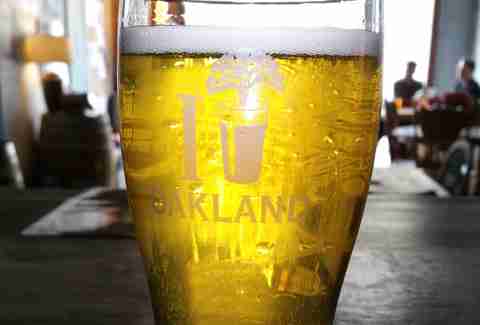 Oakland
A classic case of judge us for our beer, not our website, Independent is making a name for itself one person at a time. This brewery gets the hole-in-the-wall title on this list, but if I had to guess, their look will change in the coming year. When you find them (at the brewery or on tap somewhere) mix it up with the Four Seasons Coffee porter.
SoMa
I know I'm pushing it here by mentioning LBC on a 2015 list, but this place really got busy last year, winning critical acclaim from the industry and beer lovers alike. They are a customer request driven brewery (meaning they brew what their customers ask for, duh), and their Bluxome Black lager is great stuff (a common lager, and oh so smoooooth).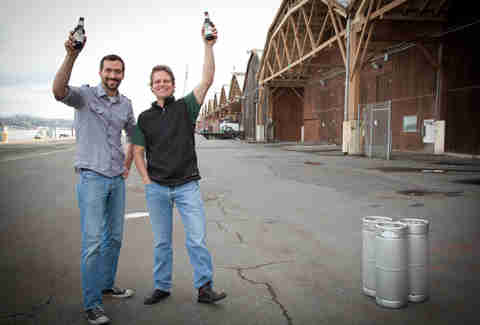 Vallejo
Who wouldn't cheer for a taproom overlooking the former, re-purposed naval shipyard at Mare Island? Two former winemakers (one with a little Lagunitas-influenced know how) have their sights set on making good beer, and taking advantage of the revitalized waterfront. The Saginaw is their flagship beer, a summery golden ale, and these guys have some solid marketing and distribution, so I bet you'll start seeing it around very soon.
Inner Sunset
Worth a note, even if just for the increased popularity with the UCSF crowd and the Inner Sunset. Grab a pint of the Mr. Kite's pale ale or a snifter of the Rapscallion (Belgian golden ale) and find the brewer for a chat about how it's all done.
Outer Sunset
Taking a more refined approach than the warehouse breweries, Sunset Reservoir opened to a bit of fanfare in 2015. They have a great space (I have a soft spot for architecture -- exposed beams, hardwoods and high ceilings) with an ambitious food menu. Look for them to branch out in the coming years with their beer offerings that go beyond the standard IPA, wheat, stout, extra pale, and session lineup. Oh, and you can taste all their libations in single flight for $12. Deal.
What to look out for in 2016...
On the heels of 2015, there's a slew of new beers to lookout for. We've got Line 51 in Oakland (the brewery of the teacher-turned-brewer PT Lovern), Benoit-Casper -- Richmond's only brewery -- whose production is only for the time being, but poised for more. Then there's Black Hammer in SoMa, which is still BYOF (bring your own food), but the beer is set to really pop in 2016. Family owned Farm Creek Brewing Company is fresh off a two year-plus battle with Walnut Creek's permit process, but they're looking to really break out in 2016, and that will make a very nice addition to the East Bay beer scene.
Sign up here for our daily San Francisco email and be the first to get all the food/drink/fun SF has to offer.
Seann Rooney was born and raised in the East Bay, but now calls the Sacramento Delta home. When he isn't managing his crazy schedule, playing baseball or hosting parties and events, he's drinking local beers and spending all his money on food.