The Best Wine Bars in San Francisco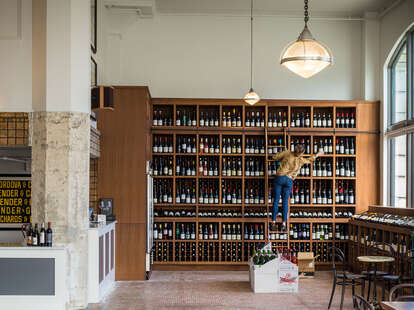 Fancy craft cocktails made with approximately 400 ingredients -- and a hefty price tag -- are delicious (and have totally taken over the SF drink scene), but sometimes we want to enjoy a drink that doesn't take 20 minutes to concoct. Something that's not beer, but also glug-glug-glugs out of the bottle in the happiest way possible. A drink that feels appropriate for a date. A drink that's often born right in our very backyard... that's right: once in a while, we really appreciate a great glass of wine. Lucky for us, San Francisco is full of kick-ass wine bars, from cozy alleyway haunts to swanky lounges to a pub where the wine flows from taps and fried pickles grace the menu. Here are our 10 favorites (most of which also have beer, if you really insist).
Inner Sunset
When the fog rolls in (and in the Inner Sunset, you know it's gonna), escape to InnerFog, a cozy bar with an extensive wines-by-the-glass list that focuses heavily on small-production wines from California (no surprise there), but which has some tasty options from Italy and France, as well. There are also small plates, like flat breads and a cheese platter, and an extensive beer selection. They have 10 beers on tap and over 20 more in bottles, and their happy hour deal is one to make note of; Monday through Friday from 4 to 6pm, with select glasses of wine sold at $6 and four rotating beers for just $3.50.
Financial District
The Hidden Vine is one of the best date wine bars on this list, which is saying a lot, since all wine bars are date wine bars due to the very nature of the fact that they're wine bars. This spot, located in a "hidden" alley in the Financial District, has a "monthly focus," on a specific region, showcasing a variety of wines. If you don't like the wine from that part of the world, however, no worries; there are over 180 different wines available, and 40 of them are poured by the glass -- a few are even offered by the flight. The food menu is good, and kind of what you'd expect -- flat breads, cheese, and charcuterie. However, this spot gets bonus points for offering sliders and extra special bonus points for the feature that makes it such a sick date spot: the bocce ball court. Bocce ball dates are winning dates.
Cole Valley
If no one told you about InoVino, you might miss this tiny 30-seat wine bar on Carl St in Cole Valley, but that would be a shame -- especially if you're a fan of Italian wine. Don't worry if you're not familiar with the wine list; just tell one of the helpful staff what you like and how much you want to spend, and they'll bring out something you're sure to love. There are almost 30 wines available by the 3oz and 6oz pour, as well as a 12oz carafe. It's easy to eat an entire meal here, or you can just stop in for their aperitivo hour, weekdays from 4 to 6pm (and 3 to 6pm on Saturday), when their pizzette, wines, and cocktails are just $6.50, and a Peroni only sets you back $3.50.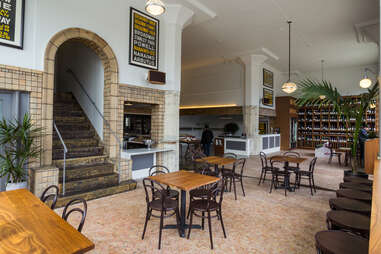 Inner Richmond
If you like champagne or sherry, an evening at Tofino Wines on Geary should be a priority. You can also take home over 700 bottles from small, family-run estates in California, France, Italy, and Spain. Unlike many wine bars, Tofino is actually housed in a big (2,500sqft, to be exact) open, and airy space, which is a pleasant change from their often cellar-like atmosphere. Grab a seat at the bar or by the window, and enjoy one of 30 wines by the glass -- or a craft beer on tap.
Dogpatch
It doesn't get more SF than Yield. The owners are all about sustainable and organic wines, as well as supporting family owned and operated wineries. The good news is that the wine they feature also tastes great, and oftentimes it's wine you won't stumble across anywhere else. The food is also exceptional -- and not "for a wine bar." Yes, there are flatbread pizzas (it's apparently the law that if you serve hot food at a wine bar in SF, flatbread must be on the menu), but our favorite is the warm artichoke, kale, and parmesan dip served with fried leeks and fresh bread. On a sunny evening (and in Dogpatch, there are plenty), you can grab a seat outside. On Tuesdays, bring your brain because Trivia night starts at 7:30pm.
Marina
Thanks to its prime location on Chestnut St., California Wine Merchant is definitely one of the most action-packed wine bars in SF. The focus is on California wines, which is fine by us, and the relaxed vibe makes this a perfect place to sit in the window on an afternoon and sip a glass -- or wait till the sun goes down and the place gets a little rowdy (for a wine bar, anyway). There are about 45 wines by the glass available -- and the list is constantly changing -- as well as hundreds of wines available to take home. California Wine Merchant keeps the focus on the wine, but they also keep four beers available, and if you're hungry, you can snack on a cheese plate, a bowl of pistachios, or chocolate truffles.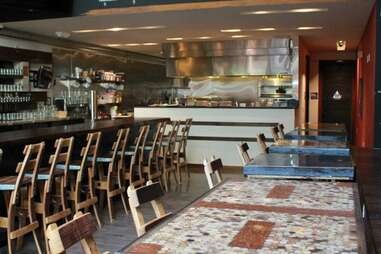 SOMA
It's a wine bar. It's a pub. It's a wine pub! Jamber is different from your typical wine bar: to start, all of the wines are from California, and even more unusually, all of their wines are on tap.That means all of the wine is youthful and fun -- and meant to be guzzled while fresh. There are also over 10 beers on tap, plus they have a really, really good food menu that's a total departure from any other wine bar. Good luck choosing between the fried pickle spears, poutine, nacho grilled cheese, mac 'n' cheese pizza, or parmesan and rosemary mashed tater tots. Happy hour runs every day 3:30pm to 7:30pm, during which you can get a wine sampler for $18 and a beer sampler for $10. Life is pretty good sometimes.
SOMA
The Press Club is by far the loungiest wine bar on this list, which is why it's also one of our faves. You're guaranteed to get a comfy seat (the space is huge), while a staff member (they all seem knowledgeable) leads you through the wine list. In fact, you'll probably (definitely) need some help since there are 50 wines by the glass, 18 wine flights, and over 230 bottles. There are also almost 30 beers by the glass and a couple of beer flights. Head there on Saturday or Sunday for happy hour, and you can get 50 percent off of bottles $70 or more. The food menu is similar to other wine bars, but our go-to snacks are truffled popcorn and the deviled eggs with caramelized bacon. They pair perfectly with just about everything.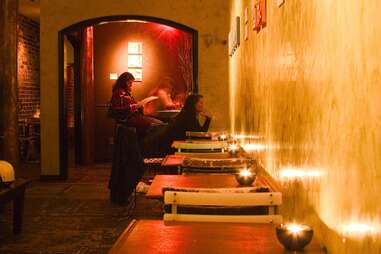 Hayes Valley
Hotel Biron is not the most accurately named spot on our list: it's not a hotel at all, and is instead a romantic wine bar tucked away in a charming alley (because really, all alleys should be charming and reserved solely for wine bars). The exposed brick, low lighting, and tiny rooms make this place pretty much the perfect spot for a third date (so pack a toothbrush). The wine menu is accessible and organized by region, and at least half of the bottles are available by the glass. There are also a good number of beers (including a $3 Tecate if that's your thing on romantic dates). The menu is all about cheese, charcuterie, and chocolate, but if you insist on a proper meal, head to Zuni before or after.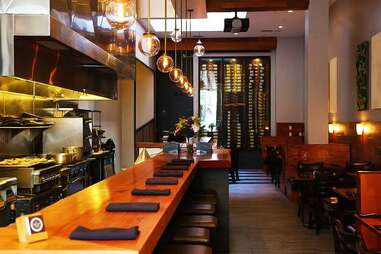 Financial District
Go to the Barrel Room for the wine and the food; stay for the secret speakeasy underneath the main floor. Seriously though, The Barrel Room is a great spot if you're meeting friends or colleagues after work because they have a great range of drinks available: while the hero is definitely the wine, there are also plenty of cocktails and beer. Happy hour is from 3 to 5pm and a totally sweet deal: $6 house wine, $2 off draught beer, $10 cocktails, and a yummy selection of snacks. Their wine flights are great, but if you prefer something brown, they have flights of whiskey as well. Win/win.
Sign up here for our daily San Francisco email and be the first to get all the food/drink/fun SF has to offer.
Daisy Barringer is an SF-based writer. She finds that a glass of wine is the perfect companion to good conversation with friends, a bag of Pepperidge Farm Goldfish, hours of trashy TV, and just, you know, being awake. Follow her on Twitter @daisy.