The Bourbon & Branch Guys Just Opened the Tiki Bar of Your Dreams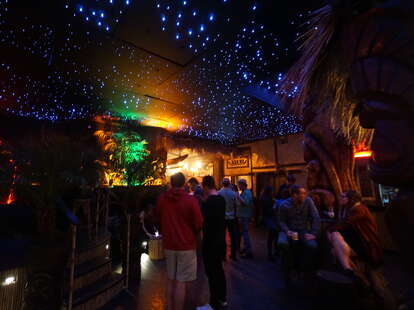 York Prado
York Prado
Your next tropical vacation is in San Francisco's Financial District, thanks to the guys behind Bourbon & Branch, Devil's Acre, Local Edition, and Rickhouse -- this veteran team sneakily opened Pagan Idol, the most epic tiki bar in the country last night. How do we know? Well, in true FutureBars fashion, Doug Dalton and company visited all of the country's best tiki bars and worked for over a year to create a rendition that takes the best of each. They more than match The Tonga Room's over-the-top décor, and combine it with Smuggler's Cove's attention to delicious drinks -- while dosing the whole thing with fun, FutureBars-flavored surprises.
In Pagan Idol's iteration of the watering hole classic, the Polynesian vibe isn't so much a theme as it is a way of life -- an immersive experience that will bring you the closest you'll ever get to joining the cast of Gilligan's Island or Pirates of the Caribbean... minus the cheesy Disney camp, plus seriously good drinks.
Your journey starts in the cavernous hull of a sunken wooden ship, where the first bar mimics a ship's saloon. On your right, portholes line the wall, featuring looping videos of fish and sharks swimming by. Custom, glass-blown krakens take over as sconces, and mermaids wrap themselves around glowing glass globes. It's essentially like drinking in that underwater cave where The Little Mermaid stores her collection.
Take your classic Mai Tai -- or must-order beverage The Banana Life -- in the "captain's quarters," which is perfect for getting cozy next to an exotic saltwater fish tank as the sounds of aquatic life make you feel part of an underwater world. If shipwrecked adventure is more your style, continue on to the second bar -- and massive back room.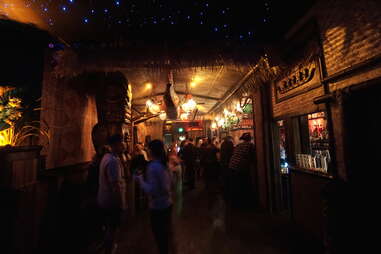 Ascend a few steps to the main bar area, where the island music gets a bit more bumpin' and the vibe a little looser. Water fixtures behind the bar bubble like overactive lava lamps, while massive, hand-carved tiki sculptures and graphically painted walls add loads of Polynesian pop. Walk out from under the thatched hut, and you'll be greeted with cozy private huts and a fiber-optic ceiling that actually twinkles like the night sky.
But the surprises don't end there: the Tonga Room may offer tropical rain, but Pagan Idol has a trickling water feature -- and a volcano in the corner that erupts periodically, filling the room with mystical smoke.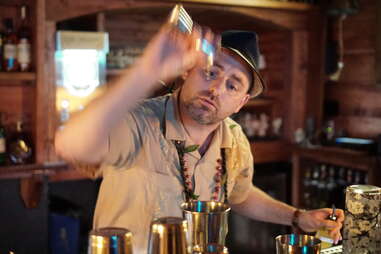 As for the drinks, come on -- you're in the qualified hands of the maestros behind Bourbon and Branch and Tonga Room. Tupper and Reed alum Justin D'olie, who grew up in Hawaii, joins the party, bringing his exuberant Aloha hospitality -- and collection of tropical shirts -- with him.
The drinks themselves are a departure from the group's usual attention to booze-forward, bourbon-leaning concoctions. There are no hangover-inducing sugar bombs here -- instead, you'll find balanced, fruity drinks in ridiculously fun glassware, likely change your notion of how tiki drinks can taste. While there are definitely heavy-hitters here, like the one-and-done Daywalker (which is essentially a zombie featuring over-proof rum), there are also day-drinking-friendly libations, like the Poolside Affair, which gets its subtle kick from Swedish Punch and comes adorned with an orchid.
It wouldn't be a tiki bar without a few punch bowls and flaming drinks meant for sharing. One of our favorites is the made-for-two, creamy Rum Monkey, featuring Ron de Venezuela, rhum Martinique, banana, pineapple, orange, lemon, cinnamon, macadamia nut, cream, and a whole egg.
Less-discerning drinkers will be happy to know the menu is more paired down than the typical FutureBars list, and comes with helpful illustrations that allow you to choose your drink by the shape of the glass. After all, vacation is for drinking, not reading.
Sign up here for our daily San Francisco email and be the first to get all the food/drink/fun SF has to offer.
Amy Copperman is a regular contributor to Thrillist SF and Pagan Idol is her new favorite getaway. Follow her on Instagram @acoppergirl