An insider's guide to the Castro
If you've lived in SF long enough, chances are you've gone out in every neighborhood, except for one: the Castro.
So, for all of you who've always been curious and/or love insane drink specials, we've searched far and wide for someone familiar enough to be our guide into the unknown food and drink (and other!) greatness of one of SF's most famous, if intimidating-for-outsiders, neighborhoods. And by "searched far and wide", we mean, "our SF editor is already that guy".
First off, a couple of tips
1. If you are a girl, prepare to experience what every guy deals with on the day-to-day. Namely, bartenders are going to serve attractive dudes faster than you. Best advice? Be patient, or just find a cute guy to get drinks for you.
2. Don't worry, no one will randomly hit on you. But if they accidentally do, good for you! You go Glen Coco! Also, a simple "no thanks" will suffice.
Now, on to the fun stuff!

The main bars, and what to expect
Easily the most approachable bar for any outsider (and honestly, probably the most popular bar for Castro regulars), you may have seen this gay sports bar in our own articles, or like, Sports Illustrated. They have food from a former Top Chef contestant, old-school bleachers lining the wall, suggestive puns, different sports on every TV, and a cocktail that involves a Muscle Milk that tastes delicious after a workout (trust me), while also helping you look super swoll, brah.
Party to watch out for: Thursdays after 10pm is "Gym Class", which involves free whiskey shots handed out in jock straps. So... be ready for that, and to tip for your free shots.
If you're looking for a dance party on the weekend, this is pretty much the spot. There will be a line that seems super-long, but actually only takes about 10 minutes, and a cover that will seem ridiculously low compared to, say, any SOMA club. There's a big dance floor surrounded by a metal rail, so you can either pretend you know how to dance to Beyonce, or judge others who think they know how to dance to Beyonce from behind a railing. Go on the weekends if you're looking for a crowded party with pop music from 1985-now.
Happy hour alert: Amongst crazy $3 Fireball deals, they also run a two-for-one drink special Mon-Sat, from 3-8pm.
An old-school gay bar that features a giant whale (wait, what did you think the bar name meant?), they have specials like two-for-one frozen drinks, a pool table, and a giant, 250-gallon fish tank behind the bar. Don't come here for a dance party, but do come for cheap drinks, plenty of places to sit, and a much calmer atmosphere than you'll get at a lot of Castro places.
Happy hour alert: On Sundays, they have two-for-one frozen Sex on the Beaches. Plus, pinball!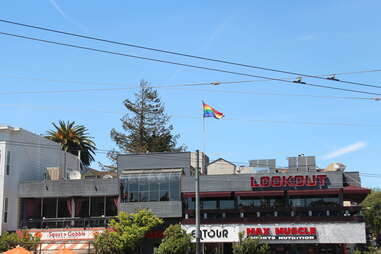 Possibly the most prominent of the Castro bars, this one is on the second floor of the six-way intersection. It's a huge space that may or may not (mainly may) play soft-core, guy-on-guy stuff on their TVs. So, be ready for that. But, they also have a great wrap-around balcony to escape said guy adult-hugging videos.
Party to watch out for: Jock on Sundays is by far the most popular party here, and a definite must if it's nice outside and you can find your way onto the balcony.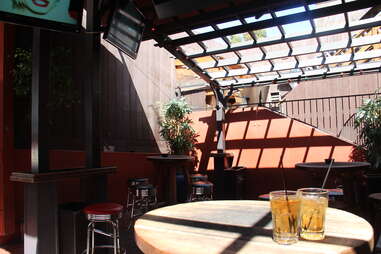 Like Badlands but with less pressure, this spot has a smaller dance floor, there's also a lot of indoor seating, and an outdoor patio that's quite popular. You can even grab a cigarette there... if that's your jam.
Party to watch out for: Well, two-for-one cocktails Mon-Fri 'til 8:30pm.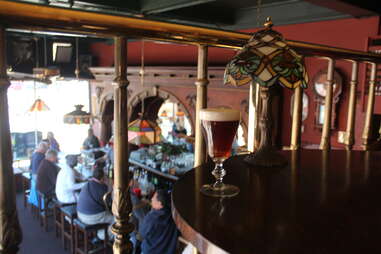 If you want a historic experience, this bar is actually a landmark. One of the oldest gay bars in the city, they were the first to have open windows in front to show their patrons weren't afraid of being seen at a gay establishment. Come here and talk with some of the regulars (who tend to be older gay men with maybe the best stories ever).
Drink to grab: They're famous for their Irish coffees, so grab one of those.
This is mainly an establishment that caters to different nightly events. They have two bars and an outdoor area, along with a photo booth and a pool table that is usually being danced on by a guy in a Speedo. Also, that one girl that threw up on my shoes there last year really owes me some new kicks or, at the very least, an apology.

If you want a dance party including go-go dancers, this is probably the spot for you. If you don't, but want to get in on the city's most insane happy hour on an attached patio that allows for smoking, then this place is ALSO for you. Seriously: Mon-Fri from 4-9pm and Sat-Sun from 2-9pm, you can get two-for-one drinks, $2.50 wells, $3 call, $3 Jager, Jameson, and Sauza, and $3 microbrews.
Parties to watch out for: Shoop! is every second Saturday of the month, and plays only R&B hits from the '90s. So basically, everything you liked listening to in grammar/high school. There may or may not be go-go dancers (who are boys, sorry gents-who-like-ladies), but you're really here for Aaliyah, aren't you?
Another dance-y bar (and the newest one on the scene), this place is more of a lounge during the daytime operating hours, with couches and Goldfish crackers (or totally amazing donuts on Sundays), and gets a little more sweaty at night. There's an upper mezzanine that can either be rented out for private-ish events, or watching everyone make fools of themselves on the dance floor.
Party to watch out for: Liquid brunch on Sundays is exactly that, along with some truly incredible donuts (how did you not click this link the first time??).
It's not really for outsiders, but if you feel complemented by larger, very nice, hairy gentlemen grabbing your ass a lot, by all means, go ahead.
Recently renovated to add in front-facing windows (remember that part about gay bars not letting people see inside?), this bar is a relatively small rectangle and kinda the place to be for live drag performances.
Party to watch out for: Mahogany Mondays is a party every Monday that involves commentary on RuPaul's Drag Race (which is sorta like a drag version of America's Next Top Model) by Honey Mahogany, a former contestant/the only SF drag queen to ever be on the show (who was ROBBED because she wasn't enough drama for reality TV), punctuated by said live drag performances.
A good, old-school neighborhood dive with a pool table, sports on the TV, a 6am opening time, and a back patio that's a good spot to enjoy their margaritas.
Um, probably not for the uninitiated. This bar, much like Tobias Bluth, says "Dad who likes leather".
This place is not only fantastic, but it has a back patio that's covered and can be rented out for events. If you're looking for a great date spot (or even just a friend-date spot), this is the upscale, quasi-Italian place for you. Also: they have that one off-menu burger we're always telling you about.

If you're willing to wait in a two-month reservation line, or wait who-knows-how-long for a walk-in spot, then you should. This place is kinda a big deal.

Yep, they have really good food, too (Top Chef chef, remember?). Seriously, try the fried chicken sandwich.
Nothing says visiting the Castro like... getting oysters? Okay, whatever, it's great and has some really high-quality dishes.
An old standby, a lot of younger people in the 'hood may have not actually been to this spot, but they've got pretty good, if a little expensive Southern food.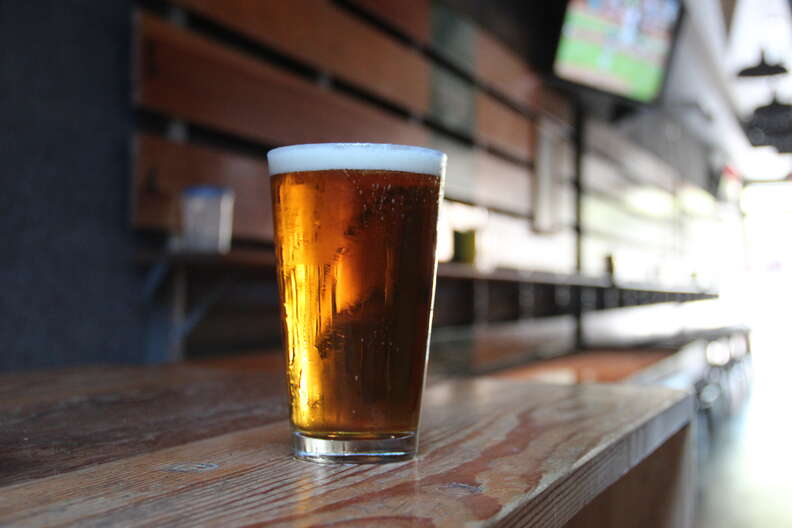 Definitely worth hitting up

Beer Busts
What if we told you that you could get bottomless beer on Saturdays and Sundays for $10-$15, from about 4-7pm? Yup, to fundraise for intramural sports teams, different bars will host these miraculous events on the weekend. You'll need to check their Facebook pages, but look at Hi Tops, Toad Hall, and Beaux.
If you don't already know about these, you are missing out. They do sing-alongs to everything from Beauty and the Beast to Frozen. Okay, yeah, that's a lot of Disney, but... do you wanna build a snowmaaaaaaaaaaan?
Joe Starkey is Thrillist's San Francisco Editor, and tore his pants dropping it low at Badlands a couple of weeks ago. It's okay, you couldn't tell and they were too tight anyway. Or just tight enough. Find out more embarrassing things about his life on Twitter.