SF's first arcade bar is here
Brewcade: it's like the arcade of your childhood dreams, except with craft beer. So it's more like the arcade of your... 20-something-year-old dreams? Whatever it is, it has just opened on Upper Market, and you need to go. Here's why...
Amy Copperman
Soooo many bars in SF have Big Buck Hunter, and while Brewcade does too, it's also home to Ms. Pac-Man, Frogger, 1943, Final Fight, Teenage Mutant Ninja Turtles, Street Fighter II, The Simpsons, San Francisco Rush, Double Dragon, and a whole bunch more. The entire shebang is set up in a space that does the whole "cool, industrial warehouse" thing with exposed pipes and a magnetized wall with massive metal Tic-Tac-Toe boards.
Jason Backrak
Oh right, the craft beer thing. Brewcade boasts 25 beers on tap, all chosen by Kai Villegas of Monk's Kettle, and all fall within the $4-$9 range (woo hoo! more cash for quarters!).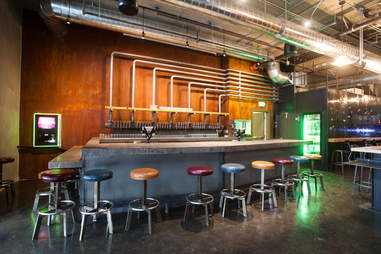 Jason Backrak
If beer isn't your thing (what the H?), they've got five rotating wines on tap, or you can fully embrace the nostalgia and opt for an artisan soda from the soda pop bar.
And, while the place doesn't have a kitchen, it will have snacks like gourmet caramel popcorn and fancy beef jerky that you can order at the bar. So, to recap: food, beer, and no mom telling you, "only one more game"??? Yup, you can officially play arcade games forever (or at least until you run out of change).
Sign up here for our daily San Francisco email and be the first to get all the food/drink/fun SF has to offer.
 
Amy Copperman is a freelance writer in San Francisco. Her favorite episode of Seinfeld is the one when George Costanza plays real-life Frogger. Follow her on Twitter @​acoppergirl.