The Definitive Top 11 Bay Area Coffee Roasters, According to Experts
You'd sooner solve global hunger or gender inequality than get San Franciscans to agree on who the best coffee roaster in the Bay Area is. Which's why we didn't ask just any old San Franciscans, but instead eight coffee industry experts -- they individually ranked their top 11 coffee roasters in the Bay Area, we added up the votes, broke any ties, and ended up with this: a definitive ranking of the Bay Area's best coffee roasters.
(And while we know Santa Cruz isn't technically in the Bay Area, our industry experts respectfully disagreed.)

San Francisco
Signature drinks and roasts: Ethiopia Aricha single origin espresso
Simplicity is the name of the game at this Potrero Hill roaster, whose former life as a loading dock dovetails with the company's back-to-basics approach. Single-origin roasts from Ethiopia and Indonesia are tasted over and over again to ensure quality and consistency, then up rolls the garage door and it's up to the beans to do the rest. Of course, nothing is ever quite as simple as it seems -- the cafe currently "fronts" and shares ownership with a production house and robotics company.
Experts say:
"Their single-origin espressos are always a delight at the shop, and the same bean has given way to a great pour-over at home." -- Pamela Ocampo
"Their spot is not pretentious and [is] a great place to grab a spectacular iced coffee with one of the biggest ice cubes you've ever seen in your life." -- Dustin Craun
San Rafael
Signature drinks and roasts: Eye of the Tiger espresso
Twelve years after business partners Brooke McDonnell and Helen Russell started Equator out of their Marin County garage, they started their first coffee farm project, Finca Sophia. Now that the Panamanian farm is ready to yield its first harvest, expect the roast to join a lineup that includes custom blends for none other than the Thomas Keller Restaurant Group, who tapped Equator to supply Bouchon, Ad Hoc, and The French Laundry in Yountville, as well as New York's Per Se.
Experts say:
"Equator is the only Certified B Corporation (Benefit Corporation) in the Bay Area. That type of third-party certification requires a truly holistic approach to every business decision -- from employees, suppliers, community, farmers, and the environment -- not just the bottom line." -- Tom Baker
"At the Mill Valley location, you can find some of the rarest coffees in the Bay." -- Dustin Craun
San Francisco
Signature drinks and roasts: Snowy Plover
Since opening in Outer Sunset in 2014, Michael McCrory and Lauren Crabbe's Andytown has been busy filling the void in a neighborhood underserved by local coffee roasters. Beyond coffee, McCrory puts his Irish heritage to the fore with a traditional soda bread inspired by his late grandmother, as well as a selection of baked goods crafted by pastry chef Jenn Dearden.
Experts say:
"I love that they roast in the back of their shop, and something about being so close to the beach is soothing." -- Eugene Kim
"Their coffee is super tasty, the owners are charming, they have a beautiful Kees van der Westen Idrocompresso lever espresso machine, and their scones are hella good; the feeling I get when I go there makes my heart all warm and fuzzy, plus they're six blocks from the beach, and their space is the size of a shoebox. Whoa." -- Tom Baker
San Francisco
Signature drinks and roasts: Any single-origin espresso
Brothers Jerad and Justin Morrison boast a strong coffee pedigree, with ties to Blue Bottle and Four Barrel, but their talents truly coalesced with the opening of a kiosk in 2009, followed by the opening of a full-on Sightglass coffee bar in 2011. They've kept the heat on ever since, and they'll soon add two new locations to their growing empire: a stand-alone at Divisadero and Page and a partnership with the soon-to-reopen SFMOMA in 2016.
Experts say:
"They roast light to showcase the fruit notes that I prefer." -- Hamid Rafati
"Sightglass delivers single-origin offerings and amazing spaces to enjoy them in." -- Christopher Griffin
San Francisco
Signature drinks and roasts: Linea espresso
This Mission coffee bar served waffles and salads before it ever served coffee, which tells you something about the all-encompassing experience Ecco Caffe founder Andrew Barnett was trying to create when he opened Linea in 2013. Eventually Barnett, who has judged both the Cup of Excellence and World Barista Championship, capitulated to the drip coffee crowd, bringing in micro batches from Brazil, Ethiopia, Guatemala, and El Salvador, as well as an ever-controversial decaf blend.
Experts say:
"Old-school espresso and AeroPress options, nice coffees, and great waffles." -- Christopher Griffin
"I recently learned more about the Italian inspiration from speaking with Andrew Barnett and have come to appreciate the balanced espresso blend that goes well with or without milk." -- Pamela Ocampo
"I worked with Andrew Barnett for a little while, and my love for espresso took on a new form while I was around him. He not only dreams of the stuff, he really lives for it." -- Tom Baker
Oakland
Signature drinks and roasts: Mexico La Canada Cup of Excellence
If you need an example of how far the Bay Area's coffee scene has come, look no further than Blue Bottle, which opened its first Tokyo location earlier this year. (There's already a second, with a third on the way.) What sets James Freeman's global juggernaut apart is its simplicity: each cup is individually brewed, in the same size, without custom flavors. While Blue Bottle will likely never win over the pumpkin spice latte crowd, its investor base, many of whom rank among Silicon Valley's elite, is betting big on its expansion.
Experts say:
"James Freeman revolutionized the coffee industry and paved the way for multi-roaster specially cafes like Mazarine Coffee to exist." -- Hamid Rafati
"Despite their skyrocketing and bloated growth fueled by venture capital and M&A, at least for now, the quality has remained very high." -- Greg Sherwin
Berkeley
Signature drinks and roasts: Concorde espresso blend
Supersonic's Berkeley roastery is not yet open for coffee service, but not to worry -- they're in the process of restoring a vintage Airstream trailer they hope to turn into a full-on coffee bar in the near future. In the meantime, they've hosted occasional cupping events and pop-up locations, and in addition to their online store, you can find their African- and Central American-sourced roasts everywhere from San Francisco to (no joke...) Sweden.
Experts say:
"Supersonic Coffee has relationships with the best green coffee buyers in the world. Because of this, they always have a roster of high-scoring, supremely interesting coffees." -- Hamid Rafati
"Often times you'll see a lot of similar coffees making their rounds amongst different roasters. You can always expect something different with Supersonic." -- Eugene Kim
San Francisco
Signature drinks and roasts: Friendo Blendo
How does a coffee shop without Wi-Fi that once requested patrons not Instagram a sign of rules even exist in our tech-dependent culture? By being uncompromising in its values, that's how. Since 2007, Four Barrel founder Jeremy Tooker has carried the flag for light roasts, single origins, and a soundtrack dominated by vinyl instead of carefully curated Spotify playlists. His 1957 German-made Probat UG-15 produces 12 separate roasts, which are categorized by notes of everything from baked pear to Campari.
Experts say:
"Fully washed menu and mounted mammals. The Portland of San Francisco specialty coffee." -- Christopher Griffin
"I just love their Portola location. It reminds of the times before coffee was cool. Back before Gibraltars, when cafes either played college rock or jazz, and chai was really popular." -- Tom Baker
"Can't go wrong with splitting a Chemex of the barista's recommendation at the slow bar." -- Pamela Ocampo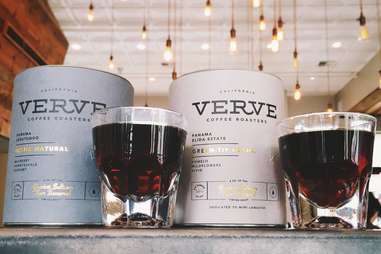 Santa Cruz
Signature drinks and roasts: Streetlevel espresso, Panama Elida Green-Tip Gesha
Roasting out of an old wetsuit factory that shares its space with a skateboard company and a rock climbing gym, Verve has every right to be the coffee equivalent of the X Games, focusing more on the thrill of the ride than the finished product. That it's not is testament to the passion of co-owners Colby Barr and Ryan O'Donovan, who traveled everywhere from Costa Rica to Ethiopia sourcing the roasts, which they refine at their neighboring Seabright "laboratory" coffee shop.
Experts say:
"Verve Coffee Roasters is always roasting great coffee. It provided inspiration for our nitro cold brew coffee." -- Hamid Rafati
"I'll take some flak for picking a place all the way down in Santa Cruz as the top spot, but no one deserves it more." -- Tom Baker
"Consistently amazing coffees across the board, and what is by far the most beautiful coffee shop in the entire Bay." -- Dustin Craun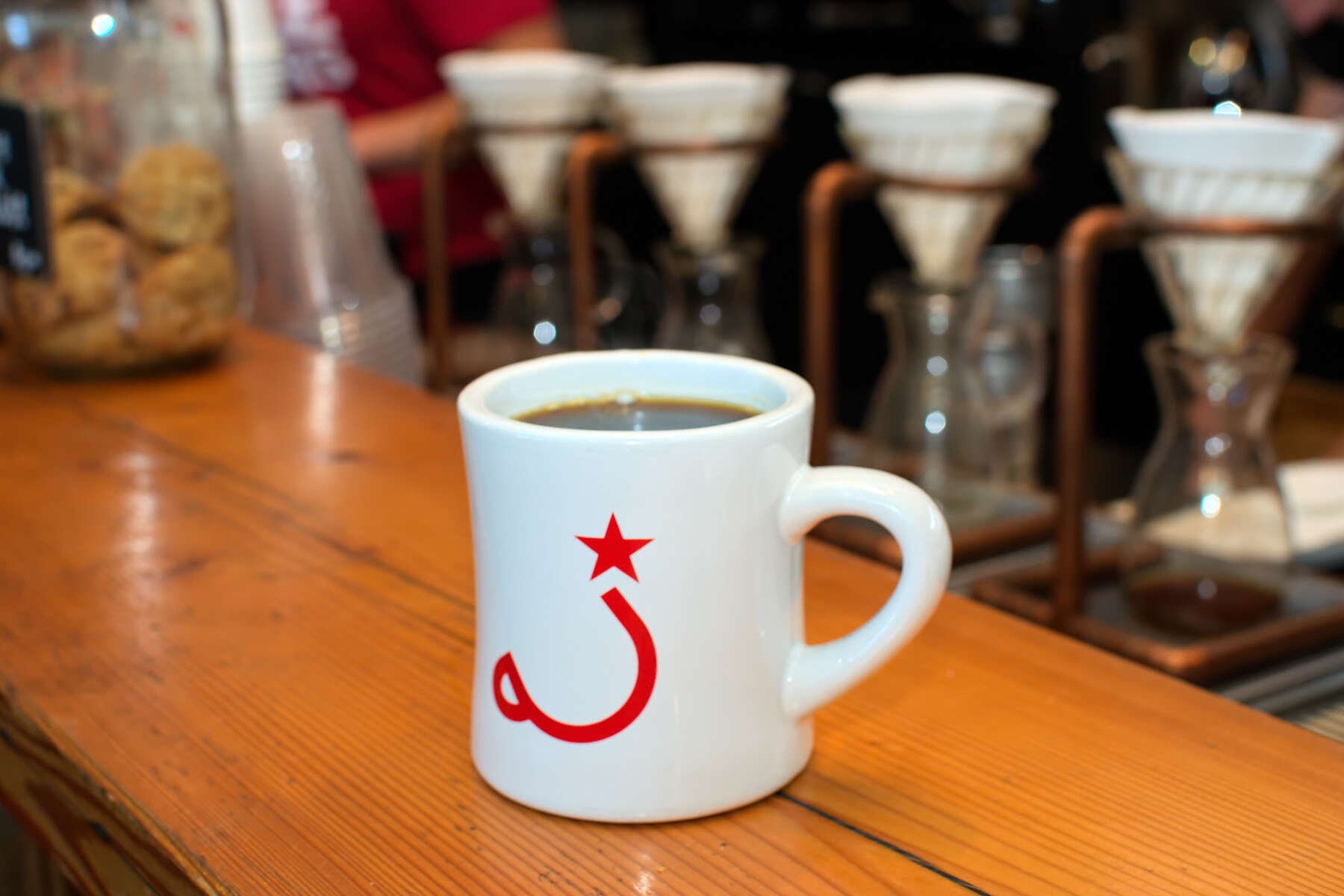 San Francisco
Signature drinks and roasts: Sweet Tooth espresso
For many San Franciscans, Ritual is just that -- a daily custom that plays out across three brick-and-mortar locations and hundreds of partner coffee shops and retailers. Owner Eileen Hassi Rinaldi keeps the emphasis where it's been since 2005: on the individual farmers of Central American and sub-Saharan Africa, whose roasts hit the market in striking black-and-red bags with Ritual's signature hammer and sickle-meets-coffee cup logo.
Experts say:
"I used to spend a lot of time at the Ritual in Flora Grubb, and I loved trying their seasonal espresso." -- Eugene Kim
"Ritual gets the best beans because of their strong relationships with the best coffee farmers in all the growing regions of the world." -- Hamid Rafati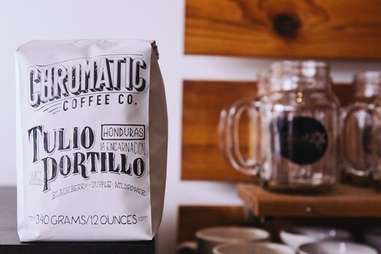 San Jose
Signature drinks and roasts: The Radio Project, Papua New Guinea Kunjin
When James Warren and Hiver van Geenhoven left one prominent Silicon Valley coffee roaster to form another, they put the focus where you'd least expect -- on the water. Chromatic's modified espresso machine currently plumbs three separate types of H2O, including a variation that produces a light Scandinavian-style roast from the South Bay's notoriously hard water. Their DIY spirit extends to all aspects of the operation -- they customized the hot-stamp press that prints their bag graphics and even welded their own steel tables for a 2013 barista competition. Talk about dedication to the craft.
Experts say:
"Their single origins and blends are inspired, tweaked, and frequently taste a bit different than the rest, often aiming for 'liveliness' in the end product." -- Greg Sherwin
"Chromatic is at the leading edge of espresso." -- Michael Allen Smith
Sign up here for our daily San Francisco email and be the first to get all the food/drink/fun SF has to offer.
Jack Houston is a San Francisco-based writer who's already at work on a follow-up piece, The Top 11 Bay Area Coffee Shop Wall Outlets, Ranked by Closeness. Help him help you stay charged on Twitter at @jackhoust.