The definitive guide to Dolores Park
It just hit 80 degrees this week, which means it's officially the start of Dolores Park Season (that's a thing, right?). And since everyone has varying degrees of Dolores Parksperience, we decided to level the playing field with this Dolores Park Fun Times Guide (working title).
First things first:
Yes, the Northern-half of the park (affectionately known as Hipster Hill) is closed until the Fall, so we're going to focus on the parts of the park that aren't currently a giant mountain (or crater) of dirt.
Where to sit:

Option No. 1: The main stretch of the park (below the playground) is where a majority of people are going to be setting up. Here are three general tips if you do sit there:
1. Bring a large blanket. Even if it's just you at first, you are bound to run into at least 15 people you know who'll need a place to sit.
2. Don't play your music so loud that the group of white rappers nearby can't hear themselves.
3. Totally ignore Tip No. 2.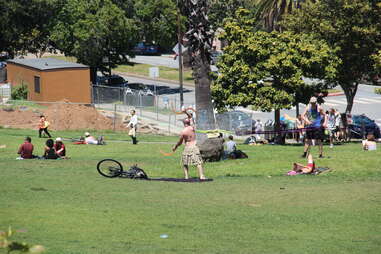 Option No. 2: Closer to the trees, you'll find not only shade, but the more performer-y people in the park, including a pair that sets up a tightrope between trees, Cirque du Soleil acrobats, and... whatever this guy is doing (pon farr?).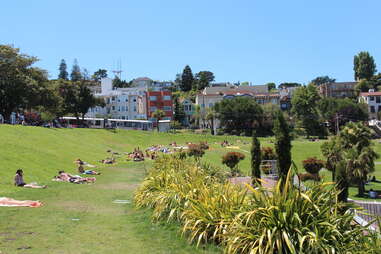 Option No. 3: Affectionately named "Fruit Shelf" or "Gay Beach", this part of the park lies above the playground in a shelf (!) that rings around the Southernmost (and track-adjacent) part of the park. It boast the best view in the park, and even has benches at the very top. There will likely be a lot of guys in their maybe-very-revealing undies here, though, so steer clear if you don't wanna see that.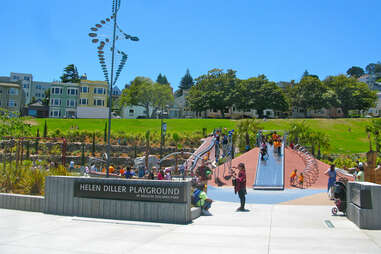 Option No. 4: This is the playground. If you are here and aren't/don't have a child, you are lost.

Park amenities:

Ice cream carts: Sometimes they sell actual ice cream, and sometimes they surreptitiously sell beer. In the words of the Grail Knight in Indiana Jones and the Last Crusade, "Choose wisely".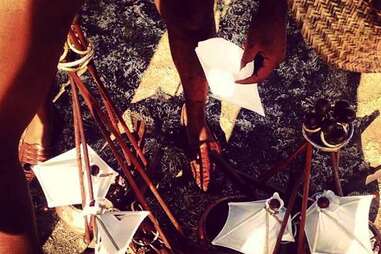 Trevor the Truffle Guy: He has delicious chocolate truffles with some, uh, special properties.
Coconut Guy: He (appropriately?) looks like a pirate, and for about $15, will hack open a coconut with a friggin' machete, then pour a lot of spiced rum in it.
PUPPIES!! While they're not "technically" an amenity, people do bring theirs, so be friendly. And if you have yours with you, make sure they're friendly, too (but not humping-strangers friendly, just regularly friendly).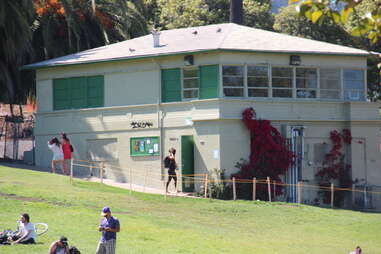 Bathrooms: While the park is under construction, this is the permanent bathroom, which most of the time will have a much longer line than this. There are also Port-A-Potties near the bottom of the park on Dolores, but if those lines are also too long...
... we would absolutely never recommend you use the side of this hill near the tracks at the top of the park as a bathroom. We have no clue where you'd even get such an idea.

Grabbing supplies nearby:

Bi-Rite Market (click here for address and info)
Everyone's favorite, super-yuppy grocery store is right off the park, so make sure to swing by for beer, gourmet snacks, more beer, and a great sandwich to-go before heading over.
Cerveceria (click here for address and info)
Hit up the Cerveceria on the corner of Church and 16th. It's a great place to both sit down and have a pre-park beer, and to grab bottles... which we definitely do not recommend bringing to the park, especially if it's in...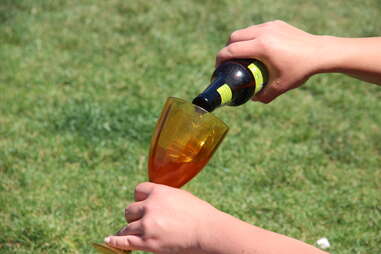 ... a classy plastic cup you brought from home! Yup... definitely don't do that.

What to eat and drink nearby:

Dolores Park Cafe (click here for address and info)
Right on the corner of Dolores and 16th, this spot has outdoor seating (so you don't have to lose sight of the park), some pretty good sandos and smoothies, plus the essentials (so, coffee and beer).
Bi-Rite Creamery (click here for address and info)
Across the street from Bi-Rite Market, you'll definitely be able to recognize this place based on its line out front (and possibly down the block) alone. The ice cream's legitimately good though, which's probably why... there's the line.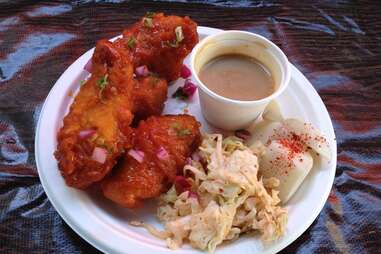 Namu Gaji (click here for address and info)
They have KFC (Korean Fried Chicken) on Wednesdays, which is the perfect way to wind down after a long, grueling day relaxing at Dolores.
Pizzeria Delfina (click here for address and info)
If you're looking for great pizza within spitting distance of Dolores, you'll find it here... provided you can spit a block away...

Delfina (click here for address and info)
Like the pizzeria above, but a liiiittle classier, this is the original, gourmet Italian joint. So hit this spot up if you thought ahead and brought other shorts to sub in for your grass-stained Chubbies.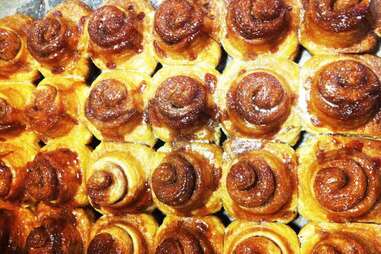 Tartine Bakery & Cafe (click here for address and info)
As far as we're willing to go from Dolores, this spot has some truly amazing baked goods and brunch... which everyone else is apparently aware of, too, as evidenced by the two-hour wait time on the weekend. Hmmm, if only there were some sort of park nearby you could wait at...
Joe Starkey is Thrillist's San Francisco Editor and totally considers the tank top tan he got from photographing this piece worth it. Check his Twitter to see if he tries to even it out wearing just a dickie and sleeves.