This New Mission Restaurant Has a SECRET BAR Above It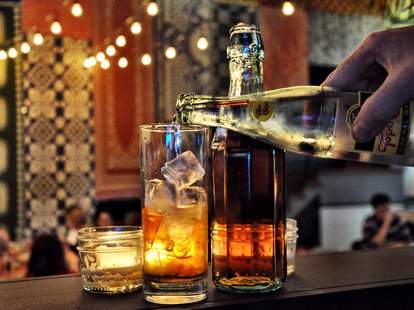 Esteban Martinez/Thrillist
Just when you thought James Syhabout couldn't possibly be any dumber, he goes and does something like this and... TOTALLY REDEEMS HIMSELF. Yup, it's a Mission location of Uptown Oakland mega-hit Hawker Fare.
Set up in the shuttered Amber Dhara space, the Valencia St edition of Fare looks like the kind of place you'd go for Thai street food in, uh, Thailand, with strands of lights strung overhead, Thai versions of classic American movie posters (Pulp Fiction, Back to the Future, Star Wars...) on the walls, and folding-chair seating that's more endearing than it is uncomfortable.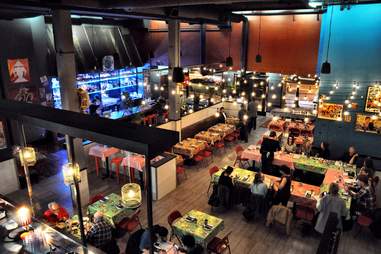 Esteban Martinez/Thrillist
The kitchen is pumping out all kinds of face-stuff-able meatstuffs, from pork rinds fried in lard, to beefsteak tartare (w/ tripe, shallots, mint, cilantro, green onions, and toasted rice powder), to incredible grilled beef brisket. But whatever you get, just make sure to snag a couple sides of sticky rice. Syhabout will tell you to ball them up and hold them in your left hand throughout your meal (to keep them warm), then pick off pieces to flatten into mini-rice tortillas you can use to pick up -- and deliciously complement -- basically anything.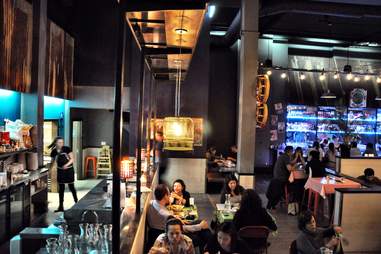 Esteban Martinez/Thrillist
Drinks-wise there are two musts: 1) the Tuk Tuk Bomb -- a Thai version of a shot and a beer with a sizable glass of crazy-tasting Batavia Arrack Java rum and a Beerlao Dark back -- and 2) THAI WHISKEY BOTTLE SERVICE (WUUUUUUUUUT???), which is both crazy cheap for the amount of liquor you get ($35 for 375ml) and made even cooler by the accompanying soda water: Austin's impossible-to-find-anywhere-but-Austin Topo Chico.
Esteban Martinez/Thrillist
Ohhhhhhhh right. The secret bar. It's called Holy Mountain, and it's hidden on the second floor of the restaurant, up a super-tall staircase in back with this awesomely appropriate neon at the top of the stairs.
Esteban Martinez/Thrillist
The basically unadvertised drinking den actually seats a decent number of people in a yellow-tinged space where waiters will ply you with freshly juiced Tiki drinks that are tart, boozy, and light on sugar. Just make sure to follow the instructions on the bar menu: "Please alert your server to any umbrella allergies..."
Sign up here for our daily San Francisco email and be the first to get all the food/drink/fun SF has to offer.
Grant Marek is a Senior Editor at Thrillist and he has absolutely zero umbrella allergies. Follow him to more secret bars on Twitter at @grant_marek.