What if we told you that you could golf in The Mission? Okay, fair point, but what if we told you that you could drink while golfing? Riiiiight? Alright, now what if we told you it was miniature golf and the course looks like a mini-SF complete with a Transamerica... windmill?!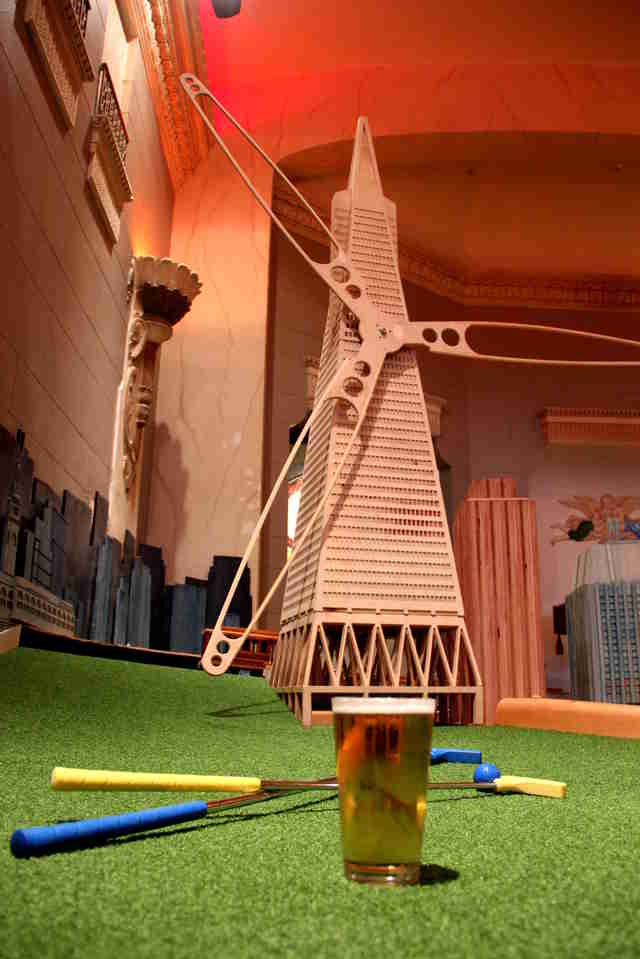 Because that's exactly what the newly opened Urban Putt is offering. This 14-hole mini-golf course (it's $12 a round for adults) is the brainchild of a techie-turned-golf enthusiast who enlisted local artists/builder dudes to construct the course, along with a full-service restaurant and bar upstairs, with a golf course-adjacent bar also downstairs.
Every single hole has been designed with something fun about the Bay Area in mind... except, apparently, this one.
These are no kids holes, though: this Rube Goldberg-esque one involves a spiral elevator and a musical instrument that never plays the same tune twice.
And yes, they've got all the SF classics, from the aforementioned Transamerica Pyramid to the Painted Ladies, which're one wedding-party-awkwardly-posing-in-front-of-them away from being exact replicas.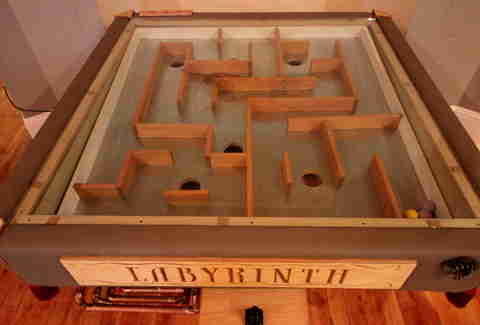 This is one of the holes. Really.
Now about the food and booze: the downstairs bar will feature more easily eatable fare like corn dogs, pretzels, and adult sippy cups (!!!!!!!!!!!!!!!!!!!!!!!!) of boozy beverages.
Trust us, Sam I Am, you'll love these fried green... olives and chicken thighs. Because they're not green eggs and ham.
Or you can grab heartier fare like this mac 'n cheese, since luckily, SF Summer involves no bikini weather.
Upstairs at their full restaurant, the guy behind the former Bottlecap is slinging amazing deep dish pizzas like the Links Deep (smoked pork sausage, boudin blanc, pepperoni, cremini mushrooms, mozzarella) or the Caddy Shack (applewood-smoked bacon, jalapeños, broccoli, leeks, ricotta, mozzarella).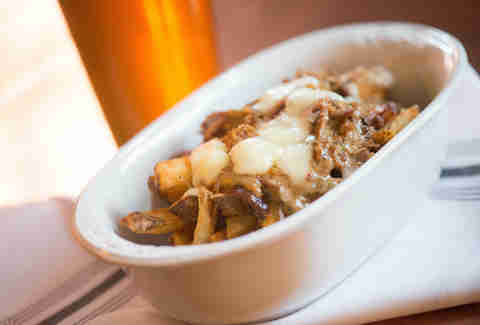 Plus Southern dishes like this shrimp and grits, which you never really thought went with golf until now, because.... shhhhh... mmm...
And then there's the signature "UP Burger" with tomato pesto, sharp cheddar cheese, pickles, and melted onions that'll... re-melt in your mouth.
Joe Starkey is Thrillist's San Francisco Editor and could probably use an adult sippy cup most of the time. Follow his lack of coordination on Twitter.