Every cocktail on Trick Dog's new menu, ranked 12-to-1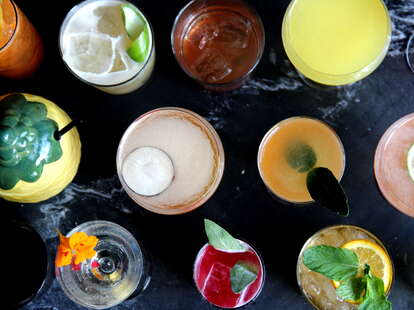 As Spider-Man's uncle once said, "With great power comes great responsibility." And while we may not be able to shoot webs, or climb buildings, or upside-down kiss Kirsten Dunst, we can damn sure drink and power rank every cocktail on Trick Dog's new menu.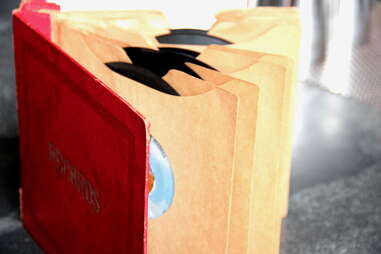 The new menu is printed on the labels of records stored in old albums. Make sure to tell your Mission friends to sit down before you tell them this.
12. I Am... I Said
This combo of sherry, Bols Genever, curacao, and lemon has a menthol kick that'll make sure your breath smells good on a date.
11. That's Alright
Even though this guy looks a little weird (thanks a lot, orgeat), it tastes... like a Life Saver!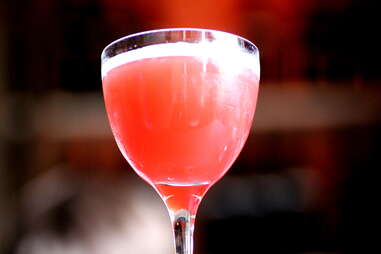 10. Louie, Louie
Too many of these Bulleit bourbon, Campari, and pineapple 'tails will also have you singing incoherent lyrics no one is really sure about.
9. Ain't No Sunshine
With tequila and a coffee tincture, this drink is a lot more stimulating than you might expect, considering it's named after the ultimate sit-crying-alone-in-the-corner-drinking-your-feelings song.
8. Evil Woman
This tropical up-front drink packs a chile liqueur-fueled burning aftertaste much like an evil woman would. Or something.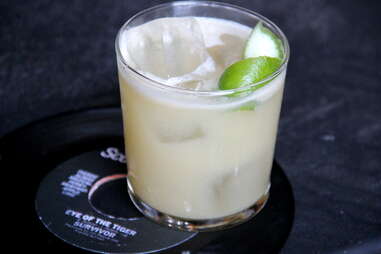 7. Eye of the Tiger
Extremely delicious, this cup of joy mixes of mezcal, honey, mustard, and lime. Also: Adddddrrrriiiiiiaaaaannnnnnnn.
6. Centerfold
Old Grand-Dad bourbon + pinkies up = a spot just outside the top five.
5. Leather and Lace
This combo of 8yr rum, akvavit, Velvet Falernum, and lime is one of the booziest tasting, so, yeah, top five.
4. Heat Wave
This drink has watermelon in it, which is perfect for an actual heat wave... A tropical heat waaaaave.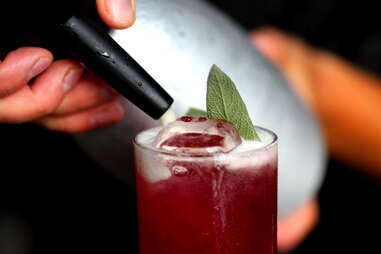 3. Bad Girl
Topping off this deceptively girly looking drink (that actually contains gin, sherry, and plum) is a green tea soda water.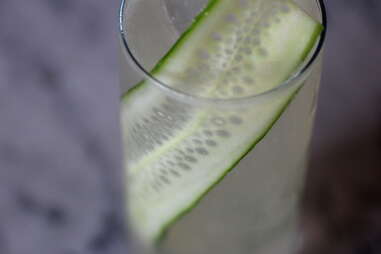 2. She's Gone
Apparently named after not only the song, but also your answer to your girlfriend's question, "Hey, what happened to my drink, which I let you try?", the combo of pear brandy, sirop provencal, lemon, and tonic is just that good.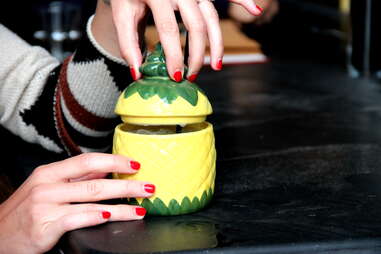 1. Mr. Big Stuff
And here it is, the bestest drink on Trick D's new menu: a strong tiki concoction of Calle 23 reposado tequila, Gran Classico bitters, coconut, bay laurel, and lime, all served in a freaking pineapple glass.