The awesomest winery in Northern California isn't in Napa. It's right here.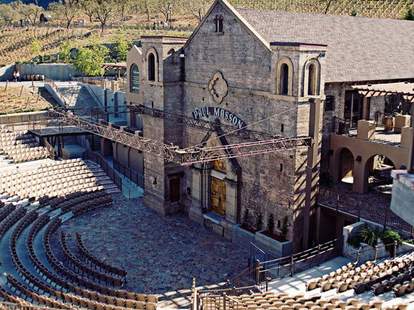 Look at that picture. LOOK AT IT. That's a picture of the awesomest winery in Northern California; a 100yr-old, adult-grape juicery that A) is where John Steinbeck wrote The Grapes of Wrath, B) features a massive amphitheater that Apple uses for super-secret concerts, and C) you literally had no idea existed because, unlike every other awesome winery in Northern California, this one is SOUTH of San Francisco.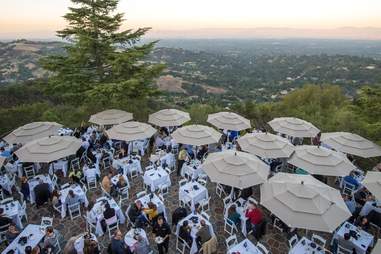 The Mountain Winery
Set on a knob overlooking the Santa Clara Valley, The Mountain Winery is like a German beer garden you'd find nestled up against the Black Forest, except minus the beer and plus the first pinot noir grapes EVER PLANTED IN AMERICA.
The Mountain Winery
There are two restaurants on the property that're both entirely outdoors, and both are only open during concerts -- oh yeah, they do non-Apple-secret concerts too, and have been since the early '50s when Ella Fitzgerald, Louis Armstrong, and Ray Charles were some of the first to perform. If you're allergic to the outside, that really sucks, but you can also duck inside their private dining room.
The Mountain Winery
The food is all prix fixe, which means you're totally gonna be forced to eat (ugh) steamed Aqua Gem clams with (even more ugh) fried pork belly on top.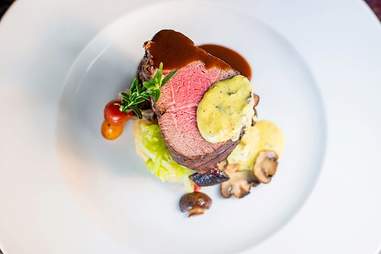 The Mountain Winery
Or this roasted filet of beef with a truffle-shuffled Gruyere crouton, a combination Reserve Mountain Winery Cabernet wine reduction, and Bearnaise sauce.
Mike Merlone
Speaking of the wine, it's been made continuously since the property opened in 1905, including during prohibition when they were robbed, like, non-stop thanks to being one of just a handful of sacramental wine producers.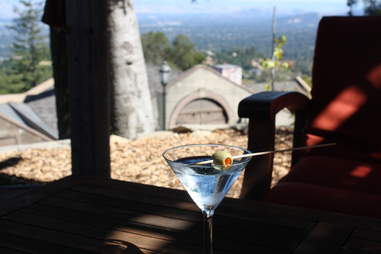 Mike Merlone
And like any awesomest-winery in Northern California, they've got a martini garden, where you can drink shaken-not-stirred's at the top of the mountain.
Mike Merlone
Just maybe don't bring your kids.