The Sacramento Mint Julep You Need to Make This Spring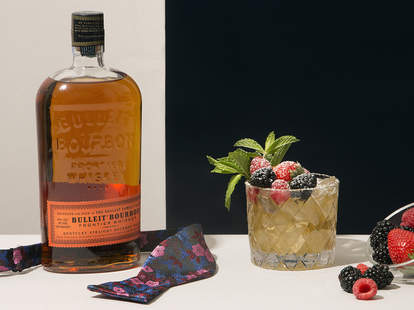 Photo: Eric Helgas/Styling: Ali Nardi
The Kentucky Derby is almost upon us, meaning that mint juleps are now compulsory. To keep yours extra special and way better than your friends' (especially Kevin's) we hit up Midtown bartender Chris Sinclair for his original take -- inspired by 19th-century cocktail pioneer Jerry Thomas. Don't know who that is? That's fine. Just make the drink, man. It's good.
Photo: Eric Helgas/Styling: Ali Nardi
The "Adjunct Prof" Jerry Thomas' Julep.
INGREDIENTS:
1 ounce Bulleit bourbon
.5 ounce simple syrup
.16 ounce Cocchi Americano
.16 ounce Ancho Reyes liqueur
2 dashes chipotle-infused Fee Brothers peach bitters
Muddled mint
DIRECTIONS:
In the bottom of a highball glass, place your mint and simple syrup.
Gently muddle the mint essence into the syrup.
Pour in the Cocchi Americano, Ancho Reyes Liqueur, and the bitters.
Scoop crushed ice into the glass, and proceed to pour your bourbon over the ice.
Gently stir all the ingredients together and top off with a little more crushed ice.
Garnish abundantly and dust powdered sugar atop.
Sip and let your worries of the day melt away.