A giant, Marina-style bar in... the TenderNob?!
If you consider any bar in the Tenderloin a bar you don't want to be in, Redford is going to make you reconsider those... considerations with this barn-sized, high-ceilinged bar-cum-restaurant complete with all the salvaged wood and reclaimed light fixings you'd expect from a place in the much-less-stabby Marina.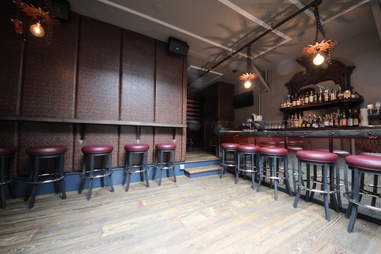 Set in the old Ambassador digs, they've opened up the skylights and replaced the front wall to let a TON of light in for happy hour-ing in two (count 'em, son!) drinking areas: downstairs at the main bar or upstairs in the mezzanine bar, which's complete with... what's that in the corner?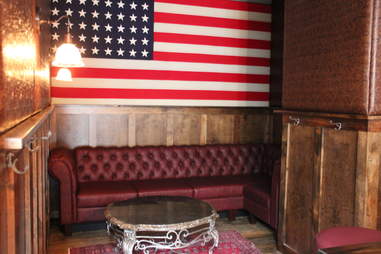 Oh just an awesome leather sofa nook with a 48-star American flag (sucks to be you, Hawaii and Alaska!).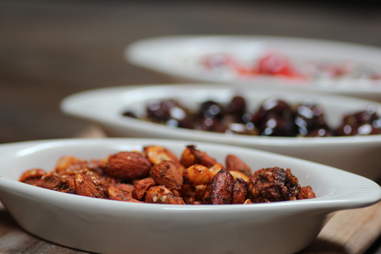 Their all-American menu sports a buncha leather-sofa-nook-worthy snacks, like this trio of goat cheese-stuffed peppers, marinated olives, and mixed spiced nuts.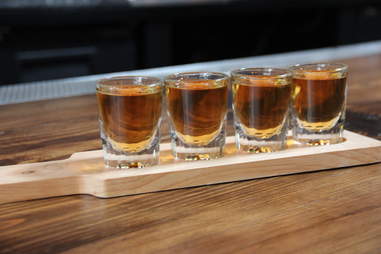 Start things off right with their Whiskey Plank, which consists of four shots of the "Brown of the Month" served on a paddle.
Though this cheese & charcuterie board falls under the "Medium" menu category, you're probably gonna want to get someone to share it with you if you intend on staying that size.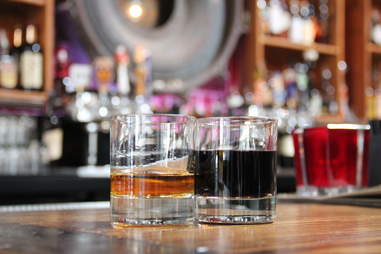 They're bucking the beer-and-a-shot trend for the rather ingenious, why-didn't-someone-think-of-this-before idea of pairing wines with whiskeys.
This glorious platter is the make-your-own sandwich Pastrami Board, technically for two, that comes out with a plate of cheeses, mustards, and breads for you to pair with the sizzling-hot 'stram.
With a list of 11 mainly traditional cocktails, you have to try the hopefully-named-for-the-neighborhood-and-not-a-medical-condition Tender Knob, with orange organic liquer, lemon, and Knob Creek.
If you went to college with Robert, you've probably already had one of these (Redford Pot Pie).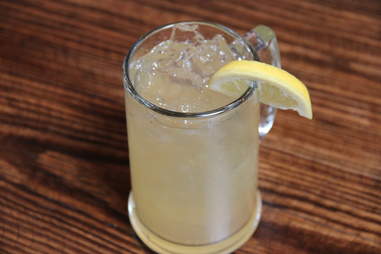 Finally, wash everything down with a spiked lemonade that, much like Tenderloin denizens, smells like bourbon.