The Ultimate Guide to Exploring Santa Cruz's Food and Drink Scene
Paul Schraub/Jack O'Neil Lounge
Paul Schraub/Jack O'Neil Lounge
You likely know of Santa Cruz thanks to its catchy (read: OMG GET THIS JINGLE OUT OF MY HEAD) commercials about its famous beach boardwalk. And sure -- the state's oldest theme park right on the beach is worth a visit, but thanks to tech booming just over the hill and a bunch of craft breweries popping up, this sleepy surf-paradise-meets-college-town has way more to offer than a vintage roller coaster and arcade. In fact when we visited, we didn't even smell the cotton candy.
Santa Cruz is also the birthplace of mainland surfing and boasts 20 miles of hiking trails among 10,800 acres of new- and old-growth redwoods. While there, you should totally surf and hike and walk through the country's tallest wooden covered bridge and check out the seasonal monarch butterfly migration, but because we're us -- and weekends are still only two days long -- we chose to focus on, well, the beer mostly. Here's where you should eat and drink after you're done zip-lining through redwoods.
With more than 20 breweries and taprooms, there's a lot to choose from in this Central Coast town. Take the guesswork out of it by boarding the Betty Jane, a tricked-out 1989 school-bus-turned-microbrew-tourmobile that takes you around town to a rotating crop of the best breweries and pubs, while former San Franciscan Annie Pautsch chauffeurs and dispenses her encyclopedic beer knowledge. The bus comes equipped with plush seating, hardwood floors, a sound system, and plenty of coolers for beers you bring -- or pick up along the way. Book a private Brew Cruz for eight to 15 of your friends or hop on one of the public tours and make some new ones.
It's always beer thirty at this beer playground that serves up games and -- you guessed it -- 30 craft beers on tap from all over California. Bring your own food, play bags and ping-pong, drink beer, maybe never leave. But if you must, definitely buy a bottle or six from the massive fridge to enjoy at home.
The newest brewery to land on the scene is just a short walk from the best surfing (Pleasure Point area) in the whole town -- and maybe the state. Founded by UC Santa Cruz alums, New Bohemia (NuBo as locals call it) specializes in German and Czech lagers with porters, ales, stouts, and India pale ales. Head upstairs to get a bird's-eye view of the brewing operation and enjoy beers on the balcony.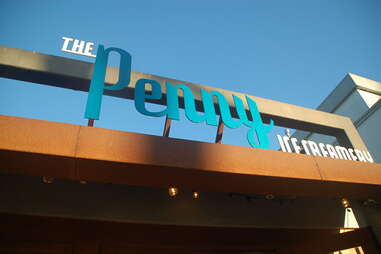 This charming ice cream parlor serves up the best ice cream we've ever tasted (yep, it could be better than Bi-Rite) thanks to its small batches made from scratch with ingredients from local farms. The original location is Downtown, but you should head to its sister spot, just a few blocks from Pleasure Point where you can enjoy a cone while watching surfers from atop a rugged cliff. 
From the folks that brought you The Penny Ice Creamery, comes this very San Francisco "conceptual eatery," featuring a restaurant serving rustic California cuisine and a pop-up space that plays host to rising Bay Area chefs (who will rotate in and out), bringing with them whole new menus every eight weeks.
This Santa Cruz roastery ranked in the top three in our <a href="http://www.thrillist.com/drink/san-francisco/the-definitive-top-11-bay-…; target="_blank">definitive, expert-tested list of the Bay's best roasters</a> and one of the judges called the Downtown location one of the most beautiful coffee bars in the entire Bay Area. Thanks to the tall ceilings, hanging Edison bulbs, and huge windows that encircle the whole place, we couldn't agree more... so we'll ignore the fact that Santa Cruz is just barely part of the Bay.&nbsp;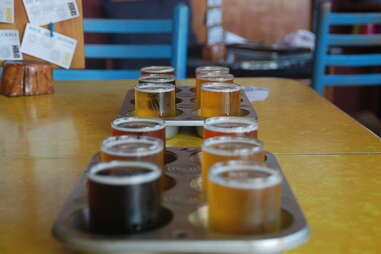 The first you thing you need to know about this industrial brewery -- located essentially in a business park -- is that flights of beers come in cupcake tins. So, yeah, get that. The second thing you need to know is that the beer is fantastic, especially the incredibly thyme-y saison and super-malty Uncle Dave's rye IPA. And the third thing you need to know is that the food is damn good too (get the pork belly slider snack), which you should enjoy in the gazebo-covered garden.&nbsp;<br />
&nbsp;<br />
<!-- single line template -->
If you're sticking with just the walkable Downtown area, Lupulo's taproom is a must, featuring 16 rotating beers on tap from local breweries. In addition it's got more than a hundred bottles of beer you can enjoy on site or take home to your beer-loving friends and family. The tapas-style menu is also perfect for groups/people who are only kind of hungry and are more into drinking.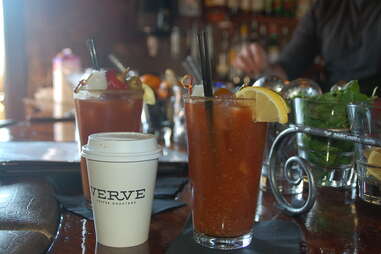 Literally. The clock is stuck at 5:15 at this funky cocktail lounge/restaurant that serves up a killer Bloody Mary. It's a fun nightlife or date spot, but we headed here for brunch. Post up at the cozy, curved bar or out on the balcony to catch some rays.&nbsp;<br />
&nbsp;<!-- single line template -->
If you're beered out, head to the gothic Red Room, which is essentially Santa Cruz's living room. As the name suggests, a red light casts a warm glow on the extensive liquor options, including an array of 100 different whiskeys. Enjoy them on the Victorian couches in front of a roaring fire. Oddly cool -- Red Room's carpeted, den-like lounge turns into a massive dance party late at night, because... college.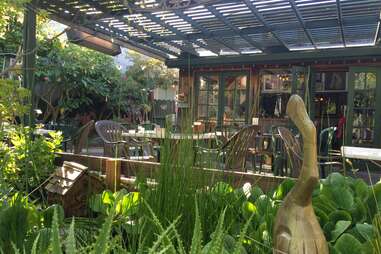 While you can certainly get a crepe at this beloved eclectic spot that's been in business in one form or another since 1973, you're really coming here for the live music, cocktails, and late-night eats -- all of which can be enjoyed in the funky garden.<br />
&nbsp;<br />
<!-- single line template -->
If you're looking to get touristy but still remain boozy, head to this lounge/surfing museum, located in the Dream Hotel and overlooking Cowell Beach and the Santa Cruz Wharf. The bar is dedicated to wetsuit pioneer Jack O'Neill and features surfboards on the ceiling and personal memorabilia from the famous surfer's life. &nbsp;<br />
&nbsp;<br />
<!-- single line template -->
Though Santa Cruz is close enough for a day trip from San Francisco, with all the Brew Cruzing you're doing, you definitely don't want to get back on winding HWY 17. The Dream Inn offers views and luxury, but for those traveling on a slightly tighter budget or with an entire bus of beered-up friends, the mid-range <a href="http://www.thehotelparadox.com/&quot; target="_blank">Hotel Paradox</a> is your best bet. It's the kind of place you book with your lacrosse team or wedding party to enjoy a hotel party while you dine on a stoner-friendly menu in the hotel bar or pool lounge. This boutique hotel has just enough amenities to feel taken care of (there's an outdoor pool and hot tub and the rooms are huge with killer showers), while not being so fancy that you feel too embarrassed when you're caught going for a late-night swim... not that we would suggest that or anything.&nbsp;<br />
<br />
<em><a class="vortex-open" data-campaign="2846" href="https://signup.thrillist.com/&quot; target="_blank">Sign up here</a> for our daily San Francisco email and be the first to get all the food/drink/fun SF has to offer.</em><br />
&nbsp; &nbsp;&nbsp;<br />
<em><a href="https://www.thrillist.com/authors/amy-copperman&quot; target="_blank">Amy Copperman</a> is a regular Thrillist contributor who still has that damn jingle in her head. Catch her travels on <a href="https://www.instagram.com/coppergirl/&quot; target="_blank">Instagram</a> and&nbsp;<a href="http://twitter.com/acoppergirl&quot; target="_blank">Twitter</a>.</em>