The Weekend Playbook: Big's going-out bash and free pizza FOR A YEAR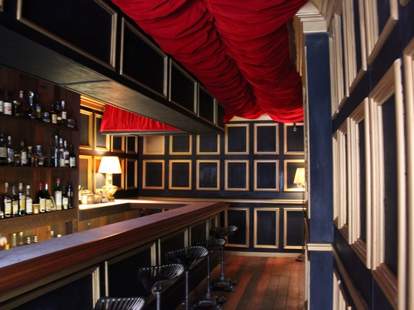 Event of the WeekThis Friday, the 14th, is officially the last day Big will be open, so they're doing an all-day going away party that'll have food from Tango & Stache and a bunch of surprises, so make sure you stop by before they run out of everything but the vermouth
Event of Next Week that You'll Need to RSVP to This WeekBlackbird is doing a complimentary Scotch tasting next Wednesday, June 19th, plus there's the option to pay for additional tastings of ultra-rare Scotches. Space is limited, so RSVP........ now
Thursday, June 13thUntil July 10th, Delfina is accepting designs for their next t-shirt and, if they pick yours, you get free 'za for a year. Get on it, (soon to be) fatty
Friday, June 14thNice outside? Why not grab dinner on the newly finished "Paradiso" back porch of the now-complete Italian spot, Dante's Table, which has a full bar to boot. Ottimo
Saturday, June 15thStarting today, Soul Groove has a brand new brunch menu with sandwiches like bacon-wrapped fried chicken with pimento cheese and minced jalapeno on a sourdough waffle. Seriously
Sunday, June 16thA Public Works Buddy Holly tribute concert with great performers, a cash bar, and Indian street food tacos? Sure
Okay, so your dad is in town? Make some reservations at Hopscotch for a tomahawk chop (pork chop and baby back rib) dinner with an optional (required, if you're awesome) Japanese single malt Scotch and Echigo red ale pairing.
Monday, June 17thAlmanac Beer is pairing with Roosevelt Tamale Parlor for an amazing Cervesas y Tamales paired dinner. Check the menu and get some reservations here
Tuesday, June 18thAnd if you like amazing food paired with local spirits... a lot of local spirits... check out Maven's paired St. George Spirits dinner. Here are the deets, and here are the reservations.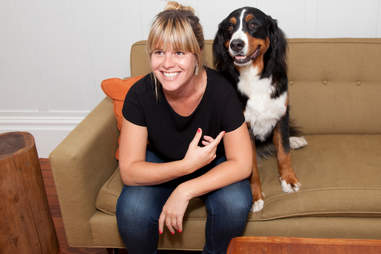 Local Girl We Love, and Where to Meet Her
This is Joanna Riedl, a Cape Cod-born PR and style expert who has made the "best city in the US" (SF, it's SF) her home for the past 10yrs. After a brief mistaken stint in the Inner Sunset, she now spends her time chilling in The Mission.

Why We Love Her: 1) She also contributes to Refinery 29, where she once tried the 20 best pizzas in SF, 2) when brainstorming new ideas, she's "preferably in a bikini over the Golden Gate bridge somewhere", and 3) dogs absolutely love her (pictured) and you know they're the best judges of character.

Giga Pets or Tamagotchi?
"Giga Pets, obvi. I'm an all-American gal who loves animals. Plus, I literally had to Google Tamagotchi, so I can't even try to play the cool 'I knew about Japanese digital alien things when I was 10' card."