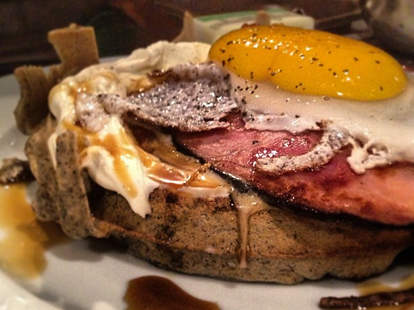 You Should Do This Because It's a Good Thing and Also Fun:To help out the victims of the Oklahoma City tornado, bars around SF* are coming together in conjunction with Negroni Week to donate $1 from all Negronis sold to the OK branch of the Red Cross, and all of the dollars for any Negronis sold at these bars/times:
Thursday, 5-9p: Elixir
Friday, 5-7p: Trick Dog & Derby Cocktail Co. at Off the Grid
Saturday, 5-7p: 15 Romolo & A-16 Rockridge
Thursday, May 30thFor their last few days before closing until 2016 (frowny face), SFMOMA is kicking things off with a rooftop party that has a live band, food from Bluestem and TRACE, and sangria and beer bars, plus a downstairs area with a gaming lounge and cocktails, and all you have to do is RSVP. 'Cause it's free.Saturday, June 1stCancel your plans and get your mustached brunch on at Dear Mom, because Tango & Stache will be offering, among other things, BACON-STUFFED BUCKWHEAT WAFFLES with a fried duck egg, maple syrup, and strawberries. Yes.Sunday, June 2nd The Negronis for Okies fundraiser culminates in a big ol' honky tonk party at Local Edition with a cocktail competition, delicious food, and a DJ, so grab your ticket to that here.Monday, June 3rd Yours truly is guest bartending at Gitane from 6-8p, so come stop in, say hi, and grab a drink with the editor of This. Very. Newsletter.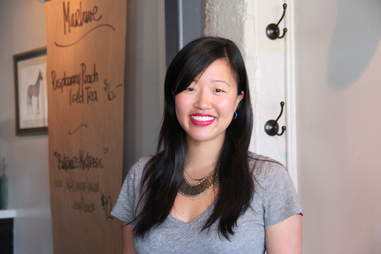 Local Girl We Love, and Where to Meet Her

This is Melanie. She's a manager at Marlowe, where you can usually find her running things (like a BOSS) at lunch and, if you're lucky, a couple dinner shifts. Why we love her: 1) She's super nice and someone to know at a great restaurant, 2) She can jump rope with her arms, 3) She's the rad/rare combo of Jewish/Korean, 4) Her favorite Spice Girl is Scary Spice (Melanie, duh), and 5) In a fight between Paul Bunyan and the Stay Puft Marshmallow Man: "Marshmallow Man wins, clearly, unless Paul has his blue ox, in which case, it's a toss up."

*Complete list of participating bars: A-16 Rockridge, Absinthe Brasserie, Acme Bar (Berkeley), Alchemist, The Alembic, AQ, Bar Agricole, Beretta, Blackbird, Bourbon & Branch, Churchill, Comstock Saloon, Elixir, Local Edition, Lolinda, Mission Bowling Club, Momo's, Prizefighter, Redwood Room, Rickhouse, RockBar, 15 Romolo, Rye, Tradition, Cantina, The Burritt Room, and Trick Dog.