Chipotle throws a great party, a new A16, and a local girl we love
EVENT OF THE WEEK:
This Saturday, that "Mexican" place you absolutely love but won't admit you do is hosting an absolutely free concert where you can grab also-free samples from the likes of 4505 Meats and Speakeasy (who did a special, just-for-this-event Cultivate Ale). Golden Gate Park: be there
Friday, June 7th
Indulge your inner (or outer) fat kid with a free doughnut from Krispy Kreme
Hit up Turtle Tower's new, larger digs for all the pho a king like you'd ever need
Saturday, June 8th
Thought that Civil War reenactments were a thing only people South of the Mason-Dixon did? Well, now's your chance to both watch one and feel awkwardly uncomfortable around any Confederate soldiers
Treat yourself to some pizza at the newest Rockridge-located A16, because that place is straight up delicious
Have a hankering for art? Or, more importantly, a hankering for free booze? Yeah, check out the Yerba Buena Art Walk
Monday, June 10th
Drink for a good cause at Fifth Floor's We're One with Boston event. No judgement but, if you don't, you're probably a terrible person.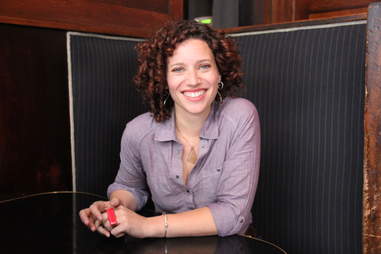 Local Girl We Love, and Where to Meet Her

This is Allison. Among many other things, she is a bartender at Jasper's Corner Tap and Kitchen, where you can find her most days of the week mixing up her specialty, which isn't a drink so much as a style: "BBS: brown, bitter, and stirred".

Why we love her: 1) On top of being the perfect storm of a friendly and pretty bartender, she's an amazing photographer, and 2) she did a sailboat race once and finished in the Top 10... in the world.

Best way to get her attention at the bar: "Make eye contact, smile, and say 'Hi', even if it's too loud for me to hear you from across the bar, your face will convey the sentiment... Also, having your money out and knowing what you want can't hurt."