These are SF's 14 Bad Decision Bars
Bad Decision Bars: You never mean to go to them, but then your friends promise that you're only gonna do one sake bomb and, sure enough, there you are at 2a, eating an egg roll you found on the floor. In San Francisco, there are exactly 14 of these places where you're pretty much guaranteed to make a bad (best?) decision or two seven.
Bus Stop
If you leave here without vomiting... in a sink... that someone is using... you're probably doing something wrong.

Bar None
Three things happen every single time you go to Bar None: 1) you're so good at beer pong you drink five pitchers, 2) you're so bad at beer pong you drink five pitchers, and 3) someone who just drank five pitchers tries to fight someone else who just drank five pitchers, usually because someone either tried to bounce, tried to blow, or tried to cut someone in line ("NO. WE HAD NEXT, BRO").
The Penthouse Club "& Restaurant"
Yeah, sure, it might seem like a good idea to go to one of these spots with your buddies, but then you get inside and find out your junior year prom date is a performer and... yeah...

Literally any karaoke bar
You know when a good time is to rent out a karaoke room with a bunch of your friends and sing absolutely awful renditions of Teenage Dream? Never. Or, after SantaCon.
Holy Cow
Already kind of a bad decision (... because you're in SOMA), this is the kinda bar you go to, to meet some skanky-looking girls and end up... meeting some skanky-looking girls.

Make-Out Room
While definitely the kind of place where you can grind on random strangers, if you actually make out with someone here, there is now a 95% chance you have cold sores.

Elbo Room
Are they being facetious by naming it after exactly what you won't have at this place? Also, do you smell cat pee?
Zeitgeist
"Yeah, I mean we could go to Tacolicious, but I've already had like, a pitcher-and-a-half... maybe we should just order something off the menu here?"

Jonell's
OH MY GOD WHAT IS GOING ON HOW AM I IN THE TENDERLOIN DID THAT GUY JUST TRY TO SELL ME BEEF JERKY?!

Reed Greenough
Normally you wouldn't expect a bar in San Francisco to enforce a dress code, but this one certainly does, and no one wants Irish Car Bombs on their dress shoes.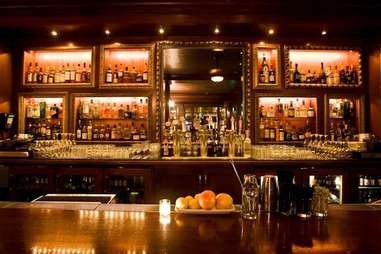 City Tavern/ KT's/ Eastside West
Much like the one in Bermuda, going into the Triangle could be detrimental to your survival and will definitely result in the mysterious disappearance of things: phones, memories, dignity, etc.

The EndUp
GO HOME.