These are the 5 best beertails in SF
Since it's the Summer, and this is America, and you're drinking beer anyway, we decided it was time that we listed out our favorite beertails around the city. But first, some clarity: these are cocktails that use beer as a main ingredient. They don't have to just have beer in them. In fact, most have several other boozes -- they just need to be delicious and what we want to be drinking every damn day while sitting outside wearing our old Sarunas Marciulionis jersey. So, without further ado, here goes our bestest five: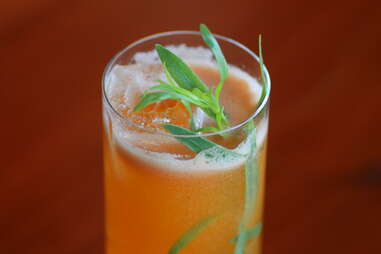 Order the: Chamomile High Club, at Maven
Why: Because you'll drink ANYTHING with the essence of daisy-like plants from the Asteraceae family in it. And also because this pup from our favorite brunch spot in the Lower Haight also contains Stone's IPA, bourbon, lemon, and apricot, aside from that chamomile.
Order the: Gypsy Tan, at Trick Dog
Why: A quick Google search reveals that GypsyTan.com provides a mobile tanning service catering to you in the privacy of your own home. A quick ingredients search suggests that this version fills a glass with Erdinger Weissbier, Rittenhouse 100 rye, Mandarine Napoleon orange liquer, Fernet, ginger, lemon, and grated nutmeg on top. Choose whichever one better fits your lifestyle.
Order the: Weissen Sour, at Jasper's
Why: Because Kevin Diedrich is a boxing, drink-creating badass. And because his take on a suds-infused whiskey sour features white ale, bourbon, lemon juice, orange marmalade, and bitters.
Order the: Michelada, at Park Tavern
Why: An only-at-brunch favorite, PT's take on a Michelada uses Sudwerk Pilsner, lemonade, housemade hot sauce & pickled jalapeño to give it a salty, spicy, sweet flavor that'll make you say, "Damn, this is hitting most of the categories commonly recognized as basic tastes. Now someone needs to bump a little Edwin McCain so this party can really jump off!"
Order the: Belgian Sour, at Social Kitchen
Why: They mix their Rapscallion Belgian Golden Ale with fresh orange and lemon, bourbon, house-made ginger syrup, and orange bitters. You mix cassette tapes featuring the song "I'll Be" by Edwin McCain. They win.