The Weekend Playbook: New Umami and your Bastille Breakdown
Event of the Week (if you live in Oakland, or are allergic to the Marina)Umami Burger just opened up an Oakland location!Friday, July 12thRN74's kicking off Bastille Day Weekend with a big costume party (don't worry, you don't actually have to get dressed up) with a special menu, free drink tickets (!), and live aerial, Cirque du Soleil-esque performances (!!).Saturday, July 13thTonight's Movies in the Park in Oakland feature is The Princess Bride, which you can go to or not, as you wish! Sunday, July 14thGrand Cafe's Bastille Day Celebration includes a special menu where you can get any two items for 17.89 (the year the fortress was stormed). Plus: if you wear a beret/mustache, you get a free Lillet!Despite being a Chilean restaurant, The Mortimer at Hotel Adagio is launching its bottomless mimosa brunch starting today... Liberte! Fraternite! Sunday Funde!Tuesday, July 16thStarbelly's chef is teaming up with Iron Springs Brewery for a patio picnic, family-style feast of buttermilk fried chicken, cornmeal biscuits & gravy, and collard greens, with the ISB team on hand for one-night-only specials on their brews. Get reservations before they run out!!Wednesday, July 17thSneaky's BBQ (which's been popping up at Vinyl) now has an off-menu burger topped with their pulled pork or pork belly. You're welcome.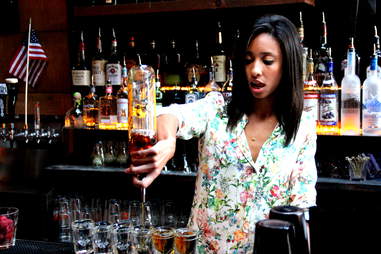 Local Lady We Love and Where to Meet Her
This is Alex, a bartender at Lightning Tavern, Bay Area native, and all-around super fun girl.

Why We Love Her: 1) When we were photographing this, she poured these Fireball shots for us (!!), 2) she has an awesome tattoo on her back "from neck to butt", 3) she was a debutante (fancy!), and 4) her dad was in the Black Panthers.

How to Get Her Attention at the Bar: "I'm kind of famous for wearing not a lot of clothing [sidenote -- not pictured in this photo: her Daisy Dukes], so one time I had a crop top on and a guy came in and said, 'Hey, Midriff!', and now it's become an inside joke and I turn around every time he calls me Midriff."

If we try and wave to get your attention?: "I just wave back."