Sign up for This of the Week Master Butcher Ryan Farr of 4505 Meats has started up a legit apprentice program where you learn how to be an actual butcher over an immersive, three-month program that actually sounds pretty awesome

Friday, July 19th Grab a craft beer at Blind Tiger Tap Room, the newly revamped back bar of Noir, which's now serving rare, high-ABV beers in 11oz cups. Yes ma'am

Rhea's Cafe has started doing dinner, so go get some deliciousness. Unless you don't like lager-braised pork belly or white cheddar mac 'n cheese..

Saturday, July 20th Want a free lollipop from See's Candies? Of course you do, because it's free lollipop day

So, apparently there's a burlesque show on the square where naked dudes used to hang out, with almost naked ladies

RSVP for free to this Zombies vs. Humans Nerf War so you can practice all your skills for when the inevitable outbreak happens, Brad Pitt

Sunday, July 21st Score some points with your GF or just be ready to class up your time with Truffle Guy, because the SF Symphony's doing their annual free concert in Dolores Park today.
Recommended Video
Thrillist's Best (and the Rest): What You Actually Need to Know About Natural Wine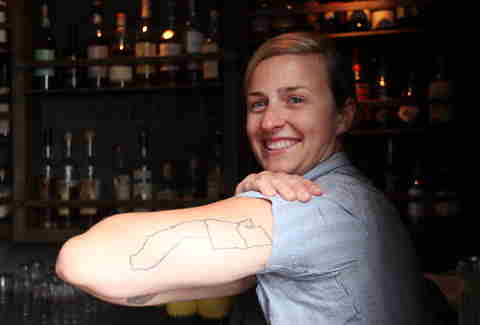 Local Lady We Love and Where to Meet Her:
Meet Caitlin Laman, an awesomely West Coast-tattoo-repping bartender at Trick Dog in The Mission.

Why we love her: 1) Her favorite thing to eat in the 'hood (though hard to choose) is the beef tacos from Namu Gaji, 2) she used to ride a unicycle, 3) favorite bartender is Tradition's Claire Sprouse, 4) she never watched cartoons (in fact they weird her out a little), and 5) she has a tattoo of a California brick that actually exists in the not-open-yet back patio of The Mill!

How to get her attention at the bar: "Always be super nice to your bartender and they'll remember you."