Event of the Week Virgil's Sea Room's patio is open and ready for business, so to celebrate they and The Bold Italic are having a crazy Grand Opening Party with a photobooth, pop-up eats, and a giveaway. Whaaaaaaat! Thursday, July 25th Three Babes Bakeshop and Burritt Room + Tavern are teaming up for a cocktails and pies night because OM NOM NOM NOM. Saturday, July 27th Renegade Craft Fair is back, so bring your girlfriend, find some surprisingly cool stuff, and... oh! There's beer. Get your Harajuku on (did we say that right?) at the J-Pop Summit Festival with food trucks, sake tastings, a J-Pop fashion contest, and creepy old dudes watching said fashion contest. Stop on by to Lucky 13 for free BBQ from 4-7p. Come for the free grilled meats, stay for the cheap PBR tall boys. Feel like doing something Burning Man-y? Then participate in the Great Scavenger Hunt thrown by the Burning Man dudes. Grab a blanket, a beverage that we are definitely not suggesting be alcoholic, and a girl to clutch in fear as you watch Invasion of the Body Snatchers at Duboce Park Movie Night. Sunday, July 28th Hit up yet another free BBQ at Bender's from 3-7p for all the free burgers your little heart desires.
Recommended Video
Thrillist's Best (and the Rest): What You Actually Need to Know About Natural Wine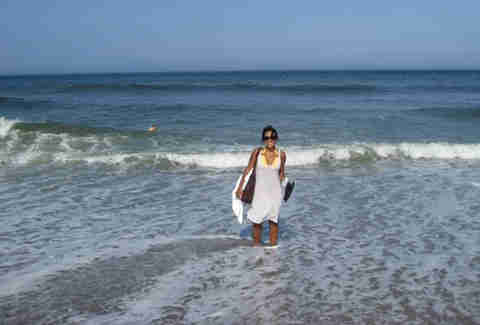 A Local Lady We Love, and Where to Meet Her
Meet Asha Agrawal. She lives in the Mission, is hilarious, and was a startup lawyer, until she quit her job to go save the environment doing work in clean tech. She's kinda like a female Captain Planet.

Reasons we love her: 1) she went to boarding school with Ivanka Trump and Dave Eggers' younger brother (!!), 2) she once made the cover of the school paper at Northwestern as part of a "list of people who got busted with fake IDs at The Keg". According to the article, "Asha Agrawal refused to comment." 3) she's still really upset about the fact that she didn't have a pink convertible Pow-Pow-Power Wheels growing up, and 4) she hangs out at Stable Cafe pretty much every Sunday (side patio FTW!).

Totally free lawyer tip from Asha: "If you're starting a new company in the Bay Area, start it as a Delaware corporation. Even though you think you might want a California LLC, you're gonna spend a lot of money on legal fees and stuff if you do it in California, and will discourage investors. Delaware has more robust case law, so it's way more predictable and easy to navigate."