The Weekend Playbook: Get Outside Lands tix and meet a pretty girl on a tractor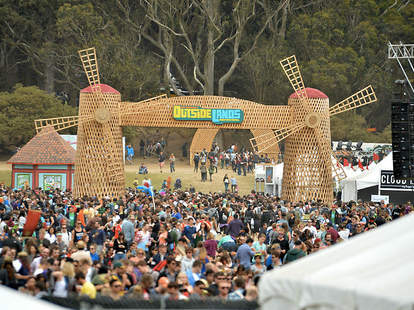 Thing You Have to Do of the Week: Outside Lands tickets just went on sale. We're talking "just", as in yesterday, when they also announced the lineup: Red Hot Chili Peppers are gonna be there, and Jurassic 5, and Paul McCartney, and Young the Giant, and Phoenix. So yeah, buy some of those
Thursday, June 27th City Beer Store's doing a sipping session with Ommegang from 6p-close which'll include Ommegang's... Gnomegang. Pointy hats optional
Also: co-ed dodgeball
Friday, June 28th Prefer to get your swim trunks from trailers that Optimus Prime-style transform into little tiny surf shops? What about if they come with free BBQ, too
Saturday, June 29th Get your breakfast banh mi on at this Dear Mom pop-up orchestrated by the lovely, red stool-sitting ladies from Rice Paper Scissors. Mmmm....
Monday, July 1st B... I... NGO. B... E... ER. That's right, Pyramid's hosting beer bingo
Did we miss anything? Aside from all this radness, what're YOU getting up to this weekend? Tell us in the comments below -- especially if it involves freezing time and using a giant cell phone.
Local Lady We Love, and Where to Meet Her
Meet Defne Altan. She's the founder, president, vice president, COO, CMO, CFO, secretary, and social chair of 1yr-old Made PR, where she single-handedly runs the public relations show for Timbuk2, Three Twins Ice Cream, Self Edge, and Waiheke Island Yacht Club opening at Pier 29. Reasons we love her: 1) SHE DOES PR FOR AN ICE CREAM COMPANY, 2) this photo, 3) she has a neighbor who owns a rooster ("It cock-a-doodle-doos, like the movies."), and 4) her favorite T.G.I.F show was Full House. Altan: "That's why I moved to San Francisco." Thrillist: "Wait, really?" Altan: "No."

So where can you find this most awesomest Mission-ite? Try Trick Dog, Zoe's, or Hotel Biron.