As the founding partners of the cocktail and design firm the Bon Vivants, and the owners of one of our favorite bars in the country (Trick Dog), Josh Harris and Scott Baird have turned the art of having a good time into a thriving business. We asked them to guide us through their favorite SF hood -- the Mission. Eleven hours and twelve stops later, our times were still very, very good:

Bernal Cutlery
When we walk in, Scott takes in the expanse of blades on the walls, and mentions that he kind of "has a bit of a knife obsession". Then he mentions slicing off part of his finger when chopping fruit in Tokyo. Then he shows me that finger.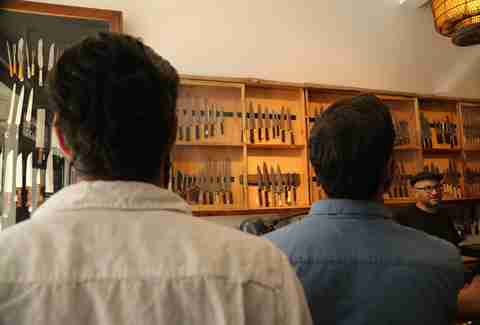 Then we get back to staring at incredible Japanese, vintage, and other knives, which Bernal uses Japanese whetstone sharpening on to make blades so kick ass, half-vampire Wesley Snipes would offer to change his name to "Blaine" out of respect.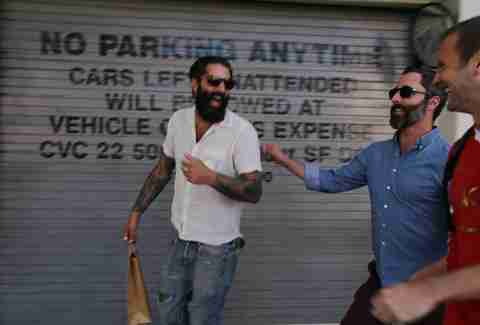 As we venture on to the next spot, we're reminded that the Mission is a place of joy, so much so that not being able to park anytime becomes kind of hilarious.
Taylor Stitch
Josh and Scott decide it's about time everyone started looking better, so they try on a few things at Taylor Stitch. Stitch makes both custom shirts and has a line of their own button-ups, jeans, and knits. Josh finds a shirt he wants, and buys it, and now Scott and I both want shirts. Now feel free to drop out of your marketing class because you already know everything.
Self Edge
True story: Josh is actually a jeans model for Self Edge. Truer story: he gets recognized all the time. Almost exclusively by Japanese people. So yes, Josh actually is big in Japan. Also, he recommends buying jeans here. Though, unless you're extremely confident, maybe not those purple ones.
Aggregate Supply
In economics, aggregate supply is the total supply of goods and services that firms in a national economy plan on selling during a specific time period. In SF, Aggregate Supply is a cool store where you can buy clothes, vintage jewelry, and about a hundred other things you didn't realize you wanted/needed. Scott satisfies his craving for "shirt" here, but I do not, because I AM A PROFESSIONAL.
Heading deeper into the Mission, we wander though the farmer's market, where Josh gets roped into trying some sort of dip from an old Italian man, and Scott buys a frozen coconut bar, because, well, it was a frozen coconut bar. If you're into impulse food buys, this is your mecca.
Dog Eared Books
Both Josh and Scott have large collections of things called "books" -- if you're into them also, this is a must-stop. Lately, Josh is obsessed with tomes filled with vintage maps and drawings and the like, and spends much of his time in Dog Eared flipping through coffee table toppers filled with crazy drawings of old fish.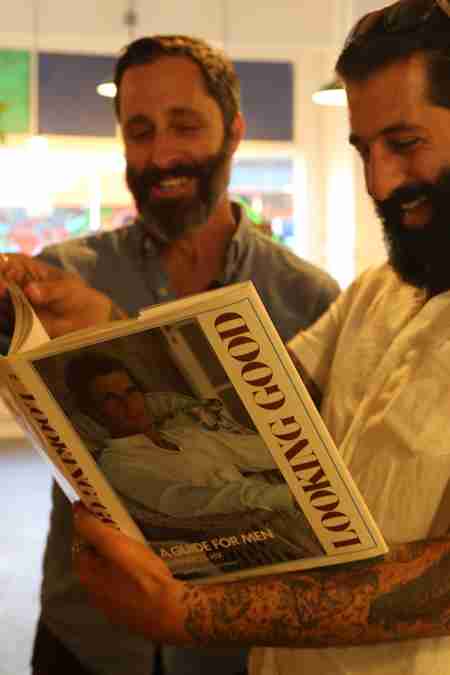 Press
At Press, another hyper-curated bookstore the guys love, everyone has a grand laugh at this guide for men, which shows you how to be good looking in Connecticut in the 1980s.
El Gallo Giro Taco Truck
We make a pit stop at their favorite taco truck El Gallo Giro, which loosely translates to "The Rooster That Has Made A Change Of Direction". Scott insists we get a plate of pollos, so we do, and they are absolutely delicious, or at least were before we eviscerated them.
Stuff
A lot of the cool, eclectic vintage details that make Trick Dog's aesthetic so unique come from Josh and Scott spending hours in places like Stuff (or the places where Stuff finds their stuff) looking through vintage glassware, or one-off light fixtures, or, say, a deer or something?
The Mission is all about randomness, so we stop into a spot no one's ever heard of before and... SPOILER ALERT: Josh isn't a Russian criminal.
St. Vincent Tavern and Wine Merchant
After taking a break so the guys could go taste dishes from a chef they're interviewing for a new project, we meet back up at St. Vincent. They've brought along Trick Dog bar manager Morgan Schick and a few other chef pals, and we all reconvene at the bar around David Lynch, the owner of St Vincent who was once Wine Director of Mario Batali and Joseph Bastianich's Babbo in NY, and who literally wrote the book on Italian wine (yes, it's called Vino Italiano).
After a discussion of old Boston College basketball players (Dana Barros! Bill Curley! Danye Abrams!), David opens a bottle of 1982 Cabernet Sauvignon Josh and Scott discovered when purchasing a wine cellar, and everyone toasts to the fact that, thanks to all that Mission shopping, I'm no longer wearing a soccer jersey.
Twenty Spot
We make our way to Bodhi Freedom's 20 Spot, a former record store that now -- thanks to the orange tinted lighting and Eames chairs -- looks like a place your uncles would've hung out at in in the '60s, if they were actually cool, and not just weird and bitter.
Dalva
No night is complete without a stop at Erik Reichborn-Kjennerud's industry favorite eclectic dive that also houses The Hideout, its back bar-within-a-bar. Just head back there and get whatever they've got written on the board as the drink special -- you can't go wrong, unless the drink special is called "The Wrong".
Trick Dog
Finally, at around midnight, we head to Josh and Scott's Trick Dog, where the creativity of the drinks is only surpassed by the creativity of the menu design (Pantone wheels, astrological charts, and other awesome things). Though it's a school night, it's still packed. Immediately, we head to the lefthand corner of the bar, which is where you'll find the guys posted up when they're not cruising around the country hosting events involving pigs and adult punches. Like the Mission, these (not that) old dogs have more than one trick.
*Brand does not have any affiliation with the places, events, or obscure books named in the above article