SF: Your New Favorite Cocktails Are at BDK Restaurant & Bar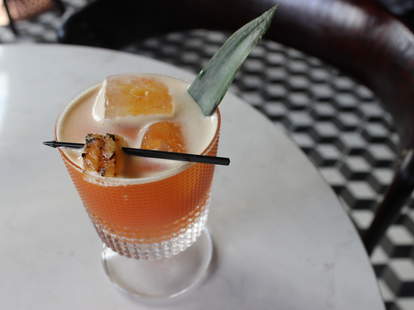 Daisy Barringer/Thrillist
When you think of hotel bars, you probably think of slightly cheesy spaces with overpriced drinks and ordinary food. Which probably means you'll be extra stoked to learn that BDK Restaurant & Bar, the new American tavern in the Hotel Monaco, is none of those things. At all.
BDK Restaurant & Bar
The space is sleek and masculine, with an interesting play on textures and patterns. Grab one of the 17 bar seats so you can get to work on what, in our (not-so) humble opinion, is one of the most interesting cocktail menus in San Francisco right now.
Daisy Barringer/Thrillist
You know how when you think of apples and cocktails, you think of a bright green martini with a maraschino cherry? Yeah, stop thinking of that. Instead, think of this Apple cocktail (Old Tom gin, calvados, sweet vermouth, herbal liquor, and bitters) served in a traditional martini glass. The best part? The dividends. Not the kind the bank pays you in Monopoly, but the kind that comes in a carafe (on ice) so that when you finish your drink, you can just pour yourself some more.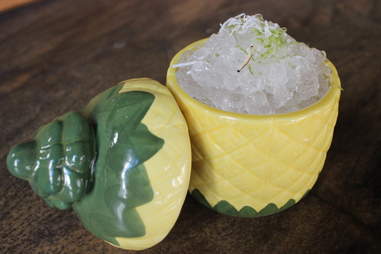 Daisy Barringer/Thrillist
The Lychee is a Swedish smokey tea vodka with salted pistachio, coconut-lychee milk, and lime. It comes in the cutest pineapple mug you've ever seen (there's a hole in the lid for your straw) and goes down faster than you'll like.
Daisy Barringer/Thrillist
This passion fruit cocktail has highland blanco tequila and habanero shrub for a bit of a kick. Also, it's really pretty.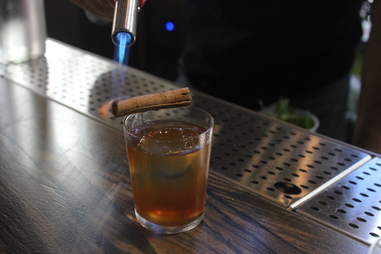 Daisy Barringer/Thrillist
The cocktails are all are named after thier predominant flavor profile. This is the Cinnamon, a blended Scotch whiskey with pommeau, allspice, maple, bitters, and a cinnamon stick that the bartender will light on fire and then delicately nest in the drink.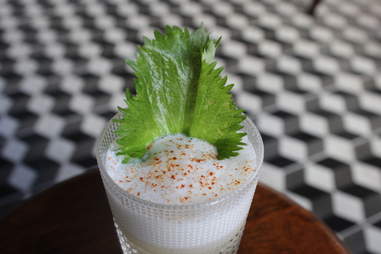 Daisy Barringer/Thrillist
All of the cocktails are $11 or $12 because it is the philosophy of bar manager Kevin Diedrich that anyone should be able to walk into a bar with 20 bucks in his pocket and get two drinks. At BDK, your second drink will be one of eight beers on tap ($7-$9), that includes two options from Drake's (Nitro Stout and Hefeweizen) and Fort Point Brewing (KSA Kolsch and Villager IPA).
Daisy Barringer/Thrillist
You can also order a House Old Fashioned for $10. Which, no big deal, comes out of a tap (and tastes like perfection).
BDK Restaurant & Bar
BDK also serves food made by Top Chef: Texas alum Chef Heather Terhune. Think: smoked ham & Brie pop-tarts, dungeness crab beignets, potato & cheese pierogies, and chianti-braised pot roast, plus bar food like Thai coconut red curry popcorn ($4) and house-made beef jerky ($9) that'll ruin all gas station jerky for future road trips. Right now they only have dinner (from 4-10pm) and breakfast (7-10am), but word on the street is that weekend brunch is in the works. Mmm... brunch...
Sign up here for our daily San Francisco email and be the first to get all the food/drink/fun SF has to offer.
Daisy Barringer is Thrillist's SF Editor and she's pretty sure all she needs in life is popcorn, delicious cocktails, and an outlet for her phone (which they have by the bag hooks at BDK). Fine, and also chocolate. Tell her your life necessities on Twitter @daisy.