A new beer bar with sausages and tableside kegs comes to Union Square
You could go to Union Square to go shopping (zzzzzzzzzz), OR you could go there to check out a sweet, just-opened beer bar that's all about swine and swill: Hogwash. A modern California brew parlor from Paula Thompson and Zeki's Bar owner Nick Rothman, it's SF's latest addition to the city's rapidly-growing-not-that-you're-complaining beer bar scene, and it's focusing its attention squarely on the finer things in life: craft brews and sausage.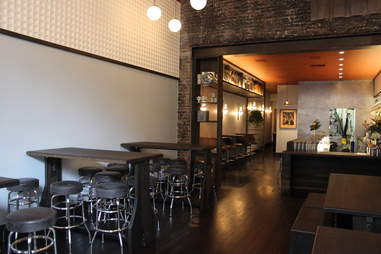 Daisy Barringer
The vibe in the sleekly modern spot is all about sharing and community, which basically means tables are communal (except for a trio of smaller private numbers), and you order from the bartender, who'll bring your beer & food to you.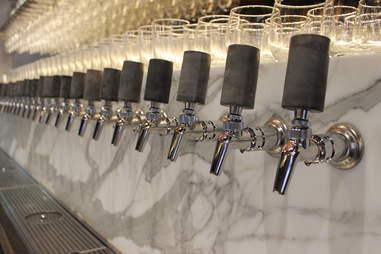 Daisy Barringer
There are 30 taps, currently pouring everything from Anderson Valley Boont Amber, to Hitachino White Ale from Japan, to Marin Brewing Company Blueberry Ale, and Fuller's London Porter.
You can order just a pint or, if you're feeling especially thirsty, ask for a 54oz Hog Goblet... and if even that doesn't do it for you, you can get an entire five-liter keg-let brought to your table. (You're getting the keg-let, aren't you?)
All of the dishes are made to be shared (but as always, you don't hafta if you don't wanna). Choose from house-made sausages, including a ginger maple pork breakfast sausage topped w/ a fried duck egg; a lamb sausage with blue cheese; a chicken habanero sausage with fried avocado (deliciously pictured above); a beef, cheddar, and bacon sausage with Thousand Island dressing; and even a hog-less sausage for those poor folks who don't eat meat. You can also order even bigger plates to be shared and a few salads, 'cause it's probably not good for you to just eat sausage and drink beer... right?
Shout out to the fried, house-made pickles with harissa aioli.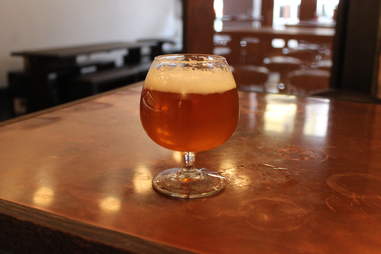 Daisy Barringer
Hog also boasts a few wines on the menu, and for dessert, an IPA beer float. Yeah -- it's an IPA with Three Twins Lemon Cookie ice cream.
Or be lame, and just drink a normal beer. A completely normal, completely DELICIOUS beer.
Sign up here for our daily San Francisco email and be the first to get all the food/drink/fun SF has to offer.
Daisy Barringer is Thrillist's SF Editor and the only reason she didn't get the beer float is because sometimes she makes terrible decisions. See which other ones she makes on Twitter @daisy.