The greatest beer hall ever, and it's in the Tenderloin
The first US version of the Copenhagen original, Mikkeller Bar's an 80-seat Danish beer hall set in a 106yr-old brick building in the Tenderloin and collaborated on by the guy behind R. Kelly's favorite East Bay bar (The Trappist).
Along with walls painted by the same dude who does their beer labels and featuring awesome, sometimes naked (!) cartoon people (slanty face), they also imported these ubiquitous street lights from Denmark.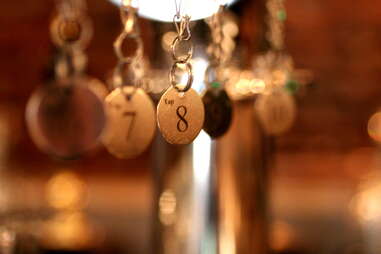 With 42 beers on tap (including four exclusive-to-this-location Mikkellers), rather than have individual handles, they have these nifty engraved pendants to help keep track of what's what.
All of the beers are controlled by this super-crazy, super-rare (there are only five like it in the entire world) contraption amazingly dubbed the Flux Capacitor. It keeps every single beer at a specialized level of nitrogen, carbon dioxide, and, we're assuming, stolen Nigerian plutonium/clock tower lightning bolts.
And kegs are stored in two different walk-in fridges so you can enjoy them at three different temperatures. Wait, what?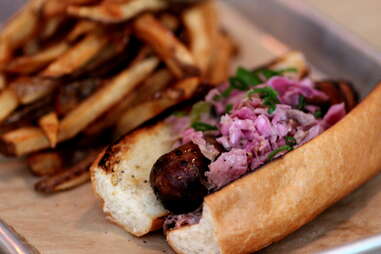 The chef is from awesome DC cocktail bar Churchkey, and his meat-centric menu is, naturally, dedicated to "things that go well with beer", proving that our Vision Board totally worked.
How meat-centric, you ask? THIS meat-centric. Their sausage platter features homemade bierwurst and thick-cut grilled bacon, enough of which'll make you believe you can fly/touch the sky.