From a couple that actually lived above the space for EIGHT YEARS before deciding to buy it, Sparrow Bar and Kitchen is an Upper Haight comfort food retreat that sports an epic, rather-large-for-being-in-the-city outdoor beer garden with plenty of heaters because, well, it's in this city.
The main indoor dining area is bright and roomy, with bay windows, local art, and even seating on the upper floor, which is also where the owners live! No, not this floor, like, further up.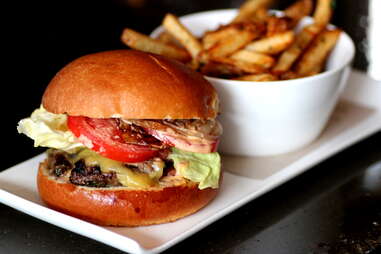 The menu is executive-directed by the Swedish chef (bork! bork!) behind Oola with a blend of American-y goodness like this Niman Ranch burger topped with red pepper aioli, Gruyere, and balsamic roasted onions.
And you can grab starters like this fried chicken and buttermilk waffle (ohmygosh), or come in for weekend brunch where you can get a full-size version of this baby (OHMYGOSH!!).
At the poured concrete bar, they're doing 15 rotating, mostly local taps with super-hard-to-find choices like Pac Brew Lab's Squid Ink and Pine Street's Atom Splitter, which you can and will take outside because, remember, beer garden.