Paid Content For
San Pellegrino
Every Single Waterfront Bar in San Francisco
Paid Content For
San Pellegrino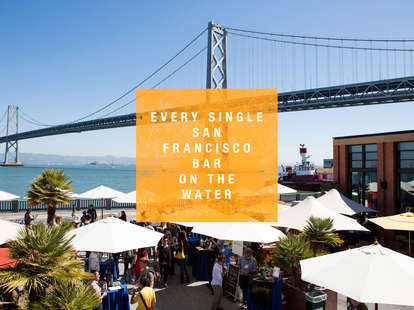 Thrillist
Thrillist
San Francisco is surrounded by water on the East, West, and North, which means it's the perfect place to kick back with a drink and a waterfront view. Which you can do at every single one of these spots. Assuming Karl isn't hanging around, that is.
The Ramp
855 Terry Francois St
It doesn't get any more "waterfront" than The Ramp's sunny, Bayside patio. It's literally so on the water, they tell you not to dock your boat there.

Mission Rock Resort
817 Terry Francois St
You can sit on the overwater patio (which accommodates a Giants game day-friendly ONE HUNDRED AND TWENTY DRINKERS), or pull up a stool at the bar, which's made with recycled wood pulled from the 1923 bleachers (complete with seat numbers!) from Cal's Memorial Stadium in Berkeley. Either way, the views are everywhere.
Hi Dive
Pier 28 ½, The Embarcadero at Bryant
The exterior of Hi Dive makes it look like all kinds of dives, but the outdoor patio shoots that down pretty quickly with a quajillion-dollar view that no dive in the city can claim.
Hog Island Oyster Co.
1 Ferry Building - Shop 11
Since its remodel, Hog Island Oyster Co. lost its happy hour offerings, but not the seating outdoors or the gorgeous view of the Bay Bridge. And according to every guy you've ever played some sort of organized softball with, two-for-three ain't bad.
La Mar Cebicheria Peruana
Pier 1.5, The Embarcadero
Enjoy Peruvian happy hour offerings seven days a week on La Mar's boat-docking-friendly patio. Enjoy it even more if you just docked your boat there.
Coqueta
Pier 5, The Embarcadero
Pick your poison at Coqueta: sit outside in the semi-enclosed patio, or snag a seat at the glassed-in bar that looks out on Yerba Buena and lots of sky. Just make sure you get a sangria with that.
Red's Java House
Pier 30, The Embarcadero at Bryant
A San Francisco staple before Anthony Bourdain dubbed it cool, if you haven't enjoyed an afternoon beer and burger on its Bay-viewing patio, do it before the Warriors claim this stomping ground in 2017.
The Slanted Door
1 Ferry Building, #3
Slanted Door's floor-to-ceiling windows look out onto the Bay (if the breeze is too chilly for you, Guy Who Forgot His Layers), but the more affordable happy hour is best enjoyed on its outdoor patio with a cocktail.
Pier 23
Pier 23, The Embarcadero
The family-owned waterside cafe wants you to enjoy its patio so much, if it's too bright for you, it'll give you a cowboy hat to wear to shield you from the sun.
Epic Roasthouse
369 The Embarcadero
A steak with panoramic views of the Bay Bridge and Treasure Island? Cheeeeeck. Sit inside or out to take it all in, and always opt for the happy hour or brunch menu, which don't need you to make a reservation.

Chaya Brasserie
132 The Embarcadero
Come for the Asian-fusion happy hour, stay for the relaxing views from the outdoor patio or the bar inside.

Sinbad's
141 The Embarcadero
If you like Alpha Phi sorority invitationals, you're in the right spot.
Waterfront Restaurant
Pier 7, The Embarcadero
The former longshoremen's bar-turned-upscale-eatery might be out of your price range for dinner. But Waterfront's $1 oyster happy hour and totally free view of the Bay from its patio is not.
Waterbar
399 The Embarcadero
Soak some rays on Waterbar's outside deck, or... its outside deck (or its circular bar where you can get $1 happy hour oysters).
Palomino
345 Spear St
Forget that it's Palomino and remember that it's a Bay-facing, open-patio'd spot with half-off Wine Down Wednesday.
Butterfly
Pier 33, The Embarcadero
The back patio is sliver-ish, but also unnecessary when you've got floor-to-ceiling windows like it does. If you've ever wanted to see a cruise ship dock, this would be the place to do it from.
SB40
Pier 40, The Embarcadero
This dog-friendly, open-air bar (with a smoking/patio area) is a great spot to enjoy reasonably priced seafood and whatever game's on TV.
MarketBar
1 Ferry Building
Anchored on the Embarcadero side of the Ferry Building, its outdoor area offers not only a view, but $8 specials (until 8pm!) eight days a week!!
Perry's
155 Steuart
This mini-San Francisco chain maintains its easygoing vibe, but takes on an outdoor space with water views at its Embarcadero location. Sooooo, maybe go to this one if you're having a hard time choosing.
Americano
8 Mission St
Situated inside Hotel Vitale, you don't have to be staying there to enjoy the panoramic views from the curricular bar. But if you enjoy them too much, you totally can be.
Forbes Island
Dock the ferry to the island at Piers 39 & 41
Okay, so Forbes Island is a bit more of a commitment than just dropping by for a drink and a great view (hilarious old Thrillist video proof). But this is truly one of those "only in San Francisco" places, considering it's the world's only floating restaurant.
The Pub at Ghirardelli Square
851 Beach St
Yes, it's in Ghirardelli Square, but also yes, it nails the three B's: BBQ, beers, and Bay views -- indoors and out.
Players Sport Grill & Arcade
Pier 39
Bay views + Skeeball = Ugh, fine.
Eagle Cafe
Pier 39
Eagle Cafe is touristy, but like, SF-landmark-touristy thanks to a hard-to-compete-with outdoor patio vantage point.
Fog Harbor
Pier 39, 2nd level
360-degree views of: the Golden Gate Bridge, Pier 39, and sea lions. From Fog Harbor's fireplace lobby all the way to its outdoor seating, you are the king of the Fisherman's Wharf castle.
Wipeout Bar & Grill
Pier 39, at Beach St
Related to Fog Harbor, this waterfront surf shack boasts bomb burritos on its outdoor patio.
Neptune's
Pier 39
From Neptune's waterfront bar, you've got a front row seat to the Golden Gate Bridge and Alcatraz without all the wind... or navigating through throngs of tourists.
McCormick & Kuleto's
900 North Point St
Its happy hour offerings are just as award-winning as, uh, places that've won awards. The sights aren't bad either. No matter where you're sitting.
Greens Restaurant
2 Marina Boulevard, Fort Mason Building A
Despite being, ugh, vegetarian, the views of the GGB more-than-kinda-sorta make up for that.
Cliff House
1090 Point Lobos Ave
Part of Sutro's Historic Landscape District, "jaw-dropping" doesn't even begin to describe the window views. Floor-to-ceiling & ocean-facing, however, do begin to describe it.
Beach Chalet Brewery & Restaurant
1000 Great Hwy
Ugh, another historic building with ocean views and house-made beer. Fiiiiiine.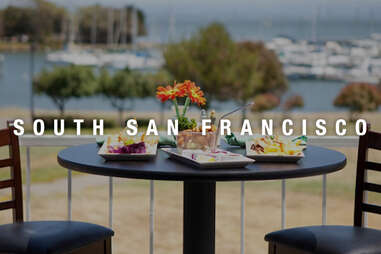 South Harbor Waterfront
425 Marina Blvd
Located inside The Inn at Oyster Point, your wine is served with a side of Marina view -- from the seating inside and the outdoor patio.
This list -- and all the rest -- look even sexier in our iPhone app. Get it now!
Margaux Poupard is a Thrillist San Francisco contributor and would like to know if she missed any. Seriously, did she? You'll probably tell her very nicely on Twitter.
This article was originally published on July 22, 2014.