The Haight gets an awesome new brewhouse
If we told you there was a new brewpub from a co-founder of Brewtruc that had a kitchen helmed by a former Monk's Kettle chef, you'd probably say something along the lines of, "Here's all of my money, do whatever you have to do to make that happen. Also, stop laughing, living in SF is expensive." Luckily, you don't need to forfeit any of your not-very-impressive life savings to make this dream a reality, thanks to Barrel Head Brewhouse.
Joe Starkey
Planning to start offering four of their own brewed-right-in-front-of-you beers in early May, they'll tide you over with FORTY TWO beers on tap that're being poured from a (hopefully no longer active???) torpedo. Boom.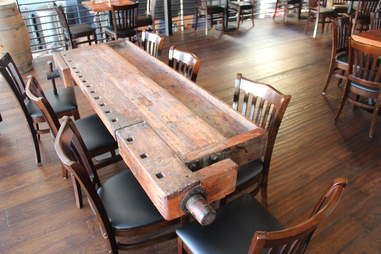 Joe Starkey
The restaurant's bi-level with a working circular fireplace downstairs, and an overlooking mezzanine with a ton of rad eating surfaces that range from live-edge tables that have knots filled with fun stuff like hops and barley, to, uh, this.
Joe Starkey
There're cool little designs all around the space, too, like this (presumably 100% accurate) rendering of a bi-plane delivering kegs.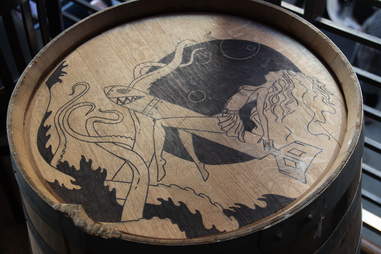 Joe Starkey
Or this busty lady riding a missile into a kraken-infested ocean, in front of what appears to be the Death Star. Ya know, the usual.
Barrel Head Brewhouse
And with the kitchen helmed by the aforementioned Monk's Kettle alum (who has a smoker large enough to fit an ENTIRE pig), you know all the traditional pub fare is gonna be amazing. But in particular, the BBQ pork ribs, or this powdered sugar-dusted ham 'n cheese Mini Cristo.
Joe Starkey is Thrillist's San Francisco Editor and pronounces GIF with a hard g. Follow him on Twitter.