Paid Content For
United Airlines
Where the Trick Dog Owners Jet to Let Loose
Paid Content For
United Airlines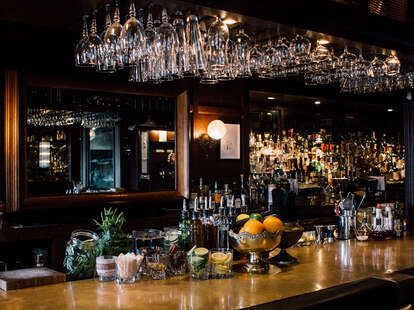 Skandia-Shafer
Skandia-Shafer
Though it's nearly impossible in 2017 to walk a full block in San Francisco's Mission District without running into a high-end cocktail bar, Trick Dog has long stood out among its competitors. Endlessly creative, the rustic, two-story bar changes its drink menu twice a year, each one centering on a radically different theme. This year alone, the bar teamed up with satirical publisher McSweeney's for a menu called Rhymes With Trick Dog and partnered with local artists for a mural project, both of which offered inimitable cocktails.
Close friends Josh Harris and Scott Baird, Trick Dog's co-owners and the masterminds behind Bon Vivants, a prominent cocktail consulting firm, have become legendary around San Francisco for their unusual combinations and interesting presentations (like serving tiki drinks in cereal bowls with built-in straws). They're never sitting still, constantly brainstorming the next menu, which sometimes requires getting out of northern California to stimulate ideas.
So where do you go to unwind when you're literally in the business of having a good time? Harris and Baird told us about a memorable bar-hopping trip (in LA and Chicago, respectively) -- and of course, recommend where to drink along the way.
Josh Harris: Discovering the secret bars of Los Angeles
It may be sacrilegious for a San Francisco native to admit, but Harris loves LA. He attended the University of Southern California for three years and still enjoys heading back from time to time.
"The relationship between Los Angeles and San Francisco gets caricatured as something that's super contentious, and I admit that I've fed that at certain points of my life, being extremely proud of where I'm from and liking the Giants and not liking the Dodgers," he says. "But going back to Los Angeles as an adult and as somebody in the food and beverage business has completely changed the way I feel about [the city] and the way that I engage with it."
Last September, Harris spent three days and two nights in LA when he and a few of his Trick Dog cohorts were invited to guest-bartend at the historic Hollywood Roosevelt Hotel. Here's where he drank (and ate) on the trip.
The Spare Room
Harris & Co. took over bar/gaming parlor The Spare Room, located on the mezzanine level of the Roosevelt Hotel, for a night filled with specialty tiki drinks. But independent of their event, his love for the vintage cocktail lounge stands on its own. "It's just a blast. You feel like you're totally transported," he says. "That bar is unlike any other one I've been to in that it's a bar in a hotel with awesome drinks and bowling lanes."
Genghis Cohen
A Sichuan Chinese restaurant owned by the same team that runs The Spare Room, Genghis Cohen is great for consuming massive amounts of food in a space that is "rooted in an old-school LA feel from another era," Harris says. "I'm a big fan of Chinese food; it's the full community of eating. Chinese food is like punch at a bar -- it's family style and intentionally so."
Scopa Italian Roots & Old Lightning
In Venice Beach, the one-two punch of Scopa Italian Roots and its attached bar, Old Lightning, offer a great energy, hard-to-find vintage liquors, and impeccable Italian food from the kitchen of celebrity chef Antonia Lofaso.
"The combination of those two [spots] really exceeds the sum of its parts," Harris says. "People are having fun and engaging in conversation; it's the kind of thing that I'm looking for when I walk in a place. We sat down and had a killer dinner of all sorts of awesome pastas and antipasti and things to share. We ate until we were fat."
You'll be hard-pressed to find Old Lightning -- a tiny, 25-or-so-seat secret bar with no sign out front -- if you don't dine at Scopa first (you'll also need a reservation). "It sort of feels like a little pilgrimage when you go out there," Harris says.
But for a cocktail aficionado, it's well worth the effort; boasting what he calls "the most amazing selection of spirits, which rivals only a couple of other places I've been to in the world." The collection -- including extremely rare liquors, vintage bottlings from defunct brands, and previous formulas that have since changed -- is so big, it doesn't even fit behind a single bar.
Harvard & Stone
A must-visit each time he's in town, Harvard & Stone houses a stage that regularly books great bands drawing a solid crowd. But like Scopa, one of the highlights is hidden in the back -- the small R&D Bar, which features a rotating cast of bartenders. The one-night drink menus force the mixologists "to be creative and think outside the box," Harris says, and the back bar keeps "the same awesome and boisterous energy" of the front space.
"The thing that I like about Harvard & Stone is that it's a bar bar. They have great drinks, beautiful spirits, and really wonderful and creative bartenders," he says. "When you walk in there, you're like, 'this isn't a speakeasy haven of preciousness,' you're like, 'it's time to get rowdy.'"
Scott Baird: Reveling in the dive bars of Chicago
While Chicago's latest claim to fame is the Cubs' World Series victory 108-years-in-the-making, Baird knows it more as the new home of the "Oscars for food" (the James Beard Awards), in which Trick Dog is routinely nominated for Outstanding Bar Program. He makes it to the Windy City at least once a year for both the awards ceremony, and for fun; to indulge in what he describes as "an incredible food city and drink city."
"It's kept most of its culture and heritage and distinctness in a time where lots of cities are becoming like every other city," Baird says, noting its famous steakhouses and a tradition of old-school, formal service. "There's a lot of culinary talent and bar talent out there -- and they have the best hot dog in the universe." (And he should know: He's even got a tattoo of a Chicago-style frank.)
While the weather may be harsher than in San Francisco, the city's bars possess a relaxed atmosphere that Baird emulates at Trick Dog. "The Chicago scene can really nail that at the right spots with really great, warm, kind hospitality," he says. "At the same time, you can let your hair down a little bit. People don't mind you getting a little loose."
Here's where Baird went out during his most recent trip last spring:
Sparrow
Sparrow, located in a 1927 art deco building in the Gold Coast neighborhood, was recently restored to its lobby-bar glory by legendary mixologist Peter Vestinos. "He's kind of the godfather of the Chicago cocktail scene," Baird says. His revived spot slings "impeccable" 1930s-era rum cocktails in a space that is "fun and easy and beautiful," says Baird. "You don't feel stuffy, which is really something that means a lot to me. I like enjoying myself while I'm drinking and I don't want to feel like I'm in a library."
Next
Like Trick Dog, Next, founded by notable Chicago chef Grant Achatz, completely changes its dining experience every four months, offering prix fixe menus on themes such as modern Chinese, Paris in 1906, and childhood. "It's not an easy restaurant to get up on its feet and run the way they do it," Baird says of the Fulton River District spot. "It was really impressive and inspiring for me to see the pop-up restaurant taken so much further… and intellectualized beyond anything that I've ever done. They execute it perfectly."
Best Intentions
Perhaps Baird's favorite bar in the country, Best Intentions in Logan Square, is owned by the Marty brothers and designed to feel like their grandfathers' divey corner bar from the early 1970s. "There's this thing I've been saying since I started my career and it came to me a long time ago: 'delicious not precious.' Best Intentions is perfect for that," Baird says. "The vibe in there is super fun and there's a good amount of hip-hop [playing] and the drinks are delicious. I close my nights there, always." Another perk? The bar also features Angostura bitters on draft, something that's extremely rare.
Big Star
Chicago has no shortage of wildly expensive, fancy cocktail bars -- and then there's this late-night honky-tonk in the middle of Wicker Park. Named after one of the best bands of the early 1970s, Big Star is a good bourbon and tequila bar and "a place that every bartender in the world wishes they owned," Baird says. "It's fun and everyone's excited when they're [there]. You hang out, sit with your pals, have a couple pops, eat some tacos, and you're gone."
Matchbox
Similar to the laid-back attitude at Big Star, Baird describes Matchbox as a great, small (seriously -- it's 460sqft), local dive bar. At this 75-year-old spot, he always ends up having some strange and engaging conversation, something that doesn't happen at bars in most big cities around the country anymore -- and which sums up why Baird loves the Chicago nightlife scene so much. "It's a really affordable city where a younger, up-and-coming bartender could have a voice," he says. "I want to make weird, fun drinks but I don't want to be in a room where you don't feel like you're having fun. Chicago's just got a really good, easy vibe -- assuming you can make it through winter."