The Best Bars in San Francisco To Watch the 49ers Take Home the Trophy
Stereotypically, San Francisco is more associated with tech than with touchdowns, but this year's different. Our very own 49ers will play against Kansas City at Super Bowl LIV (we so got this). So even if you're not a football fanatic, there's no excuse not to show your spirit and party hard on game day. If you're not in a position to host a Super Bowl party yourself, don't despair. We've rounded up 15 of San Francisco's best bars and restaurants where you can catch all of the action (along with amazing food and drink specials) up on the big screen.
Cow Hollow
With 26 flat screen TVs, there isn't a bad seat in the house at this popular Union Street Bar. Take advantage of their Sunday special: $22 buckets of beers, $6 shots of Espolon, and Tito's drinks for $7.50.
Inner Sunset
This laidback tavern has been voted best Irish pub in the city three years in a row. It's easy to see why with 19 TVs and cozy booths. Arrive early. Drink specials are still TBD.
Nob Hill
The crowds are sure to come out in this high vibe hangout. The best seats are at the bar. As far as food goes, they don't serve any. Order yourself takeout and take advantage of drink specials (TBD at the moment).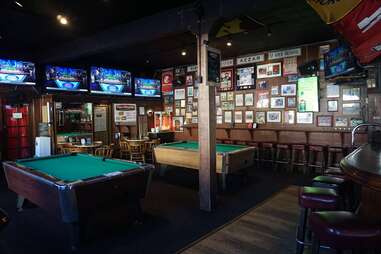 Cow Hollow
12 flat screens, 24 beers on tap. Seating is first-come, first-served and they'll have specials throughout the game. Arrive early to get a spot at the U-shaped bar.
Potrero Hill
The bar and kitchen will be opening up at 11am and there's beer and shot specials for $6 and $10. Seating is first-come, first-served -- a.ka. get there when it opens.
Polk Street
Super Bowl drink specials haven't yet been determined, but with 20+ flat screen TVs, there isn't a bad spot in the house. If you're more into the commercials than the game, snag a seat at the front so you can spy out onto the Polk Street ruckus.
Upper Haight
World famous wings await you at this Haight Street hangout. You'll also find 20+ TVs across two different rooms, 20 beers on tap, and a full bar menu. Get there early as it's sure to fill up fast.
Lower Pac Heights
Bar seating is first-come, first-served, and there are only six screens in the place. Reserve a table to make sure you get a spot. Harry's accepts reservations for any size group.
Castro
This gay sports bar features 26 flat screen TVs, benches made from gym bleachers, and pretty decent bar food. Order the buffalo wings and save room for an It's-It for dessert.
Inner Richmond
Find 11 TVs and two projectors at this Irish pub. Warning: it can get a little loud, so those with a sensitivity to noise may want to take the party elsewhere.
Lower Pac Heights
This is one of the most popular places in town to watch the game and it's easy to see why: there's 27 TVs and a huge food menu. We suggest getting there early to make sure you find a seat.
Noe Valley
This is the only spot to catch the game in the neighborhood, but it's a good one. There's an outdoor beer garden, 40 beers on tap, and 17 HDTVs.
Inner Sunset
This cash only, no-frills haunt has 14 TVs, five of which are over 40 inches, and one of which is 69 inches. Hopefully it's enough to make you forget about that smell emanating from the old sofas.
Mid-Market
If you're looking for something more than just the standard bucket of beer, Hazel is your best bet. The doors open at 2:30 and food service begins at 3. There's a $10 cover per person, but plenty of specials and more than 300 whiskies. 17 TVs offer great viewing from any seat in the house.
Ghirardelli Square
Watch the game on 16 TVs at this enormous craft brewery. Drink specials are TBD, and a full menu of SF-inspired pub fare will be served.
Sign up here for our daily San Francisco email and be the first to get all the food/drink/fun SF has to offer.
Andrea grew up in Michigan, but has called San Francisco home off and on since 2012. This time around, she's living in Soma, where she checks out too many library books, teaches imagination workshops, and writes fairy tales and fantasy stories for kids.