The 6 best World Cup-watching options this weekend
San Francisco Once every four years, the Soccer Gods (old and new, obviously) give us an excuse to skip work, day drink, and say "Lionel Messi? I think I've heard of him". Well, that excuse -- the World Cup -- kicks off today. From SF's legit-est soccer bar to a spot with five suckling pigs and 10 big screens, here're your six best Cup-watching options this week (scheduling heads up: the US plays Ghana on June 16th, 3pm; Portugal on June 22nd, 3pm; and Germany on June 26th, 9am).
Friday, June 13th: Hit what's considered by many to be one of the best spots to watch soccer in the entire city, Mad Dog in the Fog, where they'll be open at 8am (a whole hour before the early games even start) and will be RESHOWING the DVR'd games with sound at night. Also: World Cup beer specials all month long! Continue Reading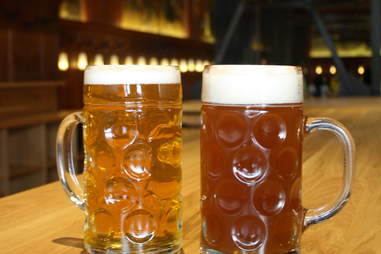 Grant Marek
Friday, June 13th: Brand-new drop-down projector screen + Communal beer hall + Two more flat screens behind the bar + They're showing all weekday games during group play + EVEN THE 9AM GAMES where there'll be a morning-game-only $20 cover (that includes a free breakfast!!!) = What's going down at the brand-new Schroeder's during weekdays of the World Cup (including the first three-game slate on Friday). Hell to the yes.


Friday, June 13th: Head to social TV startup Kwarter's HQ (headkwarters?) for a launch of their new gaming product, but more importantly, free Brazilian food and drinks while watching Spain take on the Netherlands. All you gotta do is register.
Saturday, June 14th: Head to Civic Center Plaza for World Cup watch parties with a giant outdoor screen, food trucks, and hundreds of other people talking about how unfair Brazil's roster is, too. Check here for daily updates on the game schedule, and which trucks will be in attendance.
Saturday, June 14th: Hit up Cigar Bar & Grill's patio, where they'll have an outside big screen (plus a ton of other TVs inside) and DJs hosting a dance party while you're not watching the games (ha!). Get VIP entry tickets here.
Sunday, June 15th: Grab tickets to the watch party at your favorite outdoor food truck parking lot/beer garden SoMa StrEat Food Park, which'll feature hugenormous cuts of meat from five organic suckling pigs, plus 10 big screens.