San Francisco Once every four years, the Soccer Gods (old and new, obviously) give us an excuse to skip work, day drink, and say "Lionel Messi? I think I've heard of him". Well, that excuse -- the World Cup -- kicks off today. From SF's legit-est soccer bar to a spot with five suckling pigs and 10 big screens, here're your six best Cup-watching options this week (scheduling heads up: the US plays Ghana on June 16th, 3pm; Portugal on June 22nd, 3pm; and Germany on June 26th, 9am).
Recommended Video
HearseCon Is the Biggest Hearse Event of the Year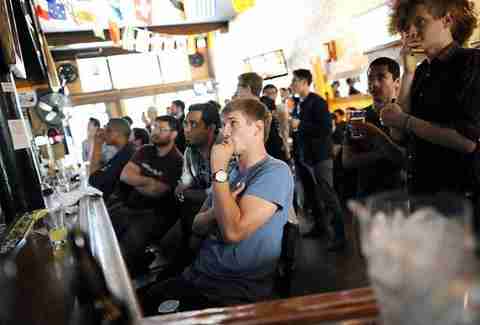 Friday, June 13th: Hit what's considered by many to be one of the best spots to watch soccer in the entire city, Mad Dog in the Fog, where they'll be open at 8am (a whole hour before the early games even start) and will be RESHOWING the DVR'd games with sound at night. Also: World Cup beer specials all month long! Continue Reading
Friday, June 13th: Brand-new drop-down projector screen + Communal beer hall + Two more flat screens behind the bar + They're showing all weekday games during group play + EVEN THE 9AM GAMES where there'll be a morning-game-only $20 cover (that includes a free breakfast!!!) = What's going down at the brand-new Schroeder's during weekdays of the World Cup (including the first three-game slate on Friday). Hell to the yes.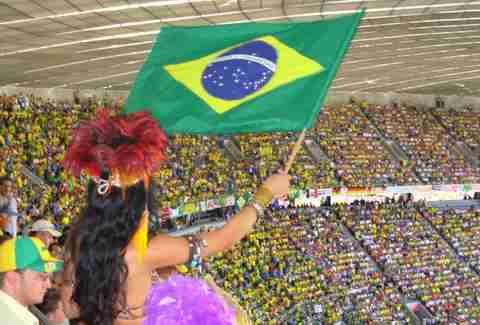 Friday, June 13th: Head to social TV startup Kwarter's HQ (headkwarters?) for a launch of their new gaming product, but more importantly, free Brazilian food and drinks while watching Spain take on the Netherlands. All you gotta do is register.
Saturday, June 14th: Head to Civic Center Plaza for World Cup watch parties with a giant outdoor screen, food trucks, and hundreds of other people talking about how unfair Brazil's roster is, too. Check here for daily updates on the game schedule, and which trucks will be in attendance.
Saturday, June 14th: Hit up Cigar Bar & Grill's patio, where they'll have an outside big screen (plus a ton of other TVs inside) and DJs hosting a dance party while you're not watching the games (ha!). Get VIP entry tickets here.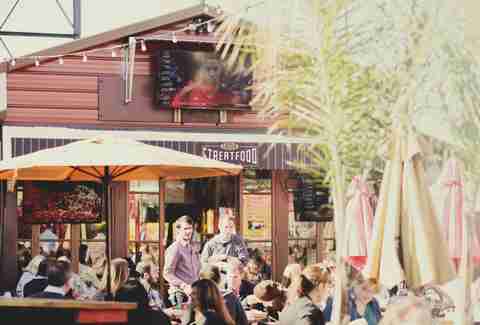 Sunday, June 15th: Grab tickets to the watch party at your favorite outdoor food truck parking lot/beer garden SoMa StrEat Food Park, which'll feature hugenormous cuts of meat from five organic suckling pigs, plus 10 big screens.


Previous Venue
Next Venue
Venue Description
1. Mad Dog In The Fog
530 Haight St, San Francisco, CA 94117
Because you seem really trustworthy, Lower Haight's resident English pub lets you pour your own beer courtesy of the TableTender, an eight-stooled table with a built-in two-tap system that pulls from kegs stashed in a cabinet underneath.
Previous Venue
Next Venue
Venue Description
2. SoMa StrEatFood Park
428 11th St, San Francisco, CA 94103
So imagine if Biergarten met Off The Grid and they had a baby. And then, meanwhile, Zeitgeist and Hayes Valley Proxy met and had a baby. And then by some miracle, if those two babies met, and sexed, they would birth the SoMa StrEatFood Park.
Previous Venue
Next Venue
Venue Description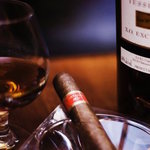 3. Cigar Bar & Grill
850 Montgomery St, San Francisco, CA 94133
Don't worry about the smoke, come to Cigar Bar for the salsa! With live bands (mostly of the Latin jazz persuasion) Friday and Saturday nights, and $15 Cuban salsa lessons that include a cocktail each Saturday, this may be one of the best places in the city to hit the dance floor. If you'd like a Cuban cigar with your Cuban salsa, Cigar Bar offers a fully stocked humidor and heated outdoor patio to enjoy a reasonably priced cocktail or glass of wine.