How Women Winemakers in Northern and Central California Are Rising Above the Flames
After a pandemic and devastating fire season, nothing can hold these women back.
Martha Stoumen

| Photo by Chad Kirkland
Martha Stoumen

| Photo by Chad Kirkland
It appears we have emerged from the gauntlet that is 2020, decidedly scathed but also still kicking, into the spring of 2021. As we mark the one-year anniversary of our collective trauma, let us not forget that it is, in fact, Women's History Month.
We'll take any and all opportunities to celebrate women: their strength and resilience, creativity, power, and joy, in spite of and spitting in the damn face of the hellscape that was last year. And while it's immeasurably hard to quantify or qualify who faced down the year's biggest challenges, we're particularly in awe of Northern California's women winemakers, who, in addition to being a powerhouse minority in a decidedly male-dominated and inherently challenging industry, dealt with the brutal, one-two punch of a generation-defining pandemic coupled with California's worst fire season in living memory.
This also gives us a prime opportunity to fangirl over Sebastopol-based Martha Stoumen, whose low-intervention, lovingly-made wines are some of the more delicious things we've consumed in the past few years (and yes, there has been a lot of consumption). What's more, her wines, and the techniques with which she produces them, act as nuanced snapshots of California's diverse, unique terroir.
Stoumen, a California-native who returned to Sonoma County after studying winemaking rooted in farming in Italy and the south of France, is deeply committed to the flavors and the land of the West. But she's quick to acknowledge that it's a love fraught with challenges.
"The vineyards, and the grapes here, are just so great. And the people are, too!" she says. "But there's this feeling when operating a business here, almost like I need to be poised for combat. There are so many people who want a slice of the California pie. And it's so expensive."
The increasing brutality of the state's annual fire season has only compounded that feeling.
"I started making wine for myself in 2014," Stoumen recalls, "And we had some bad drought years—things that we've always dealt with—but all told, we had a couple great years. Then in 2017, at the end of the season, we had fires. And in 2018, we had early season fires. Did we have fires in 2019? Oh yeah, how could I forget? I was in the midst of giving birth and got evacuated from the hospital" She laughs. "Maybe a little selective amnesia there. But 2020 was just unprecedented with the number of fires, and the sheer relentlessness of them..."
Stoumen isn't one to gloss over the harsh realities the industry has faced, or the challenges of committing to doing business in California. Especially this year—in addition to the fires, Stoumen found herself scrambling to apply for PPP relief, and make up for the enormous loss in sales as restaurants around the country shut down due to COVID-19. But she is also a passionate believer in her craft, and the importance of using this moment to create change.
Stoumen's winemaking practices have always been rooted in traditional farming practices—composting, dry-farming, and pruning in ways that prioritize vine longevity over high yields—which have, inevitably, led to wines that do change markedly with the years and, of course, the place. Wines from Mendocino can and should taste different than wines from Napa; what's more, a Nero d'Avola from 2019 will likely taste very different than one made the year prior. She's quick to point out that she's not anti-technology, but finds great value in using practices honed by years of tradition and responsible stewardship of the land coupled with new innovations (for example, using an electric tractor, but opting for animal manure instead of synthetic fertilizer).
Her approach also requires a healthy amount of agility that has proven to be a boon in challenging times. In 2020, for example, in a sharp departure from previous years, she didn't produce any red wines meant to be aged, focusing instead on light-bodied, chillable wines. This was in response to worries around smoke-taint due to the fires, coupled with logistical challenges of the harvest from COVID-19. It was a challenge, but the results are delicious.
"I'm so proud of the job my assistant winemaker and I did to pull it off," she says. "I think it's important to understand that wine is very, very closely tied to its agriculture: it's a food product. It's tied to the land. And in certain years, you might not be able to produce one thing, and something else might come out of it. That's really beautiful."
That flexibility, and creativity, is exciting for those who love Stoumen's wines. This year, she's releasing a Vermentino for the first time, and is working on a line of spritzes—wines diluted with sparkling water. The same care and attention will be paid to the quality of the wine, but she'll be able to offer them at a lower price point in a nod to the tradition of more accessible, everyday wine in Europe. And she is continually looking for ways to weave advocacy into her work, and the industry at large.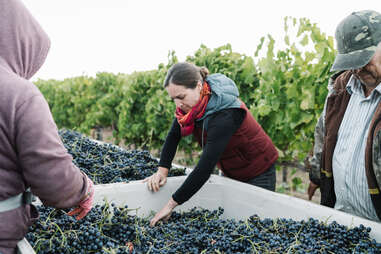 At present, Stoumen is holding quarterly office hours to help mentor women and POC looking to get involved in the industry, and has plans to release some wines with proceeds benefiting various organizations. And she is committed to her community—from her wine club, whose support was the saving grace of 2020, to her neighbors and colleagues in Sonoma. But she's particularly excited about the growing community of female winemakers in California and beyond.
"Recently, I feel like there have been more and more women in the industry to connect with. It's welcoming and empowering. I walk away from our meetups just buzzing!" she says. "I don't want to generalize, but in my experience, there's just no posturing. We share. And we get immediately down to problem solving."
That community, and commitment, makes for a sense of optimism when thinking of the years ahead. And an excitement about what might come next in California's wine scene.
"There are so many people who have the same belief of what California can be—that it's this beautiful place for sustainable agriculture," she says. "There are so many of us who think, 'This is where we could go in the future. Let me try out my crazy idea!' I think that spirit is still here."
We asked Martha to shout out some of the women in wine who are inspiring her right now.
Forestville
Glaab, who owns Forestville-based Ryme Cellars with her husband, is, per Stoumen, "So nice. She will go out of her way to help someone. And she makes delicious wines!" Those wines, which include a slight focus on Italian varietals, plus creative interpretations of classic French and California varietals, sometimes showcase their individual tastes and perspectives (the "His" and "Hers" Vermentino expressions, for example, are worth seeking out for a side-by-side tasting).
Santa Cruz
Bell's Santa Cruz-based Margins Wine has a similar ethos to Stoumen's—low-intervention winemaking, prioritizing grapes from underrepresented regions, and using fruit from sustainably farmed vineyards. As her winery's name suggests, Bell is focused on shining a light on underrepresented, and less well-known, grape varietals and wine regions, including a Muscat blanc from Contra Costa County and a Counoise from Santa Clara.
Los Olivos
Anderson is leasing and farming an eight-acre vineyard in Los Olivos that was first planted in 1971. She began incorporating biodynamic farming practices in 2020, producing three wines inspired by her time in the Northern Rhone, while simultaneously committing to regenerative agriculture, carbon reduction, and increased biodiversity. Her wines are currently sold out, but her spring release is coming this April.
San Luis Obispo
Giuni, a second-generation biodynamic winemaker, farms six-and-a-half acres on the Central Coast, and is producing a selection of "breakfast wines" without additives or manipulation. Inspired by her childhood on her family's biodynamic ranch in the Sierra Foothills, along with stints working in New Zealand and France, Giuni's wines showcase classic California varietals in fresh, unique ways.
Looking to support or learn more about women in wine? Batonnage is a forum, mentorship program, and community dedicated to supporting women across the industry and promoting inclusivity.