130 beers on tap Downtown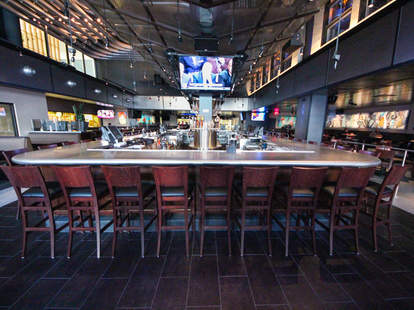 14 states can't be wrong, as evidenced by Hubert Humphrey's stunning victory in the 1968 presidential electi... wait, he lost that race? To Nixon?!? Okay, so 14 states can be wrong, but not about the Yard House, a prolific suds-slinger that already had 42 locations in said number of states, but is now pouring up to 130 beers in its first-ever Seattle spot
You can post up in one of just 467 seats, either at the room-dominating bar pictured above, or in the lounge below this 14ft metal totem pole built from the motorcycles wrecked on Seattle streets. Seriously.
Overlooking it all is the room where the magic happens... actually it's where hundreds of kegs send beer to the bar via miles of steel tubing/a process that seems like magic after too much of said beer
They're saving a couple dozen taps for local brews, but unless you're a real Arrogant Bastard you'll try one of their 100-plus suds from exotic locales like... Escondido
Soak up all that beer with snacks like this marinated raw ahi & avocado stack that shares its name with that thing you did to that cute girl from high school right up until she de-friended you on Facebook: poke
More substantial options include the Pepper-Crusted Gorgonzola burger w/ Marsala-sauteed crimini mushrooms & fries that -- when topped with truffles -- are so good people may confuse them with an election and try to steal 'em.